When battery power was first introduced, the performance was lackluster, to say the least, and landscapers have been skeptical ever since.
Yet over the past few years, as battery power technology has advanced, opinions are now changing once again.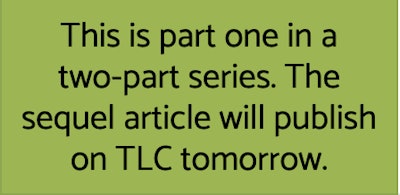 What's changed?
When talking to the various manufacturers of battery-powered outdoor power equipment as to what has changed landscapers' minds, the answer has mostly been the advancements in power and runtime.
Because commercial operators need dependable equipment that can last the whole workday, landscapers have traditionally only trusted gas tools to fill this role.
"Battery technology is moving really quickly, and what was holding most people back – e.g. that runtime – is not at all an issue anymore with most products," said Christian Johnsson, product manager for Husqvarna North America. "For example, when comparing Husqvarna's 226HD60S (gasoline hedge trimmer) to Husqvarna's 536LiHD60X (battery-powered hedge trimmer). You get a longer runtime with the battery-powered hedge trimmer than with the gas product."
Another element motivating landscapers to take battery power more seriously is how more cities, towns, and municipalities are passing ordinances that require noise reduction or outright ban the use of gas-powered products.
"In certain areas where noise is a concern such as municipalities, neighborhoods or hospitals and academic facilities, those types of areas may have noise restrictions and battery, of course, eliminates that concern or reduces that concern," said Mike Poluka, a battery product manager for Stihl.
For those who have swapped to battery-powered products, there are a number of things they enjoy, including reduced maintenance, noise, and vibration.
"I think they like the ease of use," said Anthony Marchese, director of independent sales, Greenworks North America. "They no longer have to train a new employee on how to start and maintain gas products. If you can pull the trigger, you can operate rechargeable outdoor products. They also like the feedback from their employees – they no longer smell of gas at the end of the day and they feel better as they have not had to face ear-damaging decibels and the body-taxing vibration of gas-powered products."
Even though some areas are requiring the change to battery-powered equipment, other commercial and residential customers merely prefer landscaping companies that are using a more environmentally-friendly option, which can give them an edge when competing for jobs.
"Green initiatives are sweeping the company, especially on the West Coast," said Chris Tantum, group product manager for DeWalt. "Using these tools are a competitive advantage in these markets. The customers are happy to see the job get done while being mindful of the environment."
Why the resistance?
While some companies have already converted entire fleets to battery-only products to serve eco-conscious clients, the vast majority still swears that gas is the only way to go.
This may be hard to understand when some models are already fully comparable to gas versions, but there are several factors that have professional end users still wary.
"As with most new technologies – whether it's cars, hand tools or outdoor products – you're typically comfortable with what you already know, and many people simply don't like change," Johnsson said.
Aside from familiarity, one main reason for the loyalty to gas is the aforementioned need for dependability. While battery runtime will still vary based on the piece of equipment being run and how it's being used along with other factors, landscapers don't have this concern with the traditional fuel.
"There really aren't variables for internal combustion so whether it's wet, hilly, cold, some of those battery variables don't come into play," said Kris Kiser, president and CEO of the Outdoor Power Equipment Institute (OPEI).
Like any other market disruptor, Kiser says it will take time for the industry to become more comfortable with the power source.
"It's more of a misconception that we see," Poluka said. "In the past, for all of these years it's only been gas powered as an option and battery technology, with it being new, there's that misconception is it powerful enough or is it going to last long enough to complete my job, and that's what we're trying to overcome at this point."
"In addition, you have some manufacturers who are not ready with viable rechargeable products, so they continue to propagate the myth that gas is a great solution," Marchese said.
Many landscapers point to the backpack blower when they insist that battery power will never be enough for them, as the piece of equipment has proven particularly difficult to engineer where batteries can provide the same power needed to get the job done.
Yet Greenworks says that future is now with its GBB700 backpack blower, which can deliver 700 CFM and about an hour of runtime with two 5amp hour batteries.
"This matches a gas-powered backpack product without the noise, heat and vibration of a two-stroke backpack blower," Marchese said. "In fact, last year was the first time ever that battery-powered blowers outsold gas-powered in the consumer market. We're seeing that trend really take hold among the pros too."
Other common complaints against battery-powered equipment are its price and runtime. The tendency for battery products to be significantly higher can cause many landscapers to balk at the price compared to gas tools.
"However, what is often forgotten, is the fact that you don't have ongoing fuel costs for battery-powered products, but you're essentially paying for your fuel costs up front," Johnsson said. "This means in order to make a fair comparison, you would have to add in the cost of several years' worth of fuel into consideration for the gasoline-powered product. In that case, the battery option is very inexpensive."
The complaint against runtime is a more complicated one, as sometimes it is simply a perception based off when the designs were low voltage lead-acid batteries and not lithium ion, but there are still size and weight tradeoffs when it comes having batteries with longer runtimes.
Check back tomorrow for part 2 of this article, where we'll explore battery management options and the possible future of gas- and battery-powered products.