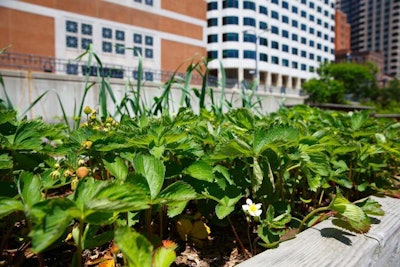 Many customers nowadays are interested in edible gardening, sustainability, composting and other green living options, and another trend that's continued to grow in popularity is urban farming.
If you have clients interested in starting their urban farming lifestyle but aren't sure how to create a garden atop their apartment roof or in their crowded suburban backyard, take a look at a few ways to help them get started.
Urban farming
Simply put, urban farming/agriculture allows your customers to grow and produce food in a city or a heavily populated town or municipality. Many times, this concept can be confused with community gardening, subsistence farming or homesteading, but the ideas are a bit different. The main difference is that with urban farming, your customers are more likely to gain monetarily than with community gardens, etc.
In the past 10 years alone, the public has become more interested in learning about how their food is made, where it comes from, etc., which makes the concept of urban farming even more appealing.
Regardless of what your customer's definition of "urban" is, there really is no single way of defining the size or placement of an urban farm, and every farm can be as unique as your customer wants it to be.
Setting up
When creating an urban farm for your customer, keep in mind that zoning laws play a large role in setting the area up. These laws may dictate what can and can't be grown in that specific area and whether or not other things such as animals, retail sales or educational classes can be part of the equation.
Once the parameters of what's allowed have been established, you and your customers can sit down to begin planning the design. The spaces can be as intricate or as simplistic as they wish, which is where your expertise comes in handy. Talk to your customer about their expectations, and make sure these ideas are realistic for the space and the person.
If your customer plans to have a large area that will one day be used to grow and sell food, take time to discuss the maintenance and upkeep such a large area would require. If they want to start small and eventually grow, suggest a few growing options that will yield plentiful results right off the bat to keep your clients encouraged.
As previously stated, these farms can be designed in a number of ways, but typically speaking, every urban farm will have rows of racks or raised beds. For farms built indoors, the rows typically have UV lighting used to mimic the effects of the sun.
If your customers are limited in space but still want to try their hand in urban farming, talk to them about installing a vertical farm to maximize space and still get the benefits of home-grown foods.
Benefits
According to the Ecology Center (EC), there are 10 prominent benefits to urban farming, and we will touch on a few key ones here.
For starters, the EC says it can reduce carbon emissions. Because the produce is localized, it cuts down on the amount of fossil fuel consumption that's necessary to package, transport and sell food. The EC reports that the average meal has traveled 4,200 miles from garden to table. This method of farming also allows your customers to interact with those in their community to buy and sell food.
Next, the EC says this type of venture allows you, the landscaper, the ability to unleash your design creativity. It also gives you the opportunity to discuss some of the challenges you'll face when installing the farm, which gives customers the chance to offer their feedback and feel more connected to the overall results. Since urban farms are a bit different from traditional farms in design, this requires you to think of much more efficient innovations.
The EC also notes that with urban farming, your customers are able to actively contribute to the health of the public and community around them by offering fresh, nutritious, locally-sourced foods. This segues into knowing the quality and having the security of said food. When dealing with a diverse community, your customers are sure to have a variety of edibles to choose from if their neighbors also decide to participate in this endeavor.
Not only will the addition of an urban farm bring your customers the food production they desire, it will also benefit the surrounding areas by serving as a green space. Regardless of whether it's a small or large area, having that green presence will add an aesthetically pleasing focal point to the area, help reduce runoff from rain and can help counter concentrated heat to the area.