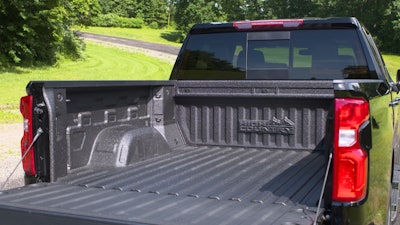 Chevy has announced that its new Durabed is larger and more functional than any other ½-ton truck bed on the market.
The Durabed, which will come standard on the 2019 Silverado 1500, has best-in-class cargo volume, box depth, box length at the floor, plus a segment-leading 12 fixed tie-downs and exclusive power up/down tailgate.
"The bed is the heart and soul of any pickup, so we made several improvements to the bed of the all-new Silverado to give our customers an even better hauling experience," said Tim Herrick, executive chief engineer for GM's full-size trucks. "We've added so many features and benefits that it deserves its own name – Durabed."
Every Silverado bed size has increased significantly in volume for the 2019 model year:

The short-box's volume is up to 20 percent more than any competitor's short-box. Most of that increase came from widening the maximum width of the bed floor nearly ten percent (seven inches), which is implemented across all three bed sizes.
For model year 2019, a higher-grade steel is being used in the construction of Durabed. The quality of the bed floor materials has improved as well, from 340 megapascals to 500 megapascals:

Some of the other dimensions in which Silverado now leads the class include: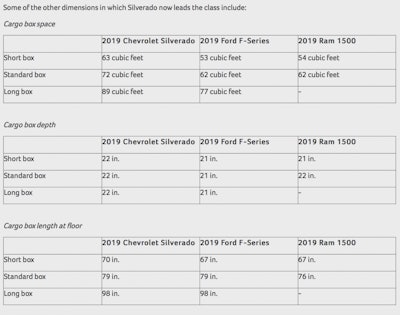 Silverado now has 12 fixed tie-downs, and the strength of each of these has doubled from 250 lbs. to 500 lbs. of force before bending. An additional nine moveable tie-down points are available as well for even more cargo flexibility. Together, these 21-total tie-downs are the most of any full-size pickup.
The accessibility of the tie-downs has also been improved. Tie-downs are now located at varying heights to offer customers greater versatility in what they can secure and haul.
The Durabed truck bed, standard on all 2019 Silverado 1500 models, also includes larger cutouts in the GM-exclusive CornerStep bumpers to better accommodate steel-toed boots.
Durabed is also available with integrated, in-bed LED lighting and a 110/120-volt power outlet. A light at the top of the rear cab comes standard on all Silverado models
The 2019 Silverado 1500 will also be available with four tailgate variants:
Standard gate: a manual gate with no lift assist; manually lockable (with key)
Standard Gate with Lift Assist: a stamped gate that includes lift assist; manually lockable (with key)
Power Lock/Release: includes lift assist and automatic release; power lockable
Industry-exclusive power up/down: available on the LTZ and standard on High Country, the tailgate raises or lowers using the key fob, touchpads on the gate or button in the cabin. Includes lift assist, automatic release and power closing; power lockable
The 2019 Silverado goes on sale this fall.
EDITOR'S NOTE: This story was prepared by the staff of Hard Working Trucks, another Randall-Reilly publication.