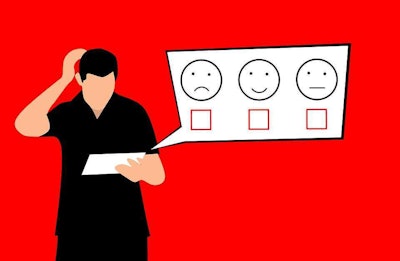 You've probably heard statistics like "84 percent of people trust online reviews as much as a personal recommendation" and "online reviews can impact the trust of 74 percent of potential new customers" thrown around. And these are true – online review sites are how customers make buying decisions in this day and age.
However, with all the pitches and advertisements thrown in your face, it can be easy to get overwhelmed wondering what you should do about your online reputation.
This short, straightforward guide will help you decide which review site to work on, and how you can earn free new customers with minimal effort.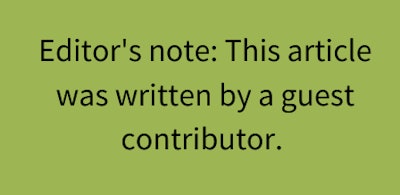 Start with the platforms that drive organic customer acquisition
Organic customer acquisition is a fancy term meaning acquiring business without paying for it. Word of mouth is one form of organic customer acquisition, but there are a number of other methods including SEO, social media and yes, you guessed it, review sites.
There are really only three review sites that still offer organic customer acquisition: Google Local, Yelp and Houzz.
What about the others? HomeAdvisor and Thumbtack make you pay per lead, and Angie's List only shows you in search results if you pay a hefty fee. I'm not saying that you should absolutely not join any of these platforms, just that if you're going to invest the effort into online reviews, you may as well start with the platforms that offer you free customers.
Houzz
Houzz is a review site focused on large-scale home renovation projects, making it perfect for landscape architects and designers.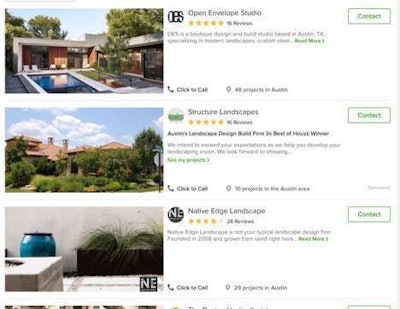 Note that every other listing is 'Sponsored,' meaning that a company is paying for the listing.
The site is oriented around a visual experience, so make sure your photos are top-quality. In fact, customers can discover you not only via the more traditional business listing section, but also the photo streams that highlight recent work you've done.
Houzz encourages contractors to ask for reviews, so simply use the review link they give you and email or text it to your customers. Or if you prefer, you can upload your customers' emails to Houzz, and then Houzz will reach out to your customers on your behalf.
Google Local
Google Local typically shows three local businesses toward the top of Google search results.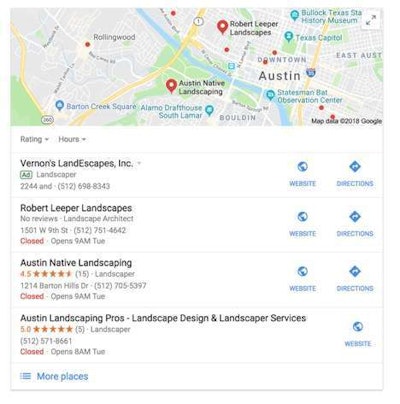 Additionally, users can click on 'more places' to browse the various businesses.
Google uses the following factors to determine which businesses to show:
The proximity of the business' location to the searcher location
The number of reviews that business has
How well that business' website ranks in the organic results (i.e. how good your SEO is)
Local citations – how many times that business's name, address and phone number appears on the web
Google Local can be lucrative, but it isn't simply a matter of filling out your profile and getting reviews. In addition to those activities, you need to be investing in local SEO. Meaning you must have a website (yes, your lawn care business needs a website) that does well in the search results to have a fighting chance.
Google encourages business owners to get reviews, but you'll need to follow these instructions to link your customers to the profile. It's best to ask for these reviews via email or SMS or in person while you're at a customers' property.
There is an option called AdWords Express offered by Google to show paid advertisements in the local results, but I only recommend you do this if you're already investing in Google AdWords.
Yelp
Yelp is a review site most popular among restaurants, but that can also drive large amounts of visibility for a service business. In fact, many local service businesses ignore Yelp because of this, leaving the opportunity for you.
To claim your Yelp profile, you simply need to verify your business phone number. You should note that you cannot ever be removed from Yelp once you're on it, so only claim your profile if you're willing to put the work into maintaining your reputation.
To complete your Yelp profile, you'll want to make sure you have high-quality photos, a complete business description, all of your basic business information updated and responses to every review – good or bad.
The name of the game is getting your Yelp profile to appear high when people search 'lawn care' or 'landscaping', and to do this you will want your profile to have those keywords stuffed in the profile. David's Lawn Care is a great example of a well-done Yelp profile.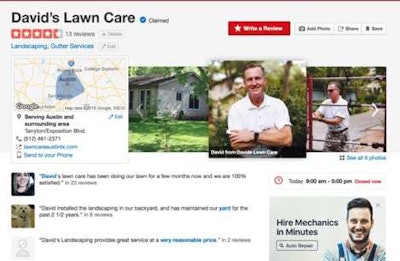 Yelp strongly discourages asking for reviews, and as of late, will penalize you for doing so. They do, however, encourage you to let customers know of your Yelp presence. Because of this, it's best to ask for reviews infrequently and in person, rather than blasting out emails asking for reviews.
One drawback of Yelp is that the company is pushing more of its traffic towards sponsored advertising. Yelp also offers a number of paid advertising options, but they are prohibitively expensive for most businesses. In the lawn care vertical, they charge around $20 per click to your profile (which is a step removed from a customer contacting you). In comparison, you can buy clicks from Google AdWords for well under $5, direct to your website. So proceed with caution, and if you do try advertising, measure the results carefully.
Should I pay attention to other sites?
If you're already on HomeAdvisor or Thumbtack and finding success, you should absolutely invest the time to get reviews on those platforms. Both encourage you to ask for reviews from past customers. However, I should reiterate, focus on the sites that will give you free customer acquisition if you haven't joined those sites yet.
Conclusion
Customers are going to be on review sites whether you like it or not, so it's a good idea to invest in building your presence and reputation. However, avoid the temptation to try and get reviews on every profile, it is much better to be best-in-class on one platform than mediocre on all. Start with the sites that will give you free customers, and make sure you spend the time to make your profile really stand out.
EDITOR'S NOTE: This article was written by Ryan Farley. Farley is the co-founder of LawnStarter Lawn Care, a stress-free online platform that connects homeowners with lawn care professionals for convenient services.