A San Francisco jury recently ruled that Roundup weed killer, consisting of the active ingredient glyphosate, caused terminal non-Hodgkin's lymphoma in a former school groundskeeper.
The jury awarded the plaintiff $289 million in damages, according to the National Association of Landscape Professionals (NALP). The defendant, Bayer unit Monsanto, has signaled that they plan to appeal the decision and defend their product through the California state court appeals process.

NALP says that anyone with questions or those receiving questions from their customers, employees or the general public and media regarding this jury decision and the safety of Roundup or glyphosate can use the following information as a reference.
Here are some facts about glyphosate:
Glyphosate is the most commonly used herbicide in the world and has been used safely for more than 40 years by agricultural and landscape professionals to control broadleaf weeds and grasses. It is used in products such as Roundup.
Glyphosate is one of the most widely used and effective tools the landscape industry uses to protect green spaces and to control weeds and other invasive species that can exacerbate allergies, spread diseases and cripple landscapes.
Researchers have conducted more than 800 scientific studies and reviews validating glyphosate's safety since it was introduced in the 1970s.
In May 2018, a study published by the U.S. National Institutes of Health reaffirmed there is not a statistically significant association between glyphosate use and cancer.
The U.S. Environmental Protection Agency (EPA) is statutorily mandated under the Federal Insecticide and Fungicide Act (FIFRA) to conduct reviews of all approved pesticide and herbicide products. FIFRA provides federal regulation of pesticide distribution, sale and use. Any pesticide registered under FIFRA, including glyphosate, must show that using the product according to specifications will not cause unreasonable adverse effects on the environment or to human health.
In December 2017, after conducting an extensive registration review of glyphosate the EPA released a draft risk assessment, which concluded that glyphosate is not likely to be carcinogenic to humans, and found no other meaningful risks to human health when the product is used safely and properly, according to label instructions.
The EPA's recent reevaluation of glyphosate was presented to the FIFRA Scientific Advisory Panel (SAP). The SAP provides independent scientific advice to the EPA on health and safety issues related to pesticides. The FIFRA SAP is comprised of biologists, statisticians, toxicologists and other experts. The independent SAP agreed with EPA's risk assessments and conclusions that glyphosate is not likely carcinogenic.
Roundup and many other products containing glyphosate are currently registered and approved by the EPA and all 50 states lead pesticide regulatory agencies and remain legal to use when used in a manner consistent with label instructions.
During the evaluation of glyphosate EPA worked closely with their Canadian counterpart Health Canada's Pest Management Regulatory Agency (PMRA) in concluding that glyphosate is unlikely to be carcinogenic or cause unreasonable risks to humans when used in according to label instructions. Other regulatory authorities around the globe in Europe, Japan, Korea and Australia, have also consistently reaffirmed that glyphosate is not carcinogenic.
In 2015, the International Agency for Research on Cancer (IARC) classified glyphosate as a probable carcinogen. However, the IARC is not a regulatory agency and did not conduct independent studies before making this designation. Follow-up investigative reports of this designation found that IARC concealed important scientific data and edited conclusions from key studies of glyphosate.
NALP says it fully supports documented research conducted by regulatory bodies and the established framework for the regulation of pesticides in the US through FIFRA. NALP says it will also continually and closely monitor for regulatory and research developments.
NALP says the EPA and 50 state pesticide lead regulatory agencies serve as the pesticide regulators, and the association says the landscape industry will continue to comply with all federal and state law that's supported by their review process, science, evaluation, decision and enforcement pursuant to FIFRA.
NALP says it understands the important role glyphosate plays in managing landscapes and delivering crops, and the association says they are committed to promoting and ensuring its safe and effective use.
Oregon's nursery industry growing
According to recently released figures from the Oregon Department of Agriculture, the Oregon nursery industry climbed to its second-best sales year on record in 2017.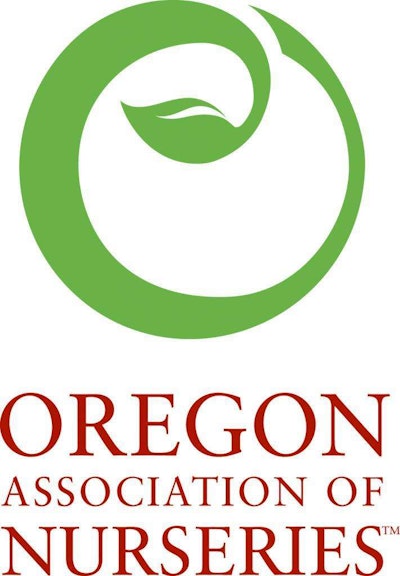 The department reports that the state's wholesale and retail nurseries tallied an estimated $947.7 million in sales during the calendar year, which the department says was more than enough to make nursery and greenhouse crops Oregon's top agricultural commodity. In second place at $695 million were cattle and calves.
"The wholesale nursery industry is a traded sector that serves markets in every time zone of the United States, as well as Canada and overseas, and brings significant dollars back to the Oregon economy," said Jeff Stone, executive director of the Oregon Association of Nurseries. "More than three-fourths of what we grow in Oregon is shipped over state lines to destinations as far away as the East Coast."
The news comes as nursery industry professionals prepare to gather at the 2018 Farwest Show, which is the nursery industry's largest business-to-business trade show on the West Coast. This show will take place Aug. 22-24 at the Oregon Convention Center in downtown Portland.
"The Oregon nursery industry is feeling momentum with eight consecutive years of sales growth, and we're excited about sharing what Oregon has to offer with visitors from all over the country," Farwest Show director Allan Niemi said.
The department said Oregon remains the nation's third-leading nursery state, behind the larger states of California and Florida, according to the most recent USDA Census of Horticulture Specialties (2014).
With more than 61,000 acres of land, Oregon leads the United States in nursery production. Oregon is also the nation's top grower of coniferous evergreens, deciduous shade trees, bareroot nursery products and deciduous flowering trees (USDA Census of Horticultural Specialties, 2014).
According to the State of Oregon Employment Department, the Oregon nursery and greenhouse industry (including the Christmas tree sector) employed an average of 9,288 people and had a total payroll of $317.3 million, for an average wage of $34,159 in 2017.
"Our products make life better by providing research-proven environmental, social, economic and even health benefits once they're planted at their final destinations," Stone said.
LawnStarter releases new feature for lawn care platform
LawnStarter recently released a new feature that allows consumers to tip their lawn care pro through the platform.
"From day one, we have known just how much pride our lawn care professionals take in their work," said LawnStarter CEO Steve Corcoran. "We see the extra effort and care that is put into each lawn whenever we look at the before and after photos."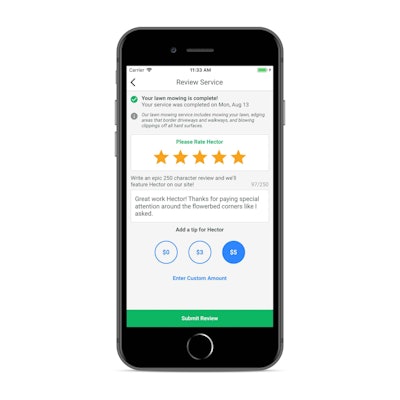 LawnStarter says the benefits of tipping to lawn care professionals on the platform are clear, but what may be less obvious is how strongly the prospect of app-enabled tipping appeals to customers.
"Time after time, customers would ask us for the ability to tip" said Corcoran. "In fact, in a survey we did, some 91 percent of our customers indicated they would like this capability."
Brent Keally, a LawnStarter customer in Nashville, was among the first to leave a tip with the new feature.
"I'm a big believer in rewarding people for exceptional work, not work, but the incredible effort that goes above and beyond what is required," Keally said. "Preston (my lawn care pro) has done this consistently over our time together. So, I thought it was appropriate to reward him for the culmination of his efforts. The tip feature allowed me to do this with ease while giving me the option to customize his tip to match what I thought he's earned for his work on our property."
The tipping feature can be found when customers rate their service on the LawnStarter mobile app or web platform. Tipping is optional, and LawnStarter says its pros receive the entire tip less credit card processing fees.
"We've always believed that if the pro wins, we all win," said Corcoran. "Tipping is just a small step towards that."
Conserva Irrigation hits expansion milestone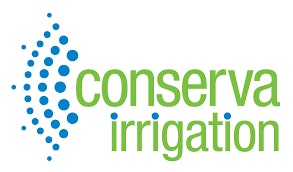 Conserva Irrigation recently celebrated its one-year mark since launching the national franchise with the signing of five new franchise agreements and three expansion contracts, totaling 52 territories across the country.
Joining the existing list of markets is Northwest Louisiana, Chattanooga, Tennessee, Central New Jersey, Ann Arbor, Michigan, North Dallas, Texas, Chicago, Illinois, Tampa and St. Petersburg, Florida, and South Oklahoma City.
Craig Ammons, sole owner of Conserva Irrigation of Northwest Louisiana, was instantly attracted to the company's core principles and system aimed at saving water every step of the way. He looks forward to offering this innovative technology in his community.
Miles Ledford owns Conserva Irrigation of Chattanooga, where he implements Conserva's five-step process to reduce water waste across irrigation systems in the local market.
Chris Venneri, an expert in irrigation services, owns Conserva Irrigation of Central New Jersey. Having been in the industry for numerous years, Chris understands the value of smart irrigation and Conserva's environmentally responsible irrigation services quickly drew him in.
Alex Perlman and Darnell Forte are bringing Conserva Irrigation's services to the Ann Arbor market.
Mark Defoor, owner of Conserva Irrigation of North Dallas, is a longtime resident of Texas who was drawn to the opportunity to bring a results-driven business to Dallas residents.
Conserva Irrigation of Chicagoland, owned by David Berryhill, offers local residents an efficient and effective method for achieving a high-performing irrigation system.
Mike Ferrara expanded his Conserva Irrigation territory to include Tampa and St. Petersburg, bringing more than 25 years of expertise in the irrigation industry to these new locations.
Existing franchisee Humberto Manzano added the South Oklahoma City territory to his Oklahoma City Conserva Irrigation business, which is an add-on to his landscaping company Apple Valley Landscapes.
"Our team is thrilled to see the outstanding progress and nationwide growth Conserva Irrigation has experienced throughout the past year," said Russ Jundt, founder of Conserva Irrigation. "The accomplishments we've achieved continue to motivate us to spread our services across the country, with new franchisees and entrepreneurs who share the same passion as us for reducing water waste in our industry. At the core of the company is our drive to create a brand that focuses on the importance of water conservation and the implementation of step-by-step assessments that can make long-lasting impacts throughout our communities."
The company, along with the Target Corporation, was recently awarded the Irrigation Association's 2018 Vanguard Award, which was created to honor an innovative project in the irrigation industry. Conserva says it has saved 320 Target properties over 36 million gallons of water since launching the sustainability project.
To fuel the company's growth, Conserva says it is seeking single- and multi-unit operators with a range of experience levels, as well as those looking for add-on or conservation business opportunities.
Marne Martin appointed president of IFS's service management business unit
IFS recently announced the appointment of field service industry veteran Marne Martin as president of the company's service management business unit and CEO of WorkWave.

Established under Martin, IFS says the service management business unit will encompass the global IFS service management organization, as well as WorkWave. IFS says the unit will also have dedicated engineering, sales and marketing resources to address the unique needs of service management customers globally.
As both the president of IFS service management and CEO of WorkWave, the company says Martin and her leadership team will continue to elevate the strategic importance of service management to the success of the overall IFS business. The company says Martin will focus on ensuring the entire portfolio of IFS's service management solutions provide customers with the business value they expect from a global industry leader in field service management (FSM).

"I am thrilled to be leading such a great organization and to be part of the overall IFS senior leadership team as we begin a new chapter in our company's growth," said Martin. "WorkWave continues to be an important asset to the overarching value proposition of IFS Service Management, and I look forward to working with the talented IFS and WorkWave teams to make sure IFS's service management portfolio becomes even more customer-focused."
"Marne's domain experience will enable us to further develop the service management capability across the entire portfolio to deliver even more value to our customers," IFS CEO Darren Roos said. "We remain completely focused on delivering solutions together with our partners that have an impact on the way our customers serve their customers."
Before working with IFS, Martin served as CEO and led the executive leadership team at ServicePower Plc., a field service software company, where she transformed its go-to-market strategy and shifted its focus to SaaS and managed services revenue, increasing pipeline every year during her tenure.
Prior to that, Martin served as CFO of Norcon, Plc., where she grew the company from a business largely dominant in only the Middle East to one diversified across the US, Europe, the Middle East and Asia Pacific.
ASV celebrates 35 years of product development
ASV Holdings Inc. recently celebrated 35 years of product development; the manufacturer commemorated the anniversary with an open house event in August at its Grand Rapids, Minnesota facility.
Andrew Rooke, company CEO, expressed pride in the employees who make ASV's success possible and who have driven more than three decades on innovation.
"The anniversary is a testament to everyone involved with ASV, from those who created the first posi-track loader to those who are still involved with this unique product," Rooke said. "It is a remarkable achievement for a relatively small company from Grand Rapids, Minnesota, to create such a legacy. The future is bright for our customers and stakeholders."
ASV says longtime employees will say the passion for the equipment has remained strong through the 35 years.
"It was such an exciting time because we were doing something that hadn't been done before," said Cary Safe, who's been with the company since day one. "We were building machines we would want to operate, something we still do today."
Safe says he's held many positions over the years, and it's been remarkable to watch the business grow and expand over the years.
"Part of our success comes from how passionate everyone at ASV is about the equipment," Safe said. "Even on weekends or holidays, it's not uncommon to receive a text message from a coworker saying, 'I have this great idea for a product or feature.' We truly believe our machines are the best possible tools for our customers to do their work quickly and comfortably."