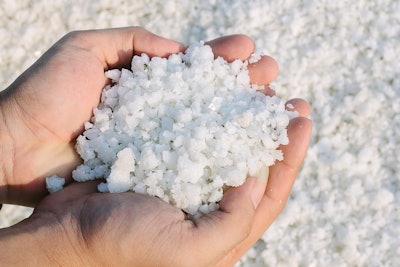 Snow and ice removal services are fickle on more than one level for landscapers. Not only do you have to try to plan correctly for what Mother Nature will bring in the winter, but you also have to make sure you have the supplies to get the job done.
Salt is a staple material when it comes to snow and ice management but in past few years, it has not always been readily available for contractors, leaving some high and dry during heavy snow seasons. As the 2018/2019 winter approaches, reports of salt shortages are circulating once more.
True shortage?
The first thing to clear up is what people mean when discussing a salt shortage. Salt is abundant in the world, but shortages occur when there isn't enough salt harvested above ground or available for a certain market.
Sometimes shortages occur in the second half of a winter, as more snow events than expected cause an increased usage of salt, but this year's shortage is due to the combination of several different factors.
One of the major causes of the shortage is from a 12-week strike at a salt mine in Goderich, Ontario, Canada, owned by Compass Minerals. While the strike started on April 27 of this year and union workers reached an agreement with the company on July 16, the current salt piles are reported to be 40 percent smaller than they were at this time last year, according to Adam Schlicht, director of Port Milwaukee, who told TMJ4.com.
In August, Compass Minerals notified contractors that due to the strike and contractual obligations to municipalities, there will be no salt supply available for private contractors.
Cargill, another major salt supplier, has also let private contractors know that it would not be supplying them with rock salt, as it is still replenishing its stock from the busy winter last year, and one of its mines has not been able to perform at optimum levels due to a leak.
This is causing landscapers to resort to importing salt supplies from other countries such as Egypt, Chile and Morocco. Due to transportation costs, this can cause salt prices to double or jump even higher.
This doesn't mean that municipalities are getting off lightly, as cities and counties are reporting noticeably higher bid prices per ton of salt. In Elizabethtown, Kentucky, the lowest bid was from Compass Minerals at $110 per ton. Last year, the price was $54 per ton.
Meanwhile, Richland County officials in Ohio only received one bid for providing road salt this year. Morton Salt of Chicago bid $96.33 per ton compared to last year's $42.10 and Cargill and Compass Minerals sent out letters saying they were not bidding this year.
Educating clients
So what does this salt shortage mean for you and your customers? Just like how you communicate with your clients about any other issue or change in pricing you need to let them know about the current situation and what it means for them.
Salt pricing is not something a contractor can control, so don't feel like you are financially responsible for this change in costs. If you are transparent with customers about the issue, you can work to cut down on areas that need salting and focus on priority areas. Some contractors have even asked customers to pre-pay for salt in order to help secure their inventory.
Landscape Ontario has a sample letter template available to send out to customers to educate them on the situation and what they can expect during a salt shortage.
You should also take care to protect yourself contractually by including clauses that protect you from situations when there is a scarcity of salt or increased salt prices.
Dealing with shortage issues
When it comes to facing salt shortage challenges, there are several options you can pursue. The first step is to talk to your supplier and see what the situation is.
Once you know where you stand with them, you can go about trying to find alternative salt suppliers. Tony Johnson, president of Midwest Salt, told SIMA that it is better to buy from multiple suppliers, preferably those that control their salt supply.
You can reduce your salt usage by incorporating alternatives such as beet extract solution, magnesium chloride or calcium magnesium acetate. You can also make your salt supply go further by mixing what you have with sand.
Pre-treating with anti-icing materials is another way to decrease the amount of salt needed on a job.
To ensure that your company is using salt as efficiently and effectively as possible, make sure your equipment is calibrated properly to avoid over-salting.
To circumvent this sort of supply chain disruption in the future, or minimize it, it is advised to purchase salt in the spring or summer and to invest in a facility that can store 30 days' worth of salt at a time.
Building a facility solely for salt storage can run anywhere from $30,000 to $50,000, according to Johnson, but these costs are recovered during the next shortage by having salt on hand before price spikes and the luxury of selling to those who are less prepared.