Meadowood Senior Living in Worcester, Pennsylvania, recently selected Eric's Nursery and Garden Center in Mt. Laurel, New Jersey, and Design for Generations, LLC in Medford, New Jersey, to develop and design a new multi-purpose garden courtyard.
The companies say they created a resort-style outdoor space that's striking in its beauty and engaging in its varied amenities and features. To meet local onsite stormwater retention requirements, the companies say the courtyard includes 8,100 square feet of permeable pavement, installed with Porous Pave XL.
"Meadowood has always been known for the exceptional beauty of our retirement community campus," says Shannon Grieb, vice president of marketing, Meadowood Senior Living. "In 2009, it was recognized by the Philadelphia Horticultural Society for its stunning natural beauty. The old courtyard, however, was just a pass-through area, not an inviting destination in the heart of our park-like campus."
"The project was required to capture and hold or permeate all water runoff on the site," says Christopher Kendzierski, LLA, commercial and residential landscape division manager for Eric's Nursery and Garden Center, the project's landscape design-build contractor. "That is why it includes two rain gardens and the permeable pavement."
"We had a long list of requirements in selecting a permeable paving material," says Jack Carman, FASLA, RLA, landscape architect for Design for Generations. "Porosity, non-slip and safe for seniors, attractive with colors to complement the garden plan, less reflective glare than concrete and a somewhat more forgiving surface comfortable for walking, outdoor fitness classes and outside physical therapy sessions."
To see Porous Pave in action, the project's building committee went to Chanticleer, a public Philadelphia garden, to see how it handled ample rainwater.
"The rainy day we went to Chanticleer was a terrible day to visit a public garden," says Jim Mangol, senior director of fitness and wellness, Meadowood Senior Living. "But the rain gave us the chance to see the material's permeability. There were no puddles on the permeable pavement paths. We brought along a wheelchair, a walker and a folding chair to test them out. We came away convinced that Porous Pave was a good choice."
The companies say the garden courtyard features a lap pool with a pool area that can be opened to the outdoors, a variety of seating areas and patios, permeable pavement walkways with a bridge along a stream with a waterfall, a fire pit, outdoor kitchen, a spray jet fountain and kinetic sculptures.
ECHO to showcase X Series at GIE
The ECHO X Series will be showcased at this year's GIE+EXPO.

ECHO says their PB-8010 backpack blower and the PB-2620 handheld blower will be shown for the first time at GIE, and the company says it is re-entering the hardscape market with its new CSG-7410 cutoff saw.
ECHO says their indoor booth (5112) will also highlight their Shindaiwa products, the newest aftermarket products and ECHO Bear Cat generators, wheeled trimmers, inverts and pressure washers.
ECHO says they will also offer hands-on experiences at the outdoor booth (7451D). The company says at this booth, visitors will be offered the opportunity to test ECHO trimmers, blowers, chainsaws and cutoff saws.
ECHO says participants can also test the ECHO 58V cordless line along with their gas line.
iQ Power Tools integrates dust collection technology into masonry saws
iQ Power Tools recently announced the newest line of iQ360 masonry saws with dust collection technology, the iQMS362.
Whether the materials are large or small, the company says this tool is designed to save cutting time and increase productivity.
The company says the iQMS362's 16.5" blade was specifically engineered for this tool, and tests have shown this blade cuts up to 40 percent faster than its competitors and with more accuracy.
iQ says the Q-Drive blade cuts masonry materials in a wide range of shapes, densities, sizes and weights, from soft, manufactured stone to dense pavers or granite.
iQ says the iQMS362 eliminates dust clouds, which allows workers to increase their efficiency and productivity while staying compliant with new OSHA regulations.
The company says this saw was designed with the health and safety of its operator in mind, meeting the OSHA Silica Permissible Exposure Limit (PEL) of 50 micrograms of respirable crystalline silica per cubic meter of air (μg/m3), averaged over an eight-hour day.
Other features of the iQMS362 include:
5" Q-Drive blade with a 5.5" depth and a full 24" length of cut
IQ power management system allows the saw to run on 120 volts and 20 amps
270° dust reduction system
Three stage cyclonic filtration
Easy Transport System includes high-flotation tires, an integrated stand with gas-shock lifting/lower mechanism
Kinshofer now offering D-series grapples with flexible shells
Kinshofer now offers its D-Series grapples with a new light, compact and flexible shell, which the company says is ideal for demolition and sorting.
The company says the attachments feature 360-degree endless rotation for precise positioning to give construction, recycling and demolition contractors optimal control when grabbing materials.
Kinshofer says the D-Series grapples are available for 4,400-pound (two ton) to 176,000-pound (80-ton) excavators.
"The D-Series provides contractors with exceptional jobsite versatility," says Francois Martin, Kinshofer North America general manager. "The powerful grapples allow operators to easily grab, sort and move a variety of materials. Further, their design incorporates multiple features that reduce maintenance and extend service life."
The company says the D-Series is powered by conventional heavy-duty hydraulic cylinders with hydraulic damping protection power, and the company's patented HPXdrive powers the D04HPX, D06HPX, D09HPX and D35HPX.
The company adds that the cylinderless HPXdrive system provides constant closing forces compared to competitive grapples and reduces the overall cost of ownership by about 50 percent compared to conventional models.
The company says the D-Series streamlined design offers a compact footprint, while the grapple's robust Delta-box frame provides durability and reliability for demanding applications such as quarries and large-scale demolition. Regardless of conditions, Kinshofer says the grapple's dust-proof axle bearing points keep out dust and debris.
Kinshofer says to prevent overloading, the D-Series is equipped with pressure relief valves as well as a perforated shell design that filters fine dust and gravel while keeping larger pieces in shells.
If the grapple is overworked, the company says the innovative shells flex to avoid structural damage, and Kinshofer says the grapples also feature a non-return valve to keep the load secured even if a pressure drop occurs, ensuring safe operation.
For handling small-grained bulk material, such as sand and gravel, the company says it offers side plates, and customers can equip the grapples with a compression rail adapter that the company says allows attachments to handle and position delicate materials, such as curbstones, without damaging them.
The company says the D-Series includes a fully enclosed, heavy-duty slewing ring with 360-degree endless rotation for precise positioning. Kinshofer says the grapples feature exchangeable cutting edges, manufactured with 500 HB steel for exceptional longevity. The company adds that the cutting edge is also reversible to further extend its service life.
John Deere adds stump shredder to Worksite Pro attachments lineup
John Deere recently expanded its Worksite Pro attachments lineup by adding the SS30 model stump shredder.
Ideal for landscaping and construction sites, the company says this new shredder removes stumps from 8 inches to 28 inches in one pass. The company says the SS30 model is optimized for the new mid- and large-frame G-Series skid steers and mid- and large-frame G-Series compact track loaders.
"Our shredder was engineered to be a powerful, indispensable tool for tree stump removal," says Jessica Hill, global program manager, attachments. "It's a unique offering to the market that was created to keep operators safer and more productive."
When compared to conventional stump grinders, the company says the SS30 was designed with a low-speed, high-torque auger planetary drive that shreds tree stumps with reduced incidence of high-speed flying debris.
Despite slower operating speeds, John Deere says stump removal is also faster than conventional grinders, and site cleanup is easy, John Deere says, thanks to the small, contained chip pile produced by the attachment.
John Deere says the shredder's hardened pilot cone draws the auger into the stump while 0.75-inch-thick, AR500 steel blades efficiently cut the stump. With the SS30 model, John Deere says operators can bore up to 20 inches into the ground to remove stump feeder roots.
The company says the carbide tool replacement parts are not needed for the attachment, and maintenance is only required every 1,000 stumps.
Torwell resumes operations, commits to dealer
Alan McKenzie, president of Torwel Limited, recently announced the completion of Torwel's months-long business restructuring and return to full operation and sales as Torwell Limited, now with headquarters in Whitman.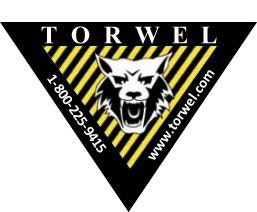 "Faced with the challenge to preserve the Torwel brand for future generations, we chose to consolidate operations, reduce inventory and resume business in good fiscal health," says McKenzie."I am very pleased to report that Torwel Limited has purchased the assets and IP of Ace Torwel and has resumed production. We are back on track, meeting the demand for quality products and replacement parts with renewed commitment to our valued dealer network."
The company also recently hired industry veteran William Matchett as sales manager, which the company says is key to their renewed focus on trusted markets and on cementing relations with its loyal dealers. McKenzie says Matchett brings over nine years of experience to his new position and has already been instrumental in strengthening the company's bond.
"Bill is overseeing aggressive new sales and replacement parts programs, delivering incentives helpful to our Torwel dealers," says McKenzie.