As part of Ruppert Landscape's annual "Field Day" event where the company and its employees can give back to the community, workers pitched in to help transform the grounds of Corpus Christi Catholic Church in Stone Mountain, Georgia.
"When we began looking at potential sites to hold our next Field Day, we looked for a site where there was a great need and where what we did would provide great benefit," says Craig Ruppert, Ruppert Landscape CEO. "We felt that it was important, now more than ever, to support our country's immigrants and we are happy to be using our landscaping skills to benefit an organization that serves such a diverse community."
About 70 percent of Corpus Christi's congregation is made up of immigrants and refugees from 47 different countries who speak over 14 different languages.
One hundred employees from Lilburn and Mableton, Georgia, and Raleigh and Charlotte, North Carolina, branches worked with parishioners renovating the grounds on Thursday, Sept 13.
"The majority of the places for meditation and prayer are indoors, so by beautifying the landscape we hope to build outdoor spaces to meditate and connect with the inner self, nature and other parishioners and community members," says Paschal Amagba, Corpus Christi's father. "Some of our parishioners also took part in the day's activities, so the event provided a unique opportunity for people of many different cultures and backgrounds to work together to transform the church grounds into a welcoming environment for reflection and community-building."
The site improvements totaled to an investment of $100,000 in time and materials. Ruppert's employees ended up planting over 600 shrubs and perennials, 12 shade and ornamental trees and laying 18,000 square feet of turf. Volunteers also improved drainage by installing new drain pipe, laying 120 yards of mulch and installing 1,000 square feet of concrete.
The 7-acre site also had its existing landscape mowed, pruned and weeded. Over 800 man-hours total were put into the project.
Aside from the hard labor, Ruppert's Field Day also included some friendly competition among the branches with games such as tug-of-war and dodgeball and skill tests like field efficiency and clean truck contests.
In other company news, Collin Fadrowski and Ryan Rote have been promoted to branch managers in Ruppert's landscape management division.
Fadrowski will serve as manager over the Camp Hill, Pennsylvania, branch. He has a bachelor's degree in business from Susquehanna University and joined Ruppert four years ago after being with the Brickman Group for five years.
"Collin has built strong teams throughout the years as an area manager and has a strong will to succeed," says Tom Barry, president of the landscape management division. "We knew we had the right fit when we presented this opportunity to Collin, and he is eager to hit the ground running in this new position."
Rote will be the new branch manager for Charlotte, North Carolina. He studied landscape design at the University of Delaware. After interning with Ruppert, Rote joined the company as a field manager at the Laytonsville, Maryland, branch.
"We appreciate the loyalty that Ryan has shown the company and the energy that he puts into making Ruppert a quality service provider," Barry says. "This, along with his ability to motivate and engage his team, will help him be successful in growing the Charlotte branch and developing his people."
GIE+EXPO 2018 breaks registration records already
The 2018 GIE+EXPO had a record-breaking early bird registration week, with more than 3,000 registering the week of Sept. 3.
Overall attendee registration is 12 percent ahead of last year at this time and more than 24,000 people are expected to be in Louisville, October 17-19 for the event.

"Every indication points to the 2018 show being bigger than it's ever been on all fronts," says Warren Sellers, show director. "Participation from all segments of the industry is going strong. Add to that the synergy that's being generated by the new Wednesday format as well as exhibitors who are stepping up participation on the show floor – both indoors and out – and this is shaping up to be our best event yet!"
Attendee registration for Hardscape North America is also up 11 percent from last year.
Exhibitor participation has increased with 18 percent being new exhibitors. The Outdoor Demo Area will cover more than 20 acres.
Over 120 product introductions are expected with 21 exhibitors hosting press conferences as of right now.
There are a number of giveaways going on during the show including the Fabulous Friday $10,000 giveaway sponsored by Mercedes-Benz Vans, and a $5,000 giveaway from Stihl during Wednesday's Dealer Preview.
For more information, click here.
Bach Business Partners offer training opportunity for landscape designers
Bach Business Partners will be offering a training opportunity for landscapers on how to maximize the role of a landscape designer on Oct. 24-25 at Seven Springs Mountain Resort in Champion, Pennsylvania.
Mastering the Landscape Design Process will include a collaborative curriculum that focuses on efficiency, leadership and relationship-building during all three phases of the design process.
Principal Steven Bach says he is sharing this information due to a lack of training that helps landscape designers be more effective and profitable team members.
"Within the course of a day, a designer is asked to juggle myriad responsibilities," he says. "To be successful, they must manage time efficiently, communicate clearly with both the customer and the sales team and remain cognizant of a customer's budget parameters. They need to efficiently handle 11th-hour revisions and know when to draw the line, while also managing necessary permitting and approval paperwork contributing to estimates and providing final design notations that ensure project crew efficiency. Failure at any stage of the process directly affects the project outcome and, ultimately, the company's overall success."
The agenda will include a discussion and review of all these duties along with others and attendees will be able to share their experiences during round-table discussions.
Designers will be encouraged to embrace their roles as leaders. There will also be a half-day workshop led by author Steve McClatchy. He will speak about setting expectations, giving and receiving feedback, gaining commitment, and resolving conflicts.
"We intend to take a 360-degree look at the landscape designer role, centering the discussion on best practices and skills that will empower these individuals to be productive and profitable contributors to their company's bottom line."
The two-day training is $400 per company with no limit on the number of team members a company can send. To register for the event, click here.
Toro opens registration for 2019 Super Bowl Sports Turf Training Program
Applications for the 18th annual Toro Super Bowl Turf Training Program are now being accepted.
In January 2019, one turfgrass science student will travel to Atlanta, Georgia, to help the grounds crew prepare the field for the biggest game of the season. The NFL has relied on Toro for its equipment in preparing the game field since the inaugural World Championship in 1967.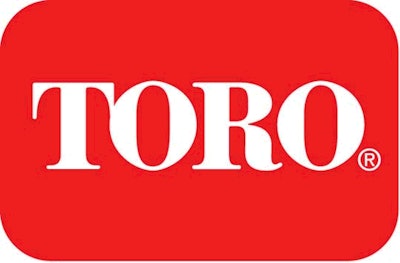 The Toro Super Bowl Sports Turf Training Program was formed in 2002 and since then, Toro and the NFL have partnered to offer a program that enhances the skill of emerging sports turf professionals.
The winner will get hands-on experience in maintaining the field. This year's winner will work with NFL field director, Ed Mangan, and George Toma along with the Super Bowl ground crew at Mercedez-Benz Stadium on synthetic turf maintenance, logo painting, field prep for media day, halftime preparation and field clean-up.
Starting Jan. 26, 2019, the winner will be on hand at the stadium to prepare the field before the game on Feb. 3, 2019.
Entries must be submitted by Oct. 19, 2018. Applicants must be enrolled in at least the second year of a two-year turf program, or in at least the junior year of a four-year turf program. The application must include the contact information of a school advisor or representative.
The winner will be notified no later than Nov. 2, 2018. Click here to fill out the application.