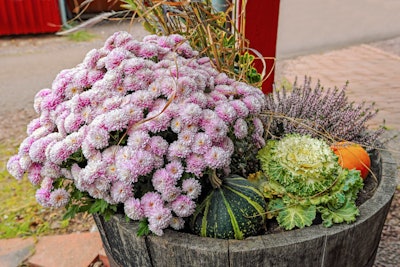 Container gardens are an excellent way for your customers without a lawn to still enjoy the inviting colors and textures of fall plants.
Whether your customers want a mix of edibles, foliage, or succulents to adorn their homes, fall container gardens can offer a wide variety of options to choose from.
Regardless of your climate, there are many plants to choose from that could end up lasting well into the holiday season. Take a look at a few different ideas you can suggest that are sure to add a pop of color or an inviting fragrance to your client's home.
Flower baskets
These rustic hanging creations not only show off the bright colors of fall, but they can also serve as a miniature herb garden.
If your customer wants to have these baskets set around for display purposes, try to find baskets that are already lined before adding the soil. For flower options, consider using yellow garden pansies or marigolds to add a bright burst of color.
While the traditional green color of foliage is always inviting in an arrangement like this, consider adding in edible elements that your customer will also be able to use later on, such as cilantro, golden lemon thyme, or Italian oregano.
Fiery combos
Oranges and yellows are sure to make an appearance more than once during fall, so taking advantage of the vivid colors can result in some show-stopping looks.
Striking foliage and warm-colored flowers really stand out, especially when paired with darker-colored containers. The bronze colors of coleus leaves edged with chartreuse can act as a stunning focal point in the middle of an arrangement, and add canna lilies and purple fountain grass to add height and depth to the combo.
To complete the thriller, filler, spiller trio, add in some bright orange Calibrachoa to compliment the canna lilies and sweet potato vines to spill over the edge.
Another "fiery" container idea incorporates the 'Sticks on Fire' milkbush. With its enticing mixture of pinks, reds, oranges, and yellows, this plant definitely draws the eyes and fills the space it occupies. If this plant is used, remember to add in a post or sturdy stake it can lean on, as it will grow tall and will require support.
Along with the 'Sticks on Fire', add in the deep purple coloring of the aeonium and purple cordyline to create a rich fall color palette. Finally, some green-leafed aeonium, slender myoporum, and blue chalk sticks fill the remainder of the base space and finish the look off nicely.
Airy and light
For a more subdued and wispier look, combine the bright green coloring of maidenhair vine as a spiller to create a flowing, cascading look.
Adding in some evergreen huckleberry, a native to the Northwest, will provide dark berries during the summer and copper-colored leaves in the fall.
To round off the look, incorporate highland doghobble and variegated Japanese sedge to have those larger green and bronze leaves present.
Darker varieties
For customers wanting a darker look, consider creating a monochromatic base to work from. With a darker base like this, brighter colors will pop even more, which helps draw the eyes.
Again, adding in the bronze leaves of the coleus and sweet potato vines can help create a thicker, flowing filler and spiller element to the container, which serves as the perfect darker base.
For the thriller element, the bright gold coloring of Coprosma, the lime green wispy look of the cape restio or the coral-pink color of dahlia blooms can tie the whole look together.
Plentiful planters
Don't forget that containers come in multiple different sizes, shapes and forms, and one look that's particularly unique can be achieved by using a taller planter.
This look combines height, colors, textures and plant variety into one complete package. Since the container will be taller, it will rely more heavily on spiller plants at the bottom to really draw the eyes up and lead you to the focal point.
For customers wanting to cash in on the edible options, ornamental kale and cabbage can serve as tasty and beautiful centerpieces. To add a bit of contrast to the purple coloring of the vegetables, add in a few gold and red marigolds.
To really add in some height, consider a bit of fountain grass, and finish off with an ample amount of trail ivy near the front of the container to give it a softer look.
Succulents
Succulents have been growing in popularity for years now, and it's no surprise that they would make an appearance in container gardens as well.
In a taller container, add in the wavy stalks of aeonium, as they boast deep purple rosettes. Mix in a bit of echeveria and aloe around the base, and consider using the string-of-pearls succulent to add the dainty look of its tendrils.