At this year's GIE+EXPO, Toro introduced their new HoverPro hover mower, which is now available for landscape contractors across North America and can be purchased through authorized Toro equipment dealers.
Toro says the HoverPro mower hovers above the surface of the turf during operation, allowing the machine to reach areas that traditional mowers and trimmers cannot. The company says the HoverPro is ideal for specialty applications, such as maintaining turf or steep slopes, tight undulations or areas near water, and they say that it strikes an ideal balance of a light footprint and rugged design.
"We saw the major benefits that superintendents and grounds managers were experiencing with the HoverPro, and we knew the same principles could be applied to the landscape contractor segment as well," says Chris Vogtman, marketing manager at Toro. "This is another tool in the end user's toolbox to help ensure that, from start to finish, they are achieving a high level of productivity out in the field."
The company says the HoverPro is powered by 57cc and 160cc Honda engines, and they add that the ABS injection-molded deck contributes to a strong, yet lightweight frame.
There are three models in the HoverPro series to tackle a wide variety of applications. These models include:
HoverPro 400, which features a 16-inch cutting width, a 25-degree operational angle and a nylon wire cutting system. The unit weighs 27.5 pounds.
HoverPro 450, featuring an 18-inch cutting width, a 45-degree operational angle and a steel cutting blade. This unit's operational weight is 38.2 pounds.
HoverPro 550, which offers a 21-inch cutting width, a 45-degree operational angle and a steel cutting blade. The unit weighs 41.8 pounds.
Toro says the HoverPro can be equipped with a number of optional accessories including a hi-rise kit to increase the height of cut by 1.4 inches, transport wheels to maneuver the machine with less effort around the jobsite and extension handles to simplify the process of working on slopes.
The company also announced the arrival of the new Titan HD zero-turn special edition mower, the Titan HD 2000 Series MyRide. The company says it features Toro bullhorns embossed on the seat and imprinted on the back guard.
Toro says this special edition Titan is engineered with productivity in mind and enables landscape contractors and acreage owners to efficiently tackle large areas throughout the day.
Toro says the MyRide suspension system helps reduce bumps and impacts to the operator, and the 7/10-gauge 5.5" deep high-strength steel turbo force 60-inch cutting deck makes the Titan HD as comfortable as it is durable.
Other features include the Kawasaki engines, Hydro Gear ZT-3400 hydros and cast-aluminum wheels, and Toro says the special edition model also features industry-exclusive trimmer and bucket mount brackets to minimize trips back to the trailer or equipment shed while on the job.
"We wanted to do something exciting with one of our most popular zero-turn mower models," says Vogtman. "The Toro bullhorns are a nod to our dedication to innovation over the 105-year history of the company and something our most loyal customers can be proud to display on their Titan HD mowers."
Toro says the special edition Titan will only be available during 2019 from Toro dealers.
The company also announced the addition of the Pro Force blower attachment to complement their GrandStand Multi Force product family.
The company says the Pro Force blower attachment is powered by a 26.5 horsepower Kohler Command Pro EFI engine to deliver tremendous air power for fast and easy removal of grass clippings, leaves, aeration cores and other debris. When at full throttle, Toro says the Pro Force can reach air velocities of 7,800 cubic feet per minute, and they say the efficient turbine assembly design allows maximum airflow to finish the job faster.
"We've made an already versatile machine even more functional with the introduction of the Pro Force blower attachment," says Vogtman. "Our goal with the Multi Force was to provide four-season functionality in a single machine, and the Pro Force blower attachment effectively transforms the GrandStand into a powerful and productive debris removal machine, ideal for fall and spring cleanup projects."
Toro says the GrandStand Multi Force models feature a quick-attach system, centered on a 2-inch hitch receiver for a simple change-out of attachments, and they add that the new attachments are used in conjunction with a low-flow hydraulics kit to power through challenging tasks with ease.
The company also announced its new branding message at GIE+EXPO, which Toro says reflects its commitment to helping customers succeed in the field. Toro says the new platform – From Start to Finish – holds the promise that those who depend on their equipment to get the job done right away can always count on Toro.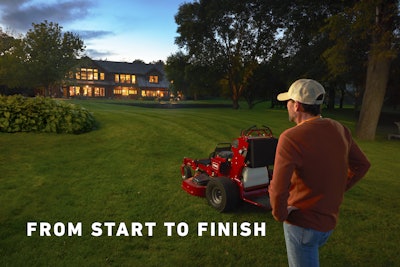 The company says the message is aimed at landscape contractors and acreage owners and also reinforces that Toro understands a reputation is something that is earned day-in and day-out.
"We know that for our customers, reputations are built from the ground up," says Vogtman. "They want and need to be reliably productive. That's something we share with them. This new messaging lets them know Toro and its products will be there for them every step of the way, lawn after lawn."
Vogtman adds that this new message aligns perfectly with Toro's key values, which include operating with integrity as a supplier, meeting customer needs through a continuous cycle of innovation and new product development and contributing to the company's enduring reputation.
"We live the messaging of From Start to Finish here at Toro every day,"Vogtman says. "It's embedded in our culture and business practices. And by emphasizing customer and dealer support during every step of the process, from pre-sale to post-sale service and support, we can continue to reinforce Toro's core values of trust and reliability."