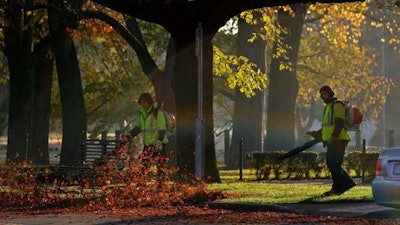 As the year comes to a close, Total Landscape Care has compiled a list of the top 10 stories of each month of the year. Take a look at what stories were trending on our site in January 2018.
10. BrightView crews respond to extreme weather conditions caused by bomb cyclone
As apocalyptic as last week's bomb cyclone sounded, it did not stop the BrightView teams along the East Coast from completing their tasks.
The weather phenomenon isn't particularly rare, but by meteorological standards, it is considered explosive. It occurs when a low-pressure system's atmospheric pressure drops 24 millibars in 24 hours. Millibars are used to measure the strength of a storm system.
Click here to read the full story.
9. Young and hungry company is in it for the long run
It's not often that the small enterprises that you start as a child to earn some extra cash evolve into something bigger, let alone a company bringing in millions in annual revenue, but JMR Landscaping is one of the exceptions.
Joey Rossa, founder and president of JMR Landscaping, officially registered his company as an LLC in 2011, but he had his first paying account when he was nine years old.
Click here to read the full story.
8. A peek behind the Stihl curtain
Just like how Harley-Davidson has its loyal following of consumers, so does Stihl Inc.
Because the handheld outdoor power equipment manufacturer doesn't provide tours to the public, we decided to share a behind the scenes look at what makes the popular brand tick.
Click here to read the full story.
7. Protecting pavers from the harsh winter weather
Being in the midst of winter, it's no surprise that many parts of the country are still experiencing the occurrence of snow.
With this kind of weather happening and predicted to happen more often than not over the next couple of months, experts at Belgard have determined there are a few steps you can take to help preserve the longevity of your customers' pavers this season.
Click here to read the full story.
6. Off-season training ensures workers are primed for a safe spring
Off-season training isn't just something that athletes can take advantage of during the wintertime.
Just like how athletes need to stay active to remain in peak physical condition, your crews need to be reminded of proper equipment operating techniques and safety practices. Keeping these procedures fresh in their minds will help them kick spring off to a productive start.
Click here to read the full story.
5. Proper tree pruning practices to remember this year
Just because handheld pruners, loppers, chainsaws and the like are available at the nearest home improvement store does not automatically mean homeowners are qualified for administering proper tree care.
Arboriculture is a science-based industry and pruning is just one of the complex aspects of the discipline. Even professionals at times can fail when it comes to performing the proper techniques and practices.
Click here to read the full story.
4. NALP announces 2018 top landscape trends
The National Association of Landscape Professionals (NALP) recently announced its official list of the 2018 top landscape trends.
NALP says it develops its trends reports based on a survey of its members and by drawing from the expertise of landscape professionals representing various regions of the U.S. who are at the forefront of outdoor trends. The group adds that landscape trends are also influenced by broader lifestyle and design trends.
Click here to read the full story.
3. How to: Transitioning overseeded lawns back to warm-season grass
If back in the fall you sold your client on overseeding their warm-season grass with a cool-season turf to keep their lawn looking good in winter, don't forget about the upcoming transition back to the client's permanent lawn.
Overseeding allows customers to keep a dense, green turf even during the dead of winter. It is commonly used for golf courses and athletic fields to minimize damage from foot traffic and reduce weed invasion during winter dormancy, but homeowners are known to want this service too.
Click here to read the full story.
2. New minimum wages, employment laws for 2018
The new year rings in some new laws for 2018, including labor and wage laws.
The entirety of the federal, state and local laws taking effect in 2018 isn't listed here, but it's still important to know which ones will be affecting you and your business. Employers should seek knowledgeable counsel on how certain laws will apply this year.
Click here to read the full story.
1. Industry specialist warns leaf blower bans are coming if changes are not made
You probably have one or two quiet leaf blowers in your inventory, but the question is, do you use them exclusively where sound can become an issue?
City councils all over the country are taking steps to control the use of gasoline-powered leaf blowers because some of them are noisy and they are often misused. Over 170 cities have already adopted some kind of regulation to control leaf blowers.
Click here to read the full story.