As part of Total Landscape Care's look back on 2018, here are the top 10 stories during the month of September.
10. Understanding the basics of fall fertilization
It is well-known that fertilization can help your client's yard thrive instead of just survive, but as for when you should feed a lawn depends on a number of factors.
Fertilization is most beneficial when applied before the period of active growth of your customer's grass. Therefore, the best time to fertilize for warm-season grasses is during the late spring and summer, while it is best to apply fertilizer in the spring and fall for cool-season grasses.
Click here to read the full story.
9. Great time to buy: New tax law brings big deductions for buying used equipment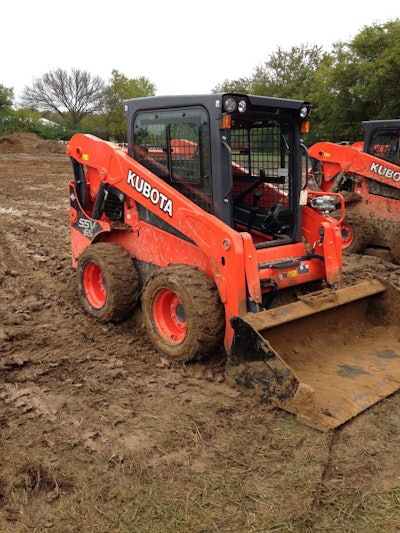 Contractors buying used construction equipment in 2018 and over the next five years will reap some hefty tax breaks, including one that was previously only available for purchases of new equipment.
The tax breaks come in two forms, section 179 and bonus depreciation, both of which now allow contractors to deduct 100 percent of the cost of new – and used – equipment in the first year they put the equipment into use. That also includes financed equipment.
Click here to read the full story.
8. Tree troubles: Causes of early leaf drop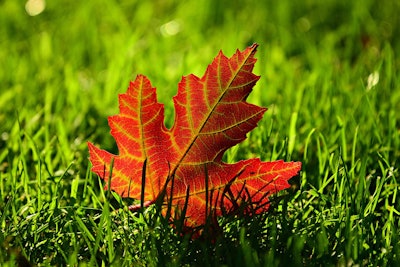 Even though it was officially the first day of autumn just a few days ago, leaves shouldn't be falling en masse quite yet.
The region you live in will determine when peak fall color season will arrive, and tree leaves generally begin to fall a week after peak color.
Click here to read the full story.
7. Selling services: Aeration and overseeding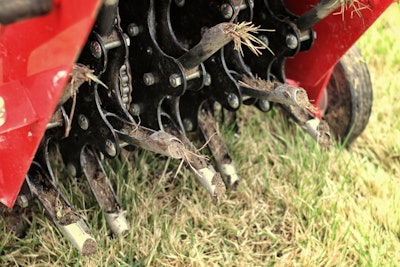 As fall sets in, it's time to begin the processes of aerating and overseeding your customer's landscape.
With the constant use a lawn experiences during summer, it's important now to give the lawn the care and attention it requires to establish a healthy root system and allow water and fertilizers to reach the roots.
Take a look at how you can explain to customers the importance of aeration and overseeding, along with the benefits associated with these practices.
Click here to read the full story.
6. Five factors to having a quality landscape lighting system
When spending time and energy on creating a beautiful landscape for your customer's home or company, you want to make sure you find quality landscape lighting to help accent and highlight the best features.
It is also important to find quality lighting systems if your clients are looking to increase lighting security to help increase their comfort and safety. As you explore your options, Serenity Lighting Systems offers you helpful information to make sure you get a high-quality landscaping system for your customer that lasts years and saves money.
Click here to read the full story.
5. Let's get cooking: Outdoor kitchen design
Cooler weather causes your customers to flock to the outdoors, which means they might require an outdoor kitchen for fall festivity hosting.
Most people consider the kitchen to be the heart of the home, and your customer's outdoor kitchen can serve as the heart of their landscape. Once considered a possible luxury addition to a backyard, outdoor kitchens have become a staple in many homes, as well as the quintessential gathering space.
Click here to read the full story.
4. Department of Labor launches H-2B compliance initiative for landscape industry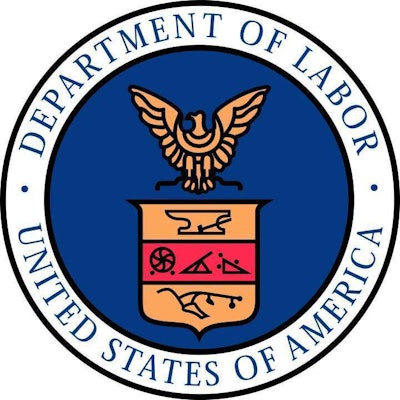 The U.S. Department of Labor's Wage and Hour Division (WHD) has announced it is conducting a nationwide initiative to strengthen compliance with the labor provisions of the H-2B temporary visa program in the landscaping industry.
According to the National Immigration Forum, 40 percent of all H-2B jobs are in landscaping and groundskeeping.
Click here to read the full story.
3. What landscapers can expect from Hurricane Florence
Hurricane Florence has been called 'the storm of a lifetime' and while it has currently downgraded from a Category 4 to a Category 2 hurricane, it is nothing for you and your employees to take lightly.
Although the peak wind speeds have decreased from a high of 140 mph to 110 mph, the immense size of Florence still makes it a serious threat. It currently has hurricane-force winds extending 80 miles from the center and tropical-storm-force winds 195 miles from the center.
Click here to read the full story.
2. Why fall is the best time to aerate
Many of us know the impactful benefits that come with aeration, such as stronger turfgrass roots, improved resiliency and an overall healthier lawn, but your customers might not. That means they also likely don't know that fall is the most crucial time to aerate.
Walking on, playing on and mowing turfgrass are all causes of soil compaction and stressed turf. Compact soil prevents turf from establishing a healthy root system and keeps water and fertilizer from reaching the roots, but aeration can help relieve this problem and others.
Click here to read the full story.
1. Salt shortage: What you can expect this winter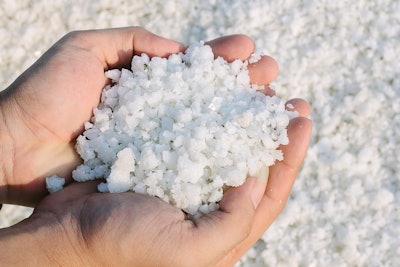 Snow and ice removal services are fickle on more than one level for landscapers. Not only do you have to try to plan correctly for what Mother Nature will bring in the winter, but you also have to make sure you have the supplies to get the job done.
Salt is a staple material when it comes to snow and ice management but in past few years, it has not always been readily available for contractors, leaving some high and dry during heavy snow seasons. As the 2018/2019 winter approaches, reports of salt shortages are circulating once more.
Click here to read the full story.