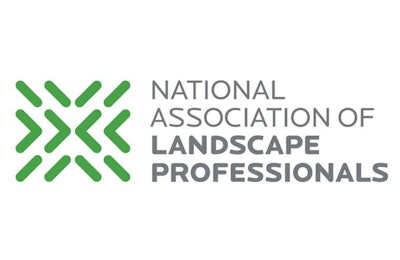 The National Association of Landscape Professionals (NALP) has announced the creation of the Landscape Management Apprenticeship Program.
The program is registered by the U.S. Department of Labor and offers job seekers a new career path via a paid apprenticeship with a professional landscape company.
"Apprenticeships programs are the golden ticket to recruiting and retaining top-tier talent," says Missy Henriksen, vice president of public affairs for NALP. "Offering an apprenticeship program gives companies a competitive edge and allows the landscape profession to be more competitive with other industries struggling for entry-level talent."
Through this official apprenticeship program, the landscape profession is now considered a skilled trade, opening recruiting doors at schools, veteran groups and community workforce boards.
"Apprenticeships are a known solution for attracting and developing highly-skilled employees in industries ranging from construction and plumbing to automotive, mechanical and more," says Henriksen. "The establishment of this program helps our industry to level the playing field when it comes to finding workers and building a pipeline of future employees. As an association, we are putting great emphasis into promoting this program through advertising and outreach to schools, guidance counselors and veterans to help landscape contractors find quality apprenticeship candidates."
To be eligible to enroll in the apprenticeship program, companies must be in business for at least one year and be responsible for:
Hiring new workers or selecting current employees to be apprentices
Ensuring that the apprentices are trained in the core competencies
Identifying an experienced mentor to work with each apprentice
Paying apprentices progressively higher wages as skills increase
Providing necessary participant information to NALP
Enrolling participants and invest in the necessary required online training
For the full list of requirements, click here.
Houzz releases 2019 State of the Industry report
Houzz released its 2019 U.S. State of the Industry report today, providing an outlook on 2019 and a review of 2018 based on data from nearly 4,800 professionals in the Houzz community.

"Residential construction and design service professionals large and small have sustained a remarkable multi-year run with upper-single to double-digit revenue growth," says Nino Sitchinava, Houzz principal economist. "Based on qualitative feedback, the recent deceleration in growth of construction services is likely a function of capacity constraints due to labor shortage, rather than contracting demand. That said, it is clear that the remodeler's mood with respect to the economy is quickly changing and clouding their business outlook."
Despite 2018 having the lowest growth rates in five years, 51 percent of landscapers who responded said they felt good about 2019 and 28 percent said they felt very good about this year. They do seem to expect a lower rate of revenue growth, dropping from 11.4 percent in 2018 to 8.2 percent in 2019.
While firms are optimistic about the demand for their services, they do expect the national economy to deteriorate, with 41 percent of landscapers polled predicting the national economy to worsen.
Landscapers are not expecting any major improvements in the labor market and 50 percent of landscape respondents say they are anticipating material costs to rise.
To view the full 2019 report, click here.
30th annual STMA conference celebrated
The Sports Turf Managers Association (STMA) recently celebrated their 30th Annual Conference in Phoenix, Arizona.
More than 2,300 participants came to Phoenix, including 1,400 sports turf leaders and 900 exhibitors from 14 countries. Across the span of four days there were 50 learning sessions and panels held covering topics such as turfgrass management, pest control, facility management and more.
"Thousands of members traveled from around the world to share innovative ideas and best practices," says Jody Gill, newly-elected STMA president. "Each member gained valuable knowledge in helping them better manage field surfaces to provide the safest conditions for athletes."
The event also had a volunteer rebuild of Lindo Park baseball field, two "Seminar On Wheels" tours of Phoenix area sports complexes, SAFE fundraisers, and the STMA award banquet.
SAFE, the association's charitable organization, raised nearly $41,000 through a bowling competition, live and silent auctions, raffles, and a golf tournament at Grand Canyon University Golf Course. The proceeds go towards educational programs, scholarships and grants that enrich communities through safe sports and recreation fields.
The Field of the Year recipients were recognized during the banquet as well as those receiving the Founders' Awards for their significant contributions to the industry. Below are the STMA members given the Founders' Awards:
Dick Ericson Award: Nicole Sherry, Baltimore Orioles
William H. Daniel Award: Pam Sherratt, Ohio State University Sports Turf Extension Specialist
George Toma Golden Rake: Abby McNeal, CSFM, CPRP, City and County of Denver Parks
Harry C. Gill Award: Jeff Fowler, Penn State University Extension
In the student challenge, teams of four were tested on their knowledge and skills for the chance of winning one of two $5,000 grants. Below are the winners from four-year programs:
First place – Iowa State University (Team #424)
Second place – Penn State University (Team #404)
Third place – University of Maryland (Team #417)
Two-year program winners are as follows:
First place – Penn State University (Team #203)
Second place – Mt. San Antonio College (Team #204)
Third place Mt. San Antonio College (Team #212)
Next year's conference will be held in West Palm Beach, Florida, Jan. 14-17, 2020.
Orbit Irrigation acquired by Platinum Equity
The parent company of Orbit Irrigation and Hydro-Rain, Pro-Mark, has been acquired by the global investment firm Platinum Equity.
Pro-Mark was founded in 1971 by Max Ericksen and built Orbit into a global distribution network with products available in 40 countries and all 50 states over the span of 40 years.
"Orbit has created a successful business through a combination of product innovation, quality and entrepreneurial spirit," says Jacob Kotzubei, a Platinum Equity partner. "With the addition of our financial, operational and M&A resources to support the company's growth, Orbit is poised to take yet another significant step forward. There are opportunities to deploy operational best practices throughout the organizational and leverage the company's brand to drive additional growth in both core and adjacent markets."
Orbit's product line includes controllers, timers, underground irrigation systems and other accessories. It specializes in "smart watering" technology like its B-Hyve suite of products that help reduce water usage.
Orbit's CEO Stuart Eyring will remain in his current position after the transition to new ownership.
"This is exciting news for our company and our customers," Eyring says. "With Platinum Equity's support, we'll be able to make additional investments in growth and new technology. We are very excited about the opportunities ahead of us."
David Kirby named VP of TreeTown USA/Village Nurseries/Hines Growers
Jonathan Saperstein, CEO of TreeTown USA, announced that David Kirby has been appointed executive vice president of TreeTown USA/Village Nurseries/Hines Growers.
In this newly created position, Kirby will report to Saperstein while being based in the Western Division headquarters in Orange, California.
Kirby has almost 30 years of experience and he most recently worked Monrovia Nursery Company.
"It's a tremendous opportunity to join such a great team of experienced industry professionals who have the knowledge, commitment and resources to become the No. 1 nursery in America," Kirby says. "With the combined experience in the rewholesale, landscape, mass merchant and IGC retail market segments, TreeTown USA is in the best possible position to develop the right plant mix and customer programs to grow with our changing industry."
Kirby will be responsible for leading the national sales team.
"David has built an enviable reputation as an extraordinary leader with a thorough knowledge of the nursery business," Saperstein says. "He will become a key executive in what I consider one of the strongest leadership teams in the industry."
Gosha Greens launches its redesigned website
Gosaha Greens, a grower of wholesale plants and trees for landscapers in Florida, announced it has revamped its website.
The newly designed website provides photography of the many plants available to customers and provide information about the company. The redesigned site includes a blog section where visitors can find original articles and press releases. The blog will be updated on a weekly basis and the company says the plant photo gallery will be expanded regularly.
"We are excited about our new website launch and the useful information and beautiful images it provides for current and future customers," says Kevin Kalantari, owner and head plant buyer of Gosha Greens. "We believe that this new site will allow our visitors to have a very informative experience as we continue to grow and expand our service area, while still offering free quotes to anyone who sends us their plant list."
Click here to view the site.
Porous Pave names new VP of sales and marketing
Matt R. Lamb has been named the new vice president of sales and marketing for Porous Pave, Inc.
"Since we introduced Porous Pave in 2006, demand has continued to grow," says Dave Ouwinga, founder and president of Porous Pave. "Matt has the background and experience to lead and accelerate our growth. He has a proven record in building high-performing sale teams, managing selling channels, and strengthening business relationships."
Prior to Porous Pave, Lamb was the sales director for The Bernard Group. He also has more than 25 years with 3M. Working as a marketing and business development leader, he introduced new products, established dedicated sales forces and developed customer sole-source partnerships.
"For more than a decade, Porous Pave has proven to be an exceptional permeable paving material in a wide variety of commercial, public works and landscape applications," Lamb says. "I look forward to growing sales as Porous Pave continues to solve permeable paving challenges."