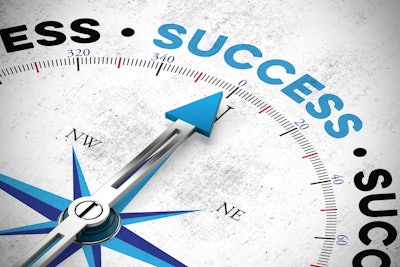 This is part one in a three-part series. Part two will publish on TLC tomorrow.
---
At the 2019 Gulf States Horticultural Expo held in Mobile, Alabama, green industry professionals gathered to discuss an array of topics regarding employee retention, building your business, proper planting and maintenance techniques and more.
With over 30 years of experience advising green industry business owners, Tom Grandy, founder of Grandy and Associates, discussed 15 aspects he's noticed all successful companies have in common.
Know what labor rate you need
The first step that Grandy recommended was that company owners know what labor rate they need to use in each department to cover the cost of doing business from a cash flow perspective, as well as generate a significant pre-tax net profit.
"The number one failure in our industry today is improper labor pricing," Grandy says. "What happens over the years is companies grow, and when they grow, what happens? All of your costs of doing business change. You have to set your hourly rates based on cash flow dollars, or it could literally put you out of business."
Grandy notes that one of the biggest mistakes business owners make is failing to re-calculate profitable labor rates on a regular basis. As your overhead costs increase, owners should seriously re-evaluate how much they charge for services. Most companies, Grandy says, continue to charge what everyone else does, which ultimately doesn't work in the green industry.
Calculate your hourly rate
When re-calculating your hourly rate, Grandy says you need to first determine what your real costs of doing business are from a cash flow perspective, which means you need to be familiar with basic overhead costs such as rent, utilities, insurance and more. But along with basic overhead costs, Grandy says you also need to take into account a few more costs:
Non-billable time: This is time your technicians are paid for, but you aren't able to charge customers for. This can include time spent in the shop, traveling, attending company meetings and more.
Full amount of loan payment
Equipment replacement costs
Cost of basic overhead
"We're talking about what it's going to cost you two, three, four years in the future," he says. "Take that future cost built in with today's pricing so that when we're ready to replace that piece of equipment, we've got the dollars to do it."
Secondly, he recommends determining the amount of gross profit you make when selling materials or parts in each specific department. After this comes calculating your billable hours, followed by your breakeven rate, which Grandy says is the real cost of doing business, minus gross profit on material sales, divided by billable hours. Finally, Grandy says to add profit to your hourly rate.
In the landscaping industry, Grandy says you will have anywhere between 25 and 30 percent of non-billable time, and if you're doing irrigation where you visit multiple sites in a day, you could have up to 50 percent of non-billable time.
Develop a cash flow budget and track results monthly
When creating a budget, Grandy says it's imperative that you create a month-by-month, department-by-department cash flow budget and track the results every month.
By implementing this, you're better able to look at your company in detail, provide accountability and encourage others to get involved with the budgeting process, help you plan the growth and track the profitability of your company and provide accurate information that will allow you to make good economic decisions.
"When you get people involved in the budgeting process, they tend to become accountable for the numbers they give you, especially if you hold them accountable for those numbers," Grandy says. "Budgets are very valuable to a company. Every major company I know is successful because they have a month-by-month budget and track the results monthly."
Have a business plan in place
Having a business plan in place allows you to set the direction of your company, where you're going, how you plan to get there and will detail the cost of meeting your goals.
"You don't have to be a $5 million a year company to put a business plan in place; you need one," Grandy says. "Because if you don't know which way you're going and what road gets you there, you don't know if you've arrived or not."
Grandy recommends always having a written business plan that includes the following items:
Executive summary: Includes the history of the company, general market conditions, status of competition and the company's goals.
Financial plan: Includes the history of the company from a financial standpoint, numbers from the last several years, current financial statements, capital expenditure forecasts for equipment you'll need and when you'll need it and a month-by-month cash flow budget for the next two to five years.
Marketing plan: Shows how you plan to market your business.
Production needs: What will your labor needs be and your material forecast, including inventory and assets.
Organizational chart: Create charts for where you are now, where you expect to be in three years and where you expect to be in five years.
Marketing plan
Every successful landscaping company will need a strong marketing presence to thrive, especially in the technological world we live in today, but Grandy recommends taking time to make sure your marketing dollars are being spent wisely.
"You should never just spend extra money on marketing," he says. "If you're going to spend that extra $2,000, $5,000, $10,000 on something, have some expectations. If you don't have any expectations, there's no reason to do it."
Grandy says every marketing plan should include a list of what marketing methods you plan to use, when you plan to implement them and what each one will cost you.
Grandy recommends always keeping track of where your leads are coming from to accurately gauge what methods are working best, and always have a continuous and overlapping plan in motion to minimize slower times.
Finally, if you find that you yourself aren't particularly inclined to deal with marketing, Grandy says to either hire an individual specifically for that job or to contract out to a professional company to handle it for you.
"Marketing works, but you've got to plan for the next several years and stick to it," he says. "You don't have to be good at everything; use outside people to fill those gaps."
Additionally, Grandy says he's noticed that 60 percent of customers who liked your service would have called you back, but they simply forgot your name. Therefore, he advises using leave-behind items such as refrigerator magnets and chip clips with your company name, number and logo on them to help with your top of mind awareness (TOMA) with clients.
Have a "brag book" or portfolio
These "brag books" or portfolios can be in either a physical book or in electronic form, but overall, Grandy recommends them all having the following items:
Referral list of past customers with their comments and reviews
Copies of insurance certificates
Pictures of past jobs, your buildings and employees
List of organizations and associations you are part of
Copies of licenses
Company brochures
An annual letter to customers
Newsletters
Check back tomorrow for part two of this article, where we'll take a look at the benefits of setting up multiple corporations, the importance of networking and more.