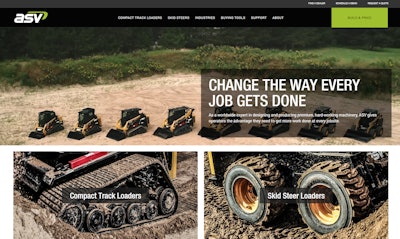 ASV Holdings Inc. has introduced a new brand strategy highlighting the product features and qualities that they say make their company an industry leader and allow customers to get more done in more places.
The company says they have also launched a new website with features to improve customer experience and ease of use.
"ASV is seeing exceptional growth, so this brand and website launch come at a critical point in our company's development," says Justin Rupar, ASV Holdings Inc. vice president of sales and marketing. "The brand puts a spotlight on the unique differentiators of ASV, the company's core values that make us who we are today, and our commitment to our customers to provide premium products that allow them to do their best work in countless applications. This includes providing all-season, all-terrain equipment that enables contractors to do more in more places than they ever thought possible."
ASV says the new brand highlights the company's mission to support customers by creating innovative, high-quality equipment that company employees would want to operate themselves.
The company says the brand identity showcases the ways ASV machines offer more power, performance, reliability and productivity than ever before. All of these features, the company says, are ultimately laid out with the introduction of the new website.
ASV says the site showcases the company's new brand identity and highlights their competitive advantages and product strengths. The company says it includes a streamlined look and gives users the ability to quickly find the information they're looking for with its updated navigation tools.
ASV says a new price quote tool allows potential customers to configure a machine with the features they desire and request a quote from their nearest dealer. Additionally, the company says the site includes a blog and newsletter sign-up section, providing easy access to product news and real-world success stories from ASV machine operators.
SePRO Corporation announces partnership with Excellere Partners
Bill Culpepper, president and CEO of SePRO Corporation, recently announced that Excellere Partners, a private equity firm focused on partnering with entrepreneurs and management teams, has made an investment in SePRO Corporation.

"Excellere was in search of partnership opportunities in the agricultural and water segments of the specialty chemicals industry that offer a solution comprised of high-performance products and proprietary technical services – SePRO fits these criteria perfectly," says Patrick O'Keefe, partner at Excellere Partners. "Founder Bill Culpepper is a recognized leader in the industry and has built a strong management team with a shared commitment to offering customers the most effective solutions in the market. As a result, SePRO is poised to continue its strong organic growth while also leveraging Excellere's resources to pursue partnership opportunities and acquisitions in the industry."
Over the past 25 years, SePRO says it has established itself as an innovator of specialty products and services that satisfy the unique needs of its customers. The company says it offers products that manage invasive weeds and algae in aquatic environments, plant growth regulators, herbicides, insecticides and fungicides for the turf and greenhouse markets, as well as herbicides for the specialty agriculture markets.
"An exciting opportunity exists for SePRO to create additional value to customers across the markets we serve by expanding the breadth and depth of our products and services," says Culpepper. "It is clear to us that Excellere supports SePRO's commitment to solving its customer's most complex challenges. SePRO anticipates the Excellere partnership will enable the successful next phase of the company's growth."
Since its beginning, SePRO says it has invested to create research, manufacturing and marketing capabilities to serve its customers. This partnership with Excellere, SePRO says, will provide resources to enhance and accelerate the company's growth opportunities.
The companies say they intend to implement a multi-faceted growth strategy comprised of investments that further enhance SePRO's infrastructure, continued penetration of its existing products, commercialization of a pipeline of new technologies and complementary partnerships with other leading agricultural and water-focused specialty chemical businesses.
Ewing merges with Kenney Outdoor Solutions
Ewing Irrigation & Landscape Supply announced its merger with three Kenney Outdoor Solutions sprinkler locations, further extending Ewing's footprint in the Midwest. Ewing says Kenney Outdoors Solutions has served the green industry since 1906 and is a multi-generational family-owned business.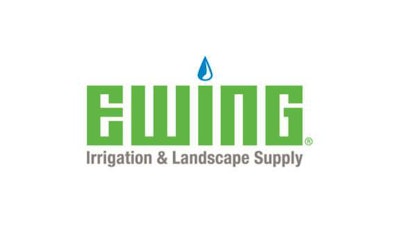 "Growing with Kenney Outdoor Solutions is a great opportunity for Ewing as we enter these new markets," says Dale Nieuwbeerta, Ewing's Great Lakes Division vice president. "We are gaining a robust team, optimum locations and a strong partnership for our customers in this market."
Ewing says it will be merging the Kenney Rochester Hills location into Sterling Heights, Michigan, while maintaining the existing Kenney's Grand Rapids, Michigan, and Indianapolis, Indiana, locations. Through this partnership, Ewing says it will retain the local staff at the three new Ewing locations.
"As a family-owned business, it was important to partner with another multi-generational family company that upholds similar values, culture and focus on customer service as Ewing," says Douglas W. York, Ewing president and CEO. "We are looking forward to embracing our new Ewing family members and providing the quality service all Ewing customers expect to the green industry pros in Michigan and Indiana."
Eric Reasor joins PBI-Gordon's research team
The employee-owners of PBI-Gordon recently announced that Eric Reasor has joined the company as a research scientist for the southeastern United States.
Based in Dallas, Texas, the company says Reasor will be responsible for coordinating all research protocols, technical assistance to cooperators and product support for channel partners and end-users in Alabama, Florida, Georgia, Mississippi, North Carolina, South Carolina, Tennessee, Texas, Virginia and West Virginia.
Reasor holds a Ph.D. in turfgrass weed science from the University of Tennessee, where the company says he conducted research programs for "off-type" grasses in Bermuda grass putting greens, participated in extension activities and managed weed science research programs.
He earned his Master of Science in plant sciences from the University of Tennessee, and a Bachelor of Science in crop and soil environmental sciences from Virginia Tech University.
Before joining PBI-Gordon, Reasor was assistant professor of turfgrass science at Mississippi State University, where he oversaw undergraduate education and recruitment, turfgrass breeding and cultivar development and plant growth regulator research.
Scaling Your Landscape Business workshop to be held Feb. 20
On Feb. 20, a one-day workshop called Scaling Your Landscape Business will be hosted by Jeffrey Scott in Boston, Massachusetts.
Bob Marzilli, president of R.P. Marzilli Landscape Contractor, will be in attendance as a guest speaker. Since 1985, Scott says Marzilli has grown his business to one of the most respected landscape construction firms in New England with 200 skilled landscape professionals and a revenue near $40 million.
Attendees will learn how to:
Accelerate growth by building a super leadership team.
Achieve financial security by managing and winning by the numbers.
Capture higher margins by mastering the profit-driven sales approach.
Scale your business by recruiting, training and empowering key talent.
Scott says the program is geared to helping owners and company leaders learn how to multiply their revenue and dramatically improve profitability.
The workshop is limited to two seats per company; please RSVP by emailing [email protected], and click here to learn more.