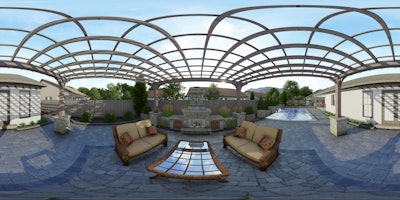 Belgard is working to pave the way for landscape designers and contractors when it comes to streamlining the design/build process for outdoor spaces.
The paver provider has introduced Collections by Belgard, which is set to launch for this year's building season and roll out nationwide. The Collections combine complementary product offerings that go well with a home's style or design aesthetic.
"Our products have historically been organized by application, which can make it difficult for designers and homeowners to match complementary products, colors and textures," say Amiel Ingraham, product manager for residential hardscapes with Belgard. "This sometimes leads to projects that just don't live up to their greatest design potential."
There are currently six Collections offered which match up to specific architecture trends and styles across the country.
The Legacy Collection features a traditional aesthetic and evokes an old-world charm. The Heritage Collection provides a time-worn appearance without the wait. This collection uses antiquated and tumbled pieces that add warmth to neutral palettes.
For those wanting a casual, relaxed looking with their hardscaping, Natural Collection has laid-back, design forward products that combine the old and new to work with its natural surroundings.
Contemporary, streamlined aesthetics can be found with the Metropolitan Collection, which uses strong lines and smooth textures. It emphasizes natural light and neutral tones with wood accents.
The Porcelain Collection also has a streamlined appearance. This material is compact, resistant and virtually non-porous. Belgard says this collection goes best with blacks, whites and other pale neutrals.
Homeowners who want to be more water wise can turn to the Environmental Collection, as this houses Belgard's permeable pavers. This set uses classic lines and smooth finishes to work with both traditional and modern settings.
Rather than promoting cookie cutter designs, Collections helps both contractors and homeowners see how to achieve a particular look to suite a home, while also helping show what can be pulled from other collections to compliment a design.
"For example, if a backyard design primarily uses products in the Metropolitan Collection, you can consider pulling a product from the Natural Collection to provide a subtle contrast as a border piece or interchanged in the design of the core paver layout," Ingraham says.
"Collections offers outdoor designers, contractors and homeowners a way to reimagine an outdoor space by combining complementary product offerings that pair with a home's style or design aesthetic," Ingraham says. "It's important that we ease the design and build process for outdoor projects of any style for the contractor, homeowner and dealer alike. By organizing products by textures and colors, Collections turns superior design into a simple process – letting outdoor beauty remain in focus."
Ingraham says there's a possibility Belgard might add new collections to the lineup or new products to the current collections in the future as new products and textures are developed.
Landscapers can help homeowners visualize how these collections would look through the help of virtual reality.
"At Belgard, we treat VR views as an added feature to the 3D design," says Mike Miles, senior designer for Belgard Design Studio. "It allows the homeowner to emerge themselves in the environment that has been designed, giving them a more intimate and personal experience. You are able to gain a sense of scale for the space and view the project from different vantage points that are given."
Belgard introduced the VR element for contractors who use their Design Studio back in 2017. Belgard authorized contractors can enjoy free access to the Design Studio, which allows users to create 3D graphics, fly-through animations and virtual reality views.
"In our experience, as long as Belgard has renderings of the project on hand, we can export a VR setting image," Miles says. "However, we do have to create a bit more of the environment/outdoor space to compete with the 360-degree image. This content is very helpful upfront and can help to streamline design/closing the process for contractors from the beginning."
Authorized contractors can also contact their local sales representatives for complimentary VR headsets.
Even for other landscape contractors who want to take advantage of VR, it is not too cost prohibitive.
"A simple VR headset can be purchased for approximately $20.00-$40.00 depending on brand and quality," Miles says. "These headsets utilize smartphone technology to broadcast the images into the viewer's lenses, creating the 3D effect – often powered by a supporting mobile app. An Oculus Go headset is an all-in-one unit that stores the design content internally and does not require a smartphone to function. These headsets are pricier at about $220.00, however, off brand units are available in the $100-$150.00 range."