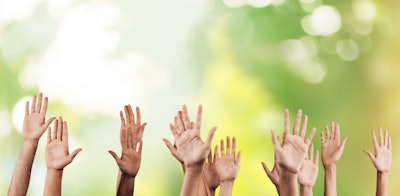 While the National Association of Landscape Professionals (NALP) believes that their newly created Landscape Management Apprenticeship Program could be a silver bullet for the green industry, it's also important to invest time and energy into recruiting at the middle and high school levels.
At NALP's Workforce Summit held in Alexandria, Virginia, green industry professionals discussed the importance of investing in the upcoming generations to help change the way the green industry is seen by students, parents, school faculty members and communities.
"The heart of the issue is how our industry is perceived in today's society," says Caitlin Clineff, recruiting specialist and company ambassador with Myatt Landscaping Concepts. "The only way to change that is for us to do something about it ourselves, and the key timeframe to be reaching people to change their perception is high school or earlier."
Getting the word out
Clineff says many people either don't know what horticulture is or they see it through a very limited view. To change that, she says the industry as a whole has to come up with a strong, clear, consistent message across the entire country.
"We have to break out of these stereotypes and reinforce a new image in peoples' minds," she says.
As we discussed in previous articles, having a diverse and multicultural company can help jobs in the green industry seem more appealing to a wider audience. Employees need to be able to see themselves reflected in a position, otherwise they will believe that it's not meant for them.
"If you're trying to convince me to come and work for you and I don't see any evidence that you've hired someone like me before or promoted someone like me before, then why would I consider working for you?" says Sarah Anderson, senior manager in the Tree Equity Program of American Forests.
Once this new view of the industry is created, Clineff says it comes down to getting the word out effectively. Once we have the attention of interested individuals, Clineff says it's important to show the multitude of career paths available through the green industry. Clineff says it's equally important to show the public that jobs in landscaping aren't limited to certain demographics.
"We need to consider how we can make our workplaces more attractive to these groups," Clineff says. "If we want to attract more young people to our industry, we have to have diverse employees on the frontlines that the young people can relate to."
Reaching out to schools
When it comes to reaching out to middle and high schoolers, the best way to start it to take a look at FFA, 4H and existing horticulture classes.
Clineff encourages green industry professionals to reach out to the faculty members and teachers in charge of these groups and classes to establish working relationships. This, she says, will make it much easier in the future to plan and organize school visits, trips and field days.
"It's important to start building those relationships early and plan something far enough in advance that they can work it into their teaching schedule," she says.
Community and technical colleges are also an excellent place to look when trying to reach students who already have a strong interest in horticulture or landscaping. It's at this level that students will be able to broaden their concepts of what kind of careers are available to them.
With many community and technical colleges, Clineff says partnering with their career centers or employer relations coordinators can help you with setting up company visits, field days, career fairs, meet and greets and more.
Clineff says that once you've decided which schools, classes and organizations you want to talk to specifically, it's time to figure out how to get the students interested in what the green industry has to offer.
"With high schools or community colleges, the most important thing is to collaborate with the educators to meet their students' specific needs in ways that will also improve the image of the industry and encourage students to consider careers in landscaping or related fields," she says.
Collaboration ideas
While there are many ways to begin the collaboration process with schools, Clineff says she began with hosting a facility tour that included a question and answer segment, as well as hands-on activities.
If the horticulture teachers have specific curriculum they would like you to help them cover, Clineff suggests having the hands-on portion of the day revolve around that specific curriculum.
As for collaborating with community and technical colleges, Clineff recommends either actively participating in the National Collegiate Landscape Competition (NCLC) or offering NCLC training days for competition preparation. This year's NCLC will be held at Colorado State University in Fort Collins, Colorado, March 20-23.
"First, it's all about building strong relationships with teachers and school officials," Clineff says. "That way, you can have ongoing contact and reach new students every year. Second, we have to collaborate with schools to create meaningful experiences. We need to tie in our message with what the students are already doing. This will help them make the connection between the classroom and potential future careers."
Finally, Clineff reminded everyone to follow up after your event to keep your company and the industry at the top of their minds. Don't let the end of the event be the end of your outreach. She recommends sharing approved posts and photos from your events on social media pages to help get the word out to a wider audience.