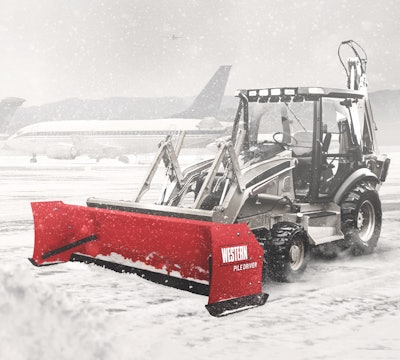 Douglas Dynamics brands, Western Products and Fisher Engineering, have both recently debuted two new plow models and LED headlamps at the Work Truck Show.
Western's new Pile Driver pusher plow is available in 8' and 10' sizes and features as steel trip-edge with interchangeable attachment plates. This allows for operator flexibility as the plates allow for the plow to be attached to various types of equipment within a fleet.
Previously plates were welded to the pusher moldboard, requiring different pusher plow models for each machine.
The steel trip-edge was added in response to customer feedback and it enables operators to conduct a down-to-pavement scrape with the cutting edge moving over contours and obstacles. The trip-edge has four extension springs and is reinforced with two double ribs at the trip springs to handle heavy loads and stress.
"Pusher plow applications are the toughest plowing jobs out there and we've raise the performance bar with these new plows," says Doug Clark, Western product manager. "By adding a steel trip-edge, our customers can tackle those jobs with more confidence than ever."
The plows are 32.5 inches tall and have a 63-degree attack angle. They have a new enamel paint that Western says resists salt and UV rays for improved longevity and corrosion resistance.
The Pile Driver pusher plows will be available in May.
Likewise, Fisher Engineering has the two 8' and 10' Storm Boxx pusher plows with a steel trip-edge for a better finish.
"Our customers asked, and we most certainly answered with these new Storm Boxx pusher plows," says Tyler Jones, Fisher product manager. "The steel trip-edge and high-quality construction will lead to better plow performance in the most demanding conditions, giving our customers results that will make them proud."
The Storm Boxx can fit on 40+ horsepower tractors (10-foot plow needs 50+ horsepower) 45+ horsepower skid steers (10-foot plow may need 60+ horsepower) and 60+ horsepower wheel loaders and backhoes.
Fisher's new pusher plows will be available in May as well.
Western and Fisher have also expanded their v-plow lines with Heavy-Duty MVP 3 and Heavy-Duty XV2 v-plows, respectively. This 10-foot 6-inch v-plow is designed to fit Class 4 to 6 vehicles.
It is available in powder coated and stainless-steel options. It has 45-inch-tall, flared wings to increase its ability to move large amounts of snow and windrow wide-open areas.
Both the MVP 3 and XV2 are designed with a T-Frame that uses one-piece construction and has integrated blade angle stops and an oscillating pivot bar. The plows also both have a trip-edge design and curb guards.
"Many contractors have already had great experiences using our MVP 3 v-plow, and a number of them have asked for a larger-sized v-plow that will fit their bigger trucks," Clark says. "By expanding our line to meet their needs, we're helping our customers get more jobs done faster, which is always our goal."
Customers will also have the option of choosing between the new Western Nighthawk LED headlamps with EdgeView technology or the existing Nighthawk dual-halogen headlamps. Those who prefer Fisher can choose between the new Intensifire LED headlamps with EdgeView technology or the existing Intensifire dual-halogen headlamps.
The EdgeView technology featured on both brands' new headlamps are sidelamps that direct light through the outer edge of each headlamp to provide a full 180 degrees of light visibility from plow edge to plow edge.
The lights also feature an innovative heating system and lens design to prevent ice bridging.
"Every time we release a new product, we want to make sure our customers are getting the best available solution on the market," Jones says. "We've been designing, engineering and testing these new LEDs for about two years in order to ensure they would deliver the best-in-class performance that would set them apart from the rest of the market. We're extremely proud of them and we feel they are the best LED snowlamp headlamp solution on the market. Period."
Greenworks adds 25" self-propelled lawn mower to lineup
Greenworks Commercial has added a 25" self-propelled mower to its line of 82V lithium-ion battery-powered products for professional landscapers.
The mower starts at the push of a button. The GMS 250 has Smart Cut technology allowing it to adjust speed as necessary to improve performance and extend its run time. The mower uses a dual port battery sequential power supply, so it automatically switches from one battery to another, providing greater operating time without stopping.
Greenworks says the mower cuts noise levels in half and has zero emissions. The GMS 250 has a 7-position single lever for adjusting cutting heights from 1 3/8" to 3 ¾".
The mower has steel deck with 2-in-1 design for mulch and rear bag capability. It has dual blades for better cutting and rear wheel drive for easy operation. Both the battery and the mower have a two-year warranty.
"Our GMS 250 82-volt lithium-ion self-propelled mower will help landscape pros overcome the growing issue of dealing with emission and noise regulations, saving their business both time and money," says Tony Marchese, commercial business unit leader, Americas – Greenworks. "In fact, with the powerful performance of this self-propelled 25" mower, we've given landscape crews the ability to get all their trimming, finishing and severe sloped-terrain work done in a quiet, hassle-free manner that won't disturb clients in their homes or work places, enhancing the customer experience."
The GMS 250 will be available starting April 15 through the Carswell, Carswell OEI, Conniff, Edney, PACE and Steven Willand independent dealer networks.
Coyote Landscape Products introduces PerfEdge steel landscape edging
Coyote Landscape Products, a supplier of steel edging products, says PerfEdge steel landscape edging is the perfect solution for landscaped areas where water accumulation can occur.
The edging features a perforated design that allows water to drain from unwanted locations.
Coyote Landscape Products says landscapers can use PerfEdge to delineate landscape beds, walkways and gardens from lawn areas and encourage water flow and proper drainage.
PerfEdge is available in 10-ft by 4-in pieces in either 20- or 16-GA thickness. The edging has finishes including raw steel, galvanized, or one of the three EcoCoat colors: black, brown or green. Coyote Landscape Products says the EcoCoat is an earth-friendly powder coating process.