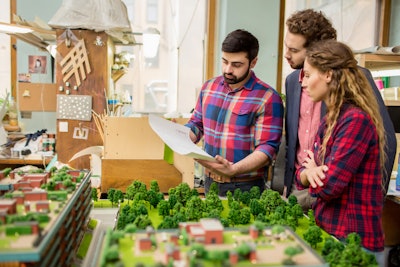 While you might know the landscaping industry like the back of your hand, that's no guarantee that your landscaping business will be successful.
As many new business owners quickly discover, a profitable business can't be fueled by passion alone. If you're thinking about opening your own landscaping business, there are many pitfalls that you can easily avoid by doing your research in advance.
From estimating costs and tracking expenses to ensuring that your employees are happy and safe on the job, here is what you need to know to make your landscaping business a thriving success:
Calculate your costs
When you're first starting out, it's tempting to undercut your competition by offering low prices. While it may seem like a strategic plan, the reality is that it's only one big race to the bottom.
To make a profit, you need to calculate all your costs. Be sure to include labor, fuel, equipment, maintenance for equipment, materials, and time spent driving to job sites. Once you have the costs tallied, decide what profit you want to make.
Keep in mind that, to attract the right customers, you need to offer premium prices that reflect your quality of work. Many customers are wary of low prices because they worry that the job will be executed poorly. By setting the right prices, you can attract the right customers and make a profit in the process.
Learn to minimize downtime
You've heard it often: Time is money. One of the sneakier costs that can add up for landscapers is time spent doing nothing. Whether it's due to equipment failure or a sudden change in the weather, the last thing you want is for you or your employees to be idle.
While you can't do much about the weather, you can make equipment failure less damaging to your bottom line by creating a parts management plan. A parts management plan helps landscapers minimize their downtime by ensuring that equipment parts are on hand for fast fixes. In addition to keeping necessary parts on hand, it also helps you manage part inventory to prevent missing equipment.
Find and retain good employees
Your employees will be the backbone of your landscaping business. Unfortunately, good employees are hard to come by in the landscaping business and even more difficult to keep. To help you find and keep the best employees, here are a few quick tips:
Recruit all year long. Start an employment recruitment program before you need it and be prepared to look for employees all year long. Hang up flyers, hand out business cards, and post help wanted signs in your lawn. You can also try online job boards such as ZipRecruiter and Glassdoor.
Incentivize your employees. Give employees a reason to stick around longer than a few months. Whether it's through yearly bonuses, profit sharing, or simply showing your team that you care about them, a little incentive will go a long way in retaining your employees.
Keep them comfortable on the job. Comfortable and happy employees are productive employees. When working in cold conditions, give them the proper cold weather gear they need to stay safe and comfortable. If it's humid and hot, give them frequent breaks to avoid heat illness.
Don't call them after work. Although you signed up for a 90-hour work week, your new employee did not. Avoid contacting them after hours or dumping too much work on them; otherwise, they are practically guaranteed to get burned out.
Use quality equipment
You don't need to invest in high-quality equipment immediately. In fact, many landscapers originally started with a simple lawn mower to get the job done.
Eventually, you will need to consider investing in quality equipment, especially when your business is no longer a solo venture. If you have employees, you need quality equipment that won't malfunction and possibly injure them on the job, resulting in compensation expenses and lost production.
When investing in lawn care and landscaping equipment, remember to think long term. You can always consider a small business loan to help cover the costs of tools big and small.
Exceed client expectations
In the early days of your landscaping business, you probably have more time than you do money. Use this to your advantage by going above and beyond for your early clients. This is crucial to growing your reputation and finding new clients.
When you do an exceptional job for clients, they will be more likely to spread the word and give you a glowing recommendation. Word of mouth marketing will be your main marketing tactic as a landscaper, so make sure that you give clients a reason to recommend you.
However, you'll also want to be careful that you're not taking up too much time that eats into your profits. Learning how to say no to clients early is something that many landscapers struggle with. Don't let customers lowball you into a price that isn't going to move the needle for your business.
Use technology as your business grows
The beginning phase of your landscaping business requires a lot of grunt work, but it's not incredibly complicated—yet. As your business starts expanding, you'll run into problems such as coordinating projects, making sure you don't miss appointments, complex expenses, etc.
To help you stay the path without losing customers, it's important that you start thinking about the technology you'll need in advance. Whether it's billing and invoicing, equipment tracking, or job scheduling, such software programs can help you save customers and remain profitable.
Setting up your landscaping business for long-term success
With these tips, you can avoid the major pitfalls of running a landscaping business that crush countless entrepreneurial dreams. Even if you follow this advice, the first couple of years will be the most difficult.
In the first year, you'll be working 90-hour weeks, possibly working in extreme cold or heat. You'll also likely be paying your employees more than you pay yourself and will regularly wonder why you started in the first place. Just keep persevering and crunching your numbers to stay on track. With any luck, you'll have a thriving business in a few years.
EDITOR'S NOTE: This article was written by Natalie Bucsko. Bucsko serves as the marketing communications specialist for RefrigiWear. From the Dahlonega, Georgia, headquarters, Bucsko oversees all content, including the website, knowledge center, blog, catalog, email, and social media.