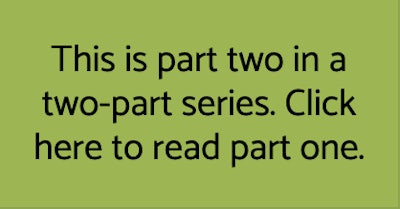 Building off the previous 545 and 550XP models, Husqvarna released the 550XP Mark II and 545 Mark II at its launch event in Asheville, North Carolina.
"When we discussed what was the next step for the 550, we came to the conclusion that we needed to do something completely new," says Andreas Rangert, global VP of parts management and development. "We wanted to re-establish and reinvent this chain saw from the ground up."
Christian Johnsson, product manager for professional products in North America, says Husqvarna took great care to focus on this new saw generation's endurance, performance and maneuverability.
"These are two brand new chain saws," Johnsson says. "They have the same names as their predecessors but with the addition of Mark II, meaning generation two. Built from the ground up. Excellence reinvented."
With the focus on these three improvement areas, Husqvarna says these new saws are optimized for harvest forestry and urban forestry applications, including felling, limbing, removals or cross cutting of small and mid-sized trees.
"When you do this kind of from the ground up redesign, it's tempting to put a lot of stuff on it, but I'm not in the Swiss Army knife business," says Rangert. "What is important for us is to put things on the product that really make sense, not just because we can."
The first aspect Johnsson points out on the redesigns saws is the new air filter design, which he says comes from the combination of a redesigned air filter with higher capacity and improved sealing and an upgrade of the air injection.
To help with endurance, Johnsson says the cooling capacity of the 550 XP Mark II and 545 Mark II has been improved by 13 percent, compared to the previous generation of 50cc chain saws from Husqvarna.
This, Johnsson adds, is made possible by three key improvements: an optimized air flow, the addition of more cooling fins in critical areas that contribute to more effective cylinder head dissipation and an insulating heat shield specifically developed for the new chain saws, which provides sealing against the cylinder area and minimizes heat leakage.
"This increases the startability when it's hot outside or when you've used the chain saw for a while, refueled it and started it again," Johnsson says. "Thanks to that cooling capacity, it's going to make it easier to restart it. And it also adds to the longevity and appearance of the chain saw."
Johnsson says these saws have a user-centric design, and the well-balanced saw body with low gyroscopic forces provides excellent maneuverability and handling. Johnsson says when redesigning, the goal was to keep the distance between the front handle and the center of gravity as small as possible.
"This saw has an external clutch, which moves the force closer to the center mass, so you have two moving pieces in this saw," says Walt Rose, national sales manager with Husqvarna. "Your piston and cylinder are going up and down and your chain is going around. They are actually two different forces, and because they are two different forces, they aren't cancelling out each other. We're bringing these two forces closer together and they start working together instead of against each other."
Johnsson adds that the ergonomically designed handles provide a safe, comfortable grip, and the 550 XP Mark II is equipped with heated handles.
The distance between the handlebars has also been increased, which Johnsson says gives users more leverage when cutting, the distance between the crankshaft and rear handle has also been increased and the distance between the cylinder cover and the front handle was increased to accommodate larger hands or winter gloves.
"More than 70 percent, maybe 80 percent, of the time you're out (in the field), you're limbing," he says. "That's why maneuverability is key."
The 50cc chain saws have two felling sights, one vertical and one horizontal, both of which Johnsson says are molded into the plastic for clear aiming and permanent guidance.
Compared to the older version of the 545, Johnsson says the 545 Mark II boasts an increase in power of 8 percent with torque going up 4 percent. He adds that the 550 XP Mark II boasts an increase in power of 7 percent with torque going up 4 percent as well.
When talking acceleration, Johnsson says the 550 XP Mark II is 30 percent faster with a fuel tank that performs 14 percent longer, and the 545 Mark II is 25 percent faster with a fuel tank that performs 14 percent longer.
T525: Small but fierce
Developed by Husqvarna's team in Japan, Johnsson says the T525 brings high productivity power to the field in a smaller, convenient size.
"Key when we developed this product was weight," Johnsson says. "We wanted to make sure it was as light as possible. That is why we didn't want to add the AutoTune module to this saw. We wanted to keep it simple and we didn't want to add more weight than necessary."
Johnsson says the T525 was developed for crown reduction to enable users to reach farther without the fatigue of carrying a full-sized saw.
Just like the larger saws in this fifth generation, the T525 features retained bar nuts that allow users to remove the side cover when necessary without worrying about the cover falling off.
The T525 also features a newly designed front handle, both a belt loop and a lanyard ring, dual pivoting chainbreak and flip up caps for refilling.
"The weight is of significant note," says Jeff Perry, arborist and member of Husqvarna's H-Team. "Sometimes working laterally, the proximity that you have to start that saw limits ergonomics, so having that nice elastic start with close, short pulls has been huge for me."
Krista Strating, part-time arborist, tree climbing instructor and member of Husqvarna's H-Team, recommends using this smaller saw for pruning jobs, as opposed to dead wooding.
"Maneuvering through a canopy or difficult climbs with a chain saw can be sometimes dangerous, but (the T525) almost feels like you're not wearing it," Perry adds.
Arborist Essentials
To accompany their new line of chain saws, Husqvarna also released their new line of Arborist Essentials equipment, created to aid tree care professionals in their day-to-day work.
"Tree care professionals have been very important customers of ours, and they have exposed a significant gap in our assortment of products we have offered to support them and provide them with a solution to complement our cutting equipment," says Ben McDermott, product manager for North American accessories.
The company launched two new arborist climbing helmets, the Husqvarna Elevation, which is a Class C certified climbing helmet. McDurmott says these helmets are ventilated with wheel ratchet adjustment. McDurmott says the second helmet, the Husqvarna Spire, is a Class E certified helmet that is also approved for use around electrical lines.
Along with the helmets came the 180-foot throw line, both a 12 and 14 ounce throw weight, a two-in-one safety lanyard with double action aluminum snaps, three new carabiners in oval, pear and D-shapes, a 30-inch hitch cord, a 16 strand, half-inch diameter climbing rope that comes in 120, 150 and 200-foot lengths, a rope bag and a 16-inch throw line cube to store the throw line.