Ruppert Landscape recently welcomed Scott Schoffstall as the regional irrigation manager in the company's landscape management division.
Schoffstall graduated from Old Dominion University with a Bachelor of Science in business administration (BSBA) degree and is a 30-year green industry veteran. The company says he is an active member of the Irrigation Association and is both a Certified Irrigation Technician (CIT) and Certified Landscape Irrigation Auditor (CLIA).
The company says he brings a wealth of experience and diverse irrigation background spanning the commercial, residential and golf course market segments. Most recently, he managed irrigation operations across multiple branches for a large landscape organization in Northern Virginia, and he currently resides in Lovettsville, Virginia, with his family.
"The addition of this new position will help ensure that we continue to provide reliable, first-rate irrigation management services to our customers," says Fred Key, region vice president in the company's landscape management division. "In this position, Scott will focus on applying his vast experience and knowledge to hone and strengthen Ruppert's irrigation standards and procedures."
Key continues, "Scott will initially focus on maximizing our operations and implementing new processes and efficiencies in Northern Virginia—specifically in the Gainesville and Alexandria markets. He will also be working towards expanding our in-house irrigation capabilities in our North Carolina and Atlanta branches."
Ecologel Solutions inducts new secretary-treasurer
Sarah Spatola, director of marketing at Ecologel Solutions LLC, was recently inducted as the new secretary-treasurer for the Florida Nursery Growers and Landscape Association (FNGLA).

FNGLA's nominating committee, chaired by immediate past president Ed Bravo, recommended Spatola and other board officers for the 2019-20 term. Elections took place on June 22 during FNGLA's annual convention.
Spatola graduated with a BS in marketing from the University of Central Florida and she joined Ecologel in 2009, and the company says she has played a key role in the company's marketing and advertising programs.
Ecologel has been a member of FNGLA since 2008, and Spatola served as the 2018-2019 board representative for the FNGLA Allied Division and FNGLA Landscape Irrigation Committee.
Spatola is a Class X alumna of the Wedgeworth Leadership Institute for Agriculture and Natural Resources, which the company says develops and refines the leadership capabilities of Florida agriculture and natural resource professionals.
Morbark appoints Showers as product manager, tree care products
Morbark, LLC, has announced the appointment of Jason Showers to product manager, tree care products. As the Winn, Michigan, equipment manufacturer continues to expand and evolve after over 60 years in business, the company says that professionals like Showers help to elevate not only product development but also how those products are brought to market.
The company says Showers will serve as the subject matter expert for all matters related to Morbark's brush chipper equipment line, and he has more than 20 years of hands-on experience with the brush chipper equipment line.

"I am excited to continue in a capacity at Morbark where I can share my knowledge with other industry colleagues," says Showers. "After working with Morbark products for many years, I look forward to putting my expertise to work and helping the company grow and innovate this product line."
The company says Showers has approximately 20 years of experience in equipment manufacturing industry. Before assuming this position, the company says he served as their product manager for Morbark's Boxer Equipment line of compact utility loaders and attachments and has been instrumental in developing and managing the product line's network of distributors, manufacturing representatives and rental business.
The company adds that he has also worked in special projects, helping to facilitate the creation and liftoff of other new programs, and he has been an active member of the Tree Care Industry Association (TCIA), where he now serves as a member of their board of directors.
The company says Mark Rau, inside sales coordinator, will now assume the duties of developing and managing the Boxer Equipment network of independent distributors, manufacturing representatives, as well as continuing to develop the company's presence in the rental market.
In the past, the company says Rau has served as the company's dealer development manager and has been with Morbark for 40 years.
"Jason and Mark both bring a knowledge base and experience level that will undoubtedly strengthen all Boxer and Morbark Tree Care Products," says Casey Gross, director, tree care products. "In particular, having Jason and Mark's extensive experience will make both of these lines of equipment stronger now and into the future."
OPEI annual meeting highlights upcoming changes
The Outdoor Power Equipment Institute (OPEI) recently held its 67th annual meeting in Park City, Utah, where attendees saw the future of the economy, technology and issues impacting the outdoor power equipment industry.
OPEI says the speakers, which included Dr. Lior Zoref, with a Ph.D. in crowdsourcing, best-selling author and TED speaker who has spoken at The White House, Google, MIT Media Lab and LinkedIn; Dr. Alan Beaulieu, president and principal at ITR Economics and a senior economic advisor to numerous U.S. and international trade associations; and Paul Zikopoulos, named one of the "50 Big Data Twitter Influencers" by SAP, a consultant for "60 Minutes" and multiple universities, were consistent in their message: inescapable changes are coming that will impact everyone, no matter who you are.
The OPEI board of directors also met in conjunction with the annual meeting and mapped out strategic plans for the coming changes in business.
"In addition to what's occurring with the economy and technological shifts, the industry is facing a number of pressing issues with the emissions changes in California, impact of tariffs on trade and ongoing threats to the managed landscape," says Kris Kiser, president and CEO of OPEI. "The board discussed these issues at length and mapped out a game plan."
"We also discussed the continued mega-growth of GIE+EXPO, the industry's signature trade show held annually in Louisville, Kentucky, which continues to break records," Kiser adds. "New this year is a partnership with Louisville Tourism on a 'Land in Louisville' campaign designed to educate the fly-in audience that coming to the show is easy and affordable when planned in advance."
To recognize the success of the association's TurfMutt education platform, now celebrating its tenth anniversary, the OPEI board moved to create the TurfMutt Education Foundation.
At the meeting, the board also elected two new members: Brian Melka, president, Kohler Engines; and Will Walton, III, vice president, Honda Power Equipment. Ed Cohen, retiring OPEI board member from Honda, was thanked for his decade of service.
The OPEI board of directors is chaired by Bjoern Fischer, president, STIHL. The vice chair is Rick Olson, chairman, president and CEO, The Toro Company. The secretary/treasurer is Tom Duncan, president and CEO, Positec USA, Inc. The immediate past chair is Dan Ariens, chairman and CEO, Ariens Company.
Kiser also urged all industry members to prepare for the next big meeting of the industry at GIE+EXPO, October 16 to 18, in Louisville, Kentucky.
"We anticipate again, as we've seen the last few years, that this show will be larger, more diverse, offer more training, education sessions and showcase more new products than ever before," says Kiser. "With the addition of in-tree training, Hardscape House, a special area for the hardscape industry members, along with a second Mutt Madness pet adoption event, as some of the new features at GIE+EXPO. We should have record attendance again."
The next board meeting also will be held October 16, in Louisville during GIE+EXPO.
Next year's annual meeting for members will be held at the El San Juan Hotel, June 16-18, 2020 in San Juan, Puerto Rico. OPEI has secured an extraordinary "hurricane-rate" for attendees as the hotel is now reopening after a major renovation following Hurricane Maria.
ASLA announces 2019 honors recipients
The American Society of Landscape Architects (ASLA) has announced their 2019 honors recipients.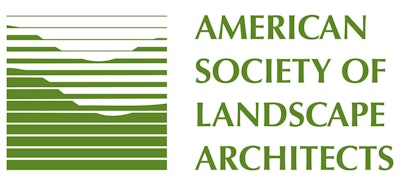 Selected by ASLA's board of trustees, the honors represent the highest awards ASLA bestows each year, and honors will be presented at ASLA's annual president's dinner during the Conference on Landscape Architecture in San Diego, California, this November.
Additionally, ASLA says it's proud to announce the induction of six honorary members in 2019. ASLA says that honorary membership is among the greatest honors the group gives to non-landscape architects in recognition of notable service to the profession. Since its inception in 1899, ASLA has inducted only 231 honorary members.
2019 honors recipients:
Carol Franklin, FASLA (The ASLA Medal)
Douglas Reed, FASLA (The ASLA Design Medal)
Kimberlee Douglas (Community Service Award-Individual)
Lee-Anne Milburn, FASLA (The Jot D. Carpenter Teaching Medal)
Julie Hensley, ASLA (the LaGasse Medal-Landscape Architect Professional)
Sally Jewell (The LaGasse Medal- Non-Landscape Architect
Heritage Landscapes LLC (The Landscape Architecture Firm Award)
Landscape Architecture Foundation (LAF) (The Medal of Excellence)
Senator Sheldon Whitehouse (The Olmstead Medal)
Additional information on this year's honors recipients and honorary members is available on the 2019 ASLA Honors website.
In recognition of their outstanding service to the profession of landscape architecture, the American Society of Landscape Architects is proud to award honorary membership to:
Thomas Bradshaw
Candace Damon
Daniel Martin
Kitty Stoner
Tom Stoner
Marc Treib