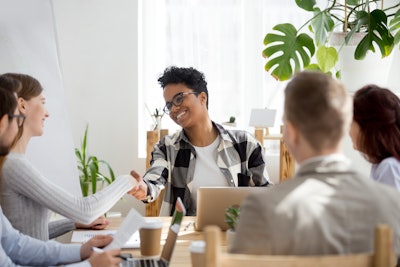 There are a lot of HR buzzwords and onboarding can be often confused with orientation for your new landscaping employees, but it goes far beyond the first day of work.
Onboarding is the first impression a new hire has of your organization, and having a strong onboarding program can help with retaining your workers long term.
"Think of it like a dating app – done successfully, they will hopefully swipe right," says Amy Tincher with Rocky Fork Company during her educational session at the Snow & Ice Management Association's (SIMA) 22nd Annual Snow & Ice Symposium in Grand Rapids, Michigan. "Not done well or not done at all, and they will swipe left and move past you and your company. A good onboarding experience can make all the difference in inspiring people to stay with your organization."
Record low unemployment rates combined with millennials being less likely to take on blue collar work and having a higher turnover rate all create an extremely challenging job market for landscapers looking for employees.
With less viable candidates available, landscaping businesses are having to fight for each and every hire.
Rather than scraping the bottom of the barrel, Tincher says employers have the barrel tipped over and are looking underneath it.
Tincher also says that the 3 Fs – fear, family and finances – are not the most effective way to retain employees any more. Most millennials know they can find a new job easily, so there is no longer a fear of unemployment. A majority of millennials aren't having kids until their 30s, so there is no drive to support a family, and going into debt is more socially accepted than in previous generations.
Because what worked before is no longer effective, companies must determine what are the drivers that keep their employees with them. The first step of onboarding is figuring out who works for you and why.
There are three main dimensions that can help you determine the who of who works for you. Internal dimensions include information like the age and ethnicity of your workers. External dimensions would be the education background, marital status and religion of your staff. Organizational dimensions include the employees' seniority, department and work location.
For each company, it will be a little different, so take the time to learn more about your employees. This will allow you to truly meet their needs rather than assuming what they need. Click here to view Tincher's worksheet on your workforce's identity.
Once you know your company's identity and the characteristics of your successful employees, you can begin creating an onboarding process that caters to the sort of person you are trying to attract and retain.
According to Tincher, onboarding can last up to a year and how much time you put into it reflects how long you want employees to stay.
"Onboarding is not just HR," she says. "It is everyone. Everyone needs to be on board to retain employees."
The Society of Human Resource Management says that effective onboarding should acclimate the new employee, engage the employee to enhance productivity and improve the company's ability to retain the employee.
The first element, acclimating, is crucial, as the faster an employee feels welcome and part of the team, the more likely they are to stay.
Half of all hourly workers leave their jobs in the first 120 days and half of all senior hires outside an organization fail within 18 months of a new position.
Employees can find out what you do from your website, but your job is to share who you are and what they can expect from your business, as well as what you expect from them.
Involving all your workers in helping new hires feel welcome encourages familiarity early on. Some companies even offer a bonus program to those who help with retention.
The second aspect of onboarding is engagement. This goes far beyond the first day, as landscaping companies should have consistent follow-up with new hires to show your investment in their success.
Companies that properly engage with employees can reduce turnover and absenteeism rates, as well as improve their safety ratings and customer satisfaction.
The final component to proper onboarding is retention. If you have properly acclimated and engaged your new workers throughout their first year, the reward is you retaining them.
When you are able to retain workers, you can improve your bottom line, take on additional work, reduce stress for the rest of your staff, improve customer satisfaction and you can fill more skilled positions from within the company.
Tincher says there are four main levelers that businesses can focus on to help employees with their onboarding.
Self-efficacy – helps the employee feel confident that they are doing their job well.
Role clarity – how well the new hire understands their role and expectations.
Social integration – new hire finds acceptance by peers.
Knowledge of and fit within an organizational culture – new workers understand a company's politics, goals and values.
If your landscaping company is looking to change your onboarding process, make a point to involve your entire team and use a detailed checklist so the program will be effective.
"If you don't involve them, they have no investment in making this happen," Tincher says.
Some questions to ask when creating your onboarding checklist include: "When will it start?" "How long will it last?" "How will you gather feedback on the program and measure its success?"
As for when onboarding starts, Tincher advises it starting well before the employee arrives on their first day. Have the necessary tax forms filled out prior to their start date and ensure all logins, passwords and such are ready to go, as no one feels welcome when they can't even log in to do their job.
Managers can provide a personalized calendar of their schedule for the first month, showing new hires you want them to be there long term.
By having all the paperwork already taken care of before the first day, you can focus on introducing the employee to their crews and cover job and safety expectations. Tincher suggests doing group onboarding, as it can create a buddy system for new workers, almost like the first day of school.
During the first week of onboarding, training should be the main focus and make sure your HR staff is checking up on the new hires to see if they are acclimating. Share successes to help boost new workers' confidence in their ability.
Over the first month of onboarding a mentor should be assigned to the new employee.
"Organizations are nearly two-and-a-half times more likely than lower-performing employers to assign a mentor or coach during the onboarding process," Tincher says.
Continue to conduct HR checkups and gather peer feedback to share with the new employee. Listen to what the employee has to say about their onboarding experience so far as well.
At the six-month mark, nearly 90 percent of employees decide whether to stay with a company or not. Take the time to remain consistent with your training and conduct a formal performance, sharing milestones, improvements and peer feedback.
After a year with the company, celebrate your employee reaching this milestone and continue with HR checkups, training and performance evaluations.
Only 15 percent of companies engage with onboarding past six months, but remaining consistent can make quite a difference when it comes to retention.
Tincher says onboarding is a learning process and you will discover what works and what doesn't within your organization. She encourages businesses to invest in their employees just as much as they do with their customers.
"If you don't have the employees to do the work, then what we do doesn't matter," Tincher says.