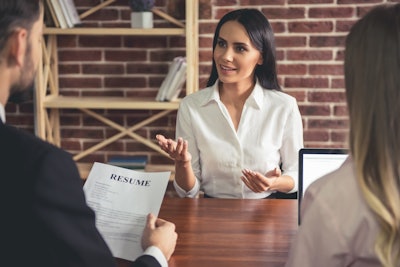 When applying for a job in the green industry, naturally, you will want to have your resume and portfolio updated, tweaked and ready to go once you get to the interview, but what about if you're applying internally?
Most people think that a resume is a resume and a portfolio is a portfolio, but that's not completely true, as applying for a job internally will require different attributes and qualifications than coming into a brand new company.
If you're trying to move up in the landscaping company you're in or have employees wanting to internally apply for other positions, take a look at a few things to keep in mind when preparing a resume and portfolio.
Be prepared
Just because you already hold a position in a company doesn't mean you are automatically guaranteed to get another position, so be sure to go into the interview thoroughly prepared.
Granted, you might have a bit of an advantage over others applying if you are in good standing with the company and already have a relationship established with the interviewers, but it's still important to stay humble and not preemptively assume you've got the job when you haven't even done the interview yet.
"It's really easy for internal candidates to think they're a shoo-in, but you still have to bring your A-game," Teri DePuy, a Colorado-based career coach at ICC, Inc., told Monster.com.
Regardless of how well you know the job or the interviewers, you always need to do your part to ensure you are the best candidate they see all day because you have no idea what the caliber of the external applicants will be.
Another important aspect to keep in mind is that an internal support system will be absolutely necessary when it comes to applying for other positions. Having people on the inside to boost you up, give you the inside scoop and honestly critique your application will help you tremendously.
With this in mind, it's crucial that you go ahead and talk to your boss about the desire to move ahead of time, as he/she could prove to be your biggest asset. While it's understandable that you might not want your boss to know that you want to move to another position, keeping him/her in the loop instead of him/her being blindsided by the change will help you keep in good standing with him/her and could boost your job candidacy.
Along with keeping your boss in the loop, it could also prove beneficial to gather referrals from other employees in the company, but if that doesn't seem to be a viable option for you, at least talk to others who work in your department to make sure they could give a positive referral on your behalf.
"Ideally, you want an advocate who works in the department that you're applying for," Yuri Kruman, millennial workplace coach, told Monster.com.
Meet with HR, take advantage of what you know
Along with talking to your boss and fellow employees about the position, it would also be a smart idea to talk to the human resources (HR) representative responsible for posting the position.
This person will be able to provide you with key information like salary range, why the job has become available and the requirements for the position, and most HR representatives will also be able to help you practice for the interview.
As a current employee, you are privy to the inner workings of the company, so don't be afraid to use what you know to get a leg up on the competition. You know firsthand what the goals and values of the company are and how it operates from day to day, so be sure to drive home the fact that you are already in the know of the company when in the interview.
A good way to ensure that the interviewers understand your in-depth knowledge of the company is to spell it out in a cover letter. Talk about what makes you the best candidate for the position, the fact that you're already very familiar with the company's culture, that there wouldn't need to be any need for time spent onboarding.
As someone on the inside, be sure to use it to your advantage to ask smart questions during the interview. It's recommended that you ask your hiring manager at least three questions during the interview to show you are truly interested in learning more about the position.
Update resume and portfolio, send thank you notes
As previously mentioned, just because you are already part of the company doesn't mean you get to coast by during the interview, so be sure to have your resume and portfolios updated and ready to go.
"When developing your resume for an internal position, imagine you are targeting a role with another employer and don't assume that the executive team knows what you have been doing in the organization or the value you have contributed," Career-intelligence.com says online. "This is even more important if the position you are aiming for is senior to your current role, and you will need to qualify why you should be extended the opportunity for a promotion. This can include evidence of leadership and management accountabilities or responsibilities specific to the new role."
According to Career-intelligence.com, if you are applying for position that is higher up the company ladder than the one you currently hold, identify instances in your time at the company where you demonstrated leadership or management competencies, such as training, supervising or spearheading a landscaping project.
List out any challenges that were present and what you personally, and with your team, did to overcome these obstacles. If possible, have facts and figures handy to show the actual results of the project to back up your claims.
"Identify the additional responsibilities you undertook that can differentiate you from other staff members that have similar roles," Career-intelligence.com says online. "Listing these accountabilities will portray your multi-faceted experience and an ability to take on extra responsibilities."
Also, list out any awards, nominations or positive referral letters from previous customers that you've received, as these will confirm your good reputation with the company and with your clients.
If there are any special projects you worked on, any internal problems you were able to lend a hand and overcome or any costs you were able to cut to help save the company money, be sure and list those instances out. Be ready to discuss them at length if you have them listed, though, and be ready to tell the outcome of the situation.
"Begin to keep track of your accomplishments, special assignments or involvements within the organization by writing them down," Career-intelligence.com says online. "The potential to forget pertinent information is easy and can, regrettably, disadvantage your application. By including your contributions and achievements within your resume, can certainly optimize your internal job campaign."
Once the interview is complete, be sure to follow up with a thank you note to the interviewers to thank them for their time. Even if you think the job is a sure thing, it can always help your chances to send along your thanks.
In this letter, be sure to emphasize your core achievements and strengths and how they can benefit the company if you were awarded the position, try to mention at least one specific detail that came up during the interview and, of course, mention again somewhere that you are a current employee.