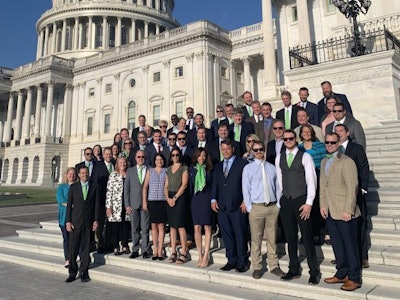 Green industry professionals gathered on Capitol Hill early Wednesday morning to discuss pressing issues with their state representatives and congressmen, such as the ongoing issues with the H-2B non-immigrant visa program and pesticide regulations.
The National Association of Landscape Professionals (NALP) hosted a pre-meeting breakfast and briefed attendees on the aforementioned topics, as well as shared practical tips on how to effectively communicate with their senators and congressmen.
H-2B
With the current political climate surrounding the topic of immigration, NALP encouraged those attending meetings to plan out their strategy beforehand, as well as come prepared with research, facts and figures that could verify the information they would be presenting on the topic.
"The program relies on well-vetted returning workers who come to the U.S. for seasonal employment and then go home," NALP says. "These workers are not immigrants. They provide an opportunity for U.S. businesses to operate at a greater capacity, retain their full-time workers and contribute to their local economies. Every H-2B worker is estimated to create and sustain 4.64 American jobs."
With a record-low unemployment of less than 4 percent, NALP feels that the program's congressionally mandated cap of 66,000 visas, which was determined in 1990, is inadequate to meet the labor needs of seasonal landscape businesses.
Amy Graham, president and CEO of the Texas Nursery & Landscape Association (TNLA), has participated in Renewal & Remembrance and Legislative Days on the Hill for about seven years. Each year, she says she has had to approach the topic of labor issues, but her goal is always to go into these meetings with the intent to inform and present the issues in both a factual and practical manner.
"When people are not really familiar with the issue and we are able to sit down with them and have a conversation with them, they are very surprised when you put it in terms of it's not an immigration issue, it's a labor issue," says Graham. "I get really excited about that because they've never looked at it that way."
Like many others around the country, Graham says that when many of the landscaping companies in Texas aren't able to get their H-2B visas filled, they are unable to fulfill a good portion of promised contracts, which has forced many to consider closing their doors, sometimes for good.
On the manufacturing side, Kiara Daniel and Stuart Morris with Kubota Tractor Company say they haven't seen much of a negative impact on their end when it comes to seasonal workers, but they do have issued finding qualified service technicians and retaining them, especially as the equipment starts to get more advanced.
"Landscape businesses need H-2B workers to supplement their American workforce when domestic workers are not available," NALP says. "The program is expensive and requires employers to undertake extensive recruitment of American workers, offer employment to any qualified American worker, gain approval from four government agencies and pay a premium wage."
Jay Williams, vice president and general manager with Landscape Art in League City, Texas, has seen firsthand how detrimental not getting his requested visas can be.
"Two and a half years ago, we didn't get our visas at first, so I was trying to contemplate which of the 20 American staff workers I was going to have to lay off because I didn't get my H-2B workers," says Williams. "I can't keep that staff employed if I don't have the workers to do the work. This is an existing mechanism that has been in place for a long time, but it needs some tweaking."
As someone who's used H-2B for 21 years, he hopes that more can be done to help make the process more of a surety instead of a chance, as well as keep the process of bringing in seasonal workers legal and in accordance to H-2B guidelines. During these 21 years of utilizing the H-2B program, Williams says that his company has advertised between 30-40 visas each year. Of those advertised, he says he's only had six American workers that have come in and have been hired as a result of those advertisements.
"If the companies that are represented here today do not get these visas, then the marketplace will fill those job spots with undocumented workers with companies that are not playing by the rules with workers that are not engaged in the program," says Williams. "For us, it seems that we are the ones doing it right, we're the ones following the law and that we should be rewarded for that rather than penalized for that."
Requested action
Working toward a solution to the H-2B issues, NALP representatives and green industry professionals alike requested the following actions be taken by party leaders.
First, leaders of both the Republican and Democratic parties were urged to include in the final spending bills the H-2B cap relief and reforms included in the house-passed FY20 appropriations bill for the DOL.
In current House legislation, Williams notes there is potential to turn the calendar from a semi-annual letting of the visas to a quarterly letting, which would allow H-2B users to receive at least a percentage of their workers instead of one company getting all and another getting none.
"Congress in the last two years has said United States Citizenship and Immigration Services (USCIS) 'may' take it up to that level," says Tim Portland, CEO of Yellowstone Landscape. "So, the change for this year would change the word 'may' to 'shall', so it would nearly double the cap. It's still not where the demand is, but it's a great first step."
Second, it was requested that a comprehensive H-2B cap relief be passed as a standalone measure or as part of any other relevant legislation to provide a permanent solution.
Third, it was requested that an H-2B cap relief be provided that reflects the actual demand, and that reforms be enacted that would provide certainty for compliant employers.
Pesticide regulations
According to NALP, pesticides are regulated under the Federal Insecticide Fungicide and Rodenticide Act (FIFRA) and undergo rigorous testing before they are approved by the United States Environmental Protection Agency (EPA).
"EPA approval of a pesticide application is based on voluminous scientific studies reviewed by many EPA experts across a number of scientific disciplines," NALP says. "These career scientists are the most knowledgeable about the benefits and risks of individual pesticide products and about specific measures that can be taken to mitigate the risks associated with individual products."
As a general consensus, the green industry professionals gathered on the Hill agreed they want to work with the EPA to have Congress acknowledge and follow the EPA's guidance on certain chemicals. NALP says there are standalone bills outside of that process that are looking to ban certain chemicals, and they want the EPA to be able to continue to follow the established process for chemical use.
"While not everybody in our industry may utilize the full spectrum of chemicals that the EPA has registered labels for, if somebody's going to add new restrictions or totally ban them, it needs to be a science-backed approach," says Ryan Skrobarczyk, director of legislative and regulatory affairs with the TNLA.
Skrobarczyk notes that the EPA is required to review these chemicals every 15 years and they are required to take public comments regarding the labels of the chemicals for a certain period of time.
"If you remove a product out of our ability to use it, then we have got to go find some substitute, and in some cases, those don't exist," says Skrobarczyk. "On average, it takes 12 years to get a product to market from discovery. So, if we don't have the funding at the Office of Pesticide Programs (OPP) at the EPA, we can't bring new products in to replace old products."
Requested action
First, it was requested that congressional oversight of the EPA's policies and decisions be based on the research and science provided by the EPA.
"We would prefer that congressional oversight, while appropriate, follow the science-based approach that's established by the EPA and under FIFRA," says Skrobarczyk. "While we think that the congressional view of that is appropriate, we should do it through the official act and not through targeting specific chemicals. Because at the end of the day, they are useful to the industry at all levels, and a lot of these chemicals we use in every aspect of the green industry. We have got to have these tools in our toolbox as long as science proves they are not a threat to health and safety."
Second, it was requested that the Fiscal 2019 funding level be maintained at $128.3 million for the OPP so that landscape and lawn care professionals can continue to access new and innovative pest management tools.