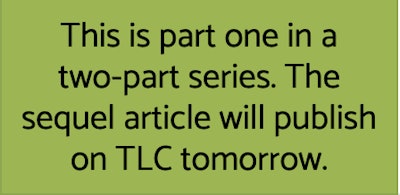 Eddie DeLoach had always wanted to run his own business, but it was not until he experienced a serous bout of spinal meningitis that he received his wake-up call to pursue his dream.
Leaving his job as a district manager for Kaiser Chemical in North Carolina, DeLoach moved his family to Savannah, Georgia, and started TideWater Landscape Management in 1984.
DeLoach's brother, Jimmy, joined the company in 1987 and serves as the vice president.
Now the company is celebrating its 35th anniversary this year, growing from a business with a single truck and riding lawn mower to a $10 million grounds maintenance company with a presence in six different states.
In 2016, DeLoach became the mayor of Savannah after running for office. DeLoach admits that he struggled with balancing the running of his company and the city at the same time, so he promoted Skip Thompson to CEO over a year ago.
Thompson oversees the day to day matters of the business, and he says it's been the opportunity of a lifetime.
TideWater provides design/build and grounds management services for commercial properties, with its Gro-Masters brand providing chemical services to residential customers.
"We're a medium sized company," Thompson says. "But I think we're bringing the personal aspect to the market. Any customer we have can call me or sometimes I'll call them to check in. No one's unreachable. Eddie will go out and work on the property. Jimmy will go out and work on the property."
"My favorite thing to do is to get on a lawn mower and just ride," Eddie DeLoach says. "You don't have to worry about anything; you don't bother anybody. You just cut the grass and then get off and look and see what you've done. You can instantly see and get gratification from something that you've done."
Thompson says he enjoys the challenges that are presented by maintaining large properties like Tanger shopping outlets. The company offers parking lot sweeping services as well, which can give a competitive advantage by packaging all their services into one bundle.
"That's how we got into Tanger first was the sweeping," Thompson says. "We got in, did a good job and then she says, 'Hey, give me a price on the maintenance.'"
Thompson says grounds maintenance is their most popular service. A particular niche TideWater thrives in is the full grounds maintenance of the housing areas for military bases.
"Although you work for a management company, you still are working for these generals, these majors and everybody, so you have multiple people that you end up dealing with, which is a challenge sometimes," Thompson says.
Hiring the right people
Across all locations, TideWater has around 120-130 employees during the peak season. The company has a 90 percent retention rate with its employees. Thompson says the average amount of time an employee stays with the company is probably 12-15 years and they have some who have been with the business for 30 years.
Thompson credits this strong retention rate to paying their workers well, providing benefits like a 401(k) and health insurance and generally taking care of their people.
"They know what to expect," he says. "They know how we operate. They know our quality, our expectations and they know that at the end of the day we're going to take care of them."
Thompson views his workforce as absolutely vital to TideWater's success.
"You're only as good as your people," Thompson says. "It doesn't matter how good a CEO you are, or how good of a supervisor you are. If you don't have good people working with you, you're not going to be successful."
Thompson says the company uses a wide variety of tools to recruit employees including posting jobs on Indeed, Craigslist and Facebook. TideWater also utilizes an employee referral program, where $100 dollars are awarded to both the recruiting employee and the new employee when they stay with the company over 90 days.
TideWater has also been using the H-2B visa program for four years now, but they make a point not to become too dependent on the program. This year they didn't get their H-2B workers until June.
"We opt to use them because it's very, very tough to not only get labor, but to get good labor," Thompson says.
Due to the need for credentials for jobs working on military bases or at the Port of Savannah, running background checks and drug testing can eliminate a lot of applicants early on. Yet TideWater still finds opportunities to hire individuals who have recently gotten out of prison or are from a halfway house.
"I love being able to do what I do for people," Eddie DeLoach says. "We both love being able to take these guys that have been incarcerated for a bunch of years, and not really feel like they have an opportunity to come and be a part of our company and end up running our company in positions of authority, and they're super great employees. They just needed a chance, a second one, and we were able to get them that. We've built off that and we're blessed for it."
Thompson adds that whatever market they are in, they make a point to hire locally from that area.
Growth through integrity
TideWater's motto is "Growth Through Integrity" and this is especially important as the company continues to grow its current branches and considers other areas to spread to.
"We would like to expand in the southeast region a little bit more," Thompson says. "Because the closer to home you grow, the easier it is. The further away that you go, the harder it is.
Thompson says they used to have a location in New Mexico for six years, but they lost their contract to a lower bidder and it was quite costly to go visit. Meanwhile, other areas like Madison and Huntsville, Alabama, have been growing rapidly. TideWater has doubled its business in Huntsville in the last year thanks to continued commercial growth in the area.
"We want to grow the Montgomery area a little bit better," Thompson says. "We're already there at Maxwell Air Force Base. We want to grow Montgomery a little bit. We want to just continue to grow Huntsville and Madison together and see how far that takes us out of those two areas."
Thompson says one of the ways they maintain quality even with branches as far away as Louisiana and Texas is by outlining expectations with the branch manager and sticking to the same method of how they do things, no matter what location you go to.
He says all their workers have a little guidebook that gives them tips on how to operate, that way if a crew leader is out, the number two guy can step up and know what he needs to do for the route that day.
Thompson says while he does see the company continuing to grow, he doesn't want it to become too big.
"We want to be considered a good-sized company that is providing a lot of different services," he says. "We'll have sustainable growth and we'll be providing for a lot of employees in the future."
Check back tomorrow for part 2 of this series, where we'll look at TideWater's relationships with its customers and its keys to success.