Fecon recently announced the arrival of its new hydraulic coolers, which the company says are designed to be mounted on compact track loader (CTL) and skid steer rooftops.
The company says this cooler enhances the performance of the carrier by maintaining the hydraulic fluid at optimal temperatures and viscosity. Fecon says this durable all-steel design weighs approximately 185 pounds plus mounting brackets with adjustable mounting rails for varying mounting positions.
Fecon adds that two 11" thermostatically controlled electric cooling fans cycle on when needed to mitigate rising hydraulic fluid temperatures, and a bypass relief is included for cold oil starts.
The company says these compact units fit atop virtually all CTLs and SSLs, handle flows up to 48 GPM and provide up to 120,000 BTU/hr of cooling capacity, and a tool-less, hinged lid and removable intake screens speed and simplify maintenance.
Fecon says it currently offers some carrier/model specific mounting kits for their coolers and it continues to develop more brand and model specific installation kits as sales proceed.
John Deere releases new grade control Level Best box blades
John Deere recently announced the addition of three new models of its referral attachments line of grading attachments, Level Best: the PD-72 inch, PD-84 inch and PD-96 inch.
"We pride ourselves on providing cutting-edge solutions to our customers that enhance job site output and maximize ROI," says Jessica Hill, program manager, global attachments at John Deere. "From laser grading parking lots to rebuilding golf course tees, owners and operators will find that there are endless uses for our new Level Best box blade referral attachments."
The company says the Level Best box blades are available in Topcon ready 2D precision grading and 3D precision grading options. John Deere says the 2D Level Best PD Series comes ready to produce precise 2D grading by working with laser transmitters.
The 2D system automatically adjusts the elevation by controlling the lift and tilt of the attachment to maintain vertical accuracy and smooth grading performance, according to the company. John Deere says the Level Best PD Series grading box system adjusts dozens of times per second to ensure a smooth grade with tight tolerances.
The company says Level Best designed the PD Series to take advantage of the push-pull directional work style of skid steer loaders for maximum production, and the PD Series is made specifically for skid steer loaders and compact track loaders.
John Deere says the unique frame design gives operators exceptional control, efficiency and smoothness and minimizes the potential "bounce" effect that can occur in skid steer loaders due to the short wheelbase.
For jobs that demand 3D grading, John Deere says Level Best grading boxes come ready to be used with Topcon GPS, robotic total stations or sonic technology. The grading box, according to John Deere, comes installed with the cables needed to work with Topcon 3D GPS. The company says this allows customers to use the Topcon GPS systems they currently use on other machines, and the main components can be installed on the grading box for a plug-and-play solution.
John Deere says the three box blade models offer customers a range of capabilities based on their needs. With a box width ranging from 72 inches ranging to 96 inches, the company says operators can use different widths to improve efficiency when leveling terrain.
John Deere says the PD-72, PD-84 and PD-96 require machines equipped with half-inch quick-connect couplers and a 14-pin auxiliary electrical connector with live power, and rear counterweight is not required to use these models but will improve stability during use.
Additionally, all Level Best box blades are equipped with the following standard features:
Push-pull design moves the material for fine grading
Two cylinders provide cross-slope operation
All cutting edges are reversible
Convex mirror allows material visibility
Power-coated paint finish
Foam-filled tires on oscillating axle
Universal skid steer compatible mount improves versatility
Two, 1-1/2-inch diameter mast poles
Morbark introduces new Rayco articulated loader, stump cutter
Morbark, LLC, recently debuted the Rayco 1800AWL articulated wheel loader and RG165T-R stump cutter at the TCL Expo in Pittsburgh, Pennsylvania.
"At Morbark, we are focused on continually providing new products and product improvements that meet our customers' needs and help them succeed in their businesses," says Casey Gross, Morbark director of tree care products. "These newest products — the articulated wheel loader and large stump cutter — are direct responses to our customers' requests and feedback."
Designed to meet the material handling needs of landscape contractors, tree services, rental companies, municipalities and agricultural businesses, the company says the 1800AWL is the first model of the new AWL line and is heavy on capabilities and light on delicate landscape surfaces such as grass, building foundations and paving stones.
With a standard mini skid steer attachment plate, Morbark says this articulated wheel loader can accommodate a wide variety of attachments. The company says the quick-attach system enables the user to quickly and easily switch from a bucket to forks or other tools for optimum on-the-job flexibility and bottom-line performance.
Morbark says the telescoping boom provides excellent dumping and lifting height, enabling loading on high-sided trucks and other applications that require extended reach.
According to the company, the 1800AWL has a maximum lift height (measured at the hinge pin) of 114 inches, and with its 24.8-horsepower Kubota D1105 diesel engine, the 1800AWL generates a working lift capacity of 1,800 lbs.
Morbark says the small footprint and articulated loader design give operators the agility they need to maneuver in close quarters, such as small yards or narrow pathways, while the turf tires provide minimal turf disruption when making turns.
Built with operator comfort and safety in mind, Morbark says the 1800AWL has a low-profile suspension seat in the ROPS/FOPS-certified cab, and the open-cab design provides a clear view of the worksite in all directions. The company adds that easy-to-use controls make these machines simple for anyone to operate.
The company says the Rayco RG165T-R stump cutter is ideal for customers who need to remove large stumps in a short time. Morbark adds that the 165-horsepower Ford V8 gasoline engine provides plenty of horsepower, and torque allows maximum use of the cutter wheel to get jobs done quickly while meeting emissions requirements without the hassle of complex, diesel after-treatment systems.
Morbark says the RG165T-R is equipped with non-marking rubber tracks on a retractable undercarriage, allowing it to maneuver in tight areas, and the unit's propel system features high and low travel speeds. The company says a wide hydraulic backfill blade saves time during clean up and can be folded in easily for passing through gates.
The 28″ diameter cutting wheel, equipped with 40 Super Tooth cutter teeth, provides a 72.5″ cutting width, with 28″ cutting path above and below ground level, according to the company, and the hydrostatic cutter wheel drive is equipped with Rayco's exclusive "Quick Stop" cutter wheel.
Morbark adds that the RG165T-R's wireless remote-control unit is comfortable and sealed against dust, water and other elements.
Country Clipper launches new Challenger mower
Country Clipper Mowers unveiled the new Challenger series of zero turn mowers at this year's GIE+EXPO.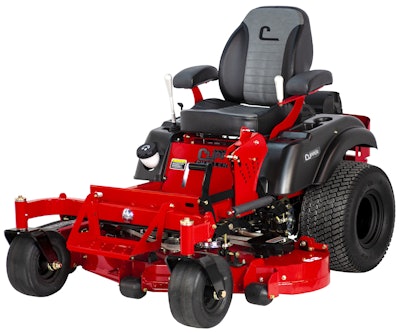 The company says the Challenger is a perfect fit for commercial operators and heavy-duty residential users demanding increased power, productivity and durability.
Country Clipper says with innovations including the ContourDTS (Deck Training System), the Challenger provides an unrivaled quality cut in the most demanding conditions.
Other highlights include:
Fully-welded 3-inch x 2-inch tubular frame delivers enhanced strength and durability
Maintenance free spindles, removable floor plan for easy deck access and stand-up deck allow for easy service and extended mower life
High-back adjustable seat with cushioned arm rests to deliver a smooth ride
Fabricated 52- or 60-inch deck
Standard rear tow hitch
Powerful Kohler and Kawasaki Engines
Choice of industry exclusive joystick control or twin lever control for effortless maneuverability with two hand steering
5-year commercial or residential limited warranty
Terex XT Pro tree trimmers to be equipped with positive attachment lanyard device
Terex introduced the Hi-Ranger XT Pro Series tree trimmer trucks that the company says are designed to meet the unique jobsite needs of tree care professionals.
Terex says the positive attachment lanyard (PAL) device is a warning system intended to reduce the chance of an operator elevating the bucket without a safety harness lanyard attached. The company says it provides both audio and visual warnings when controls are engaged and the lanyard has not been attached to the lanyard anchor at the platform.
Terex says the PAL has been pilot tested in the field and made its production debut at the International Construction and Utility Equipment Expo (ICUEE) in Louisville, Kentucky, in October.
"The attachment system offered us another tool in our toolbox" to remind workers to follow safety protocols, explained Jodi Bullinger, vice president of engineering and operations for North Dakota's Cass County Electric Cooperative that was involved in the initial feasibility pilots.
The company says that feedback from workers at the rural electric cooperative, who often use aerial devices for line clearing and tree trimming, is that the device is easy to use.
"It's not bulky and doesn't require any extra equipment to deploy," says Mike Mahlke, a Cass County lineman who used the PAL device over a period of about 12 months.
Terex says the three-model XT Pro Series features over center aerial devices with working heights from 61 ft. to 75 ft., which can be customized for arborist applications.
"A company that works clearing Right of Way areas typically prefers the XT60-70 forestry unit," says Bob Dray, VP of sales and marketing, forestry division, for Custom Truck One Source, which is a strategic partner with Terex Utilities. "It gives them the height and chip carrying capacity they need. Independent tree trimmers who primarily work residential and some commercial jobs prefer the XT60-70 rear mounted unit. It has a smaller wheel base, allowing more mobility in tight areas, as well as the ability to back right into a job and get to work very quickly."
"Back of cab compact longitudinal lift accommodates an 11-ft. chipbox so there is no reduction in chip storage space," says Dray. "Over rear axle elevator installation makes it possible to achieve additional working height plus it provides more than 40 square ft. (60"x96") of open deck space for storing tools, such as AlturnaMATS."