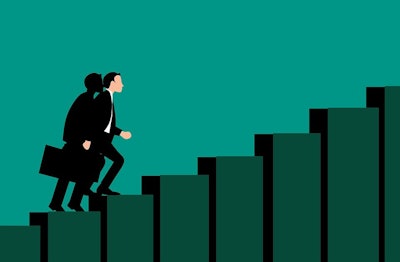 Ruppert Landscape recently announced the promotion of Regina Brydges to the position of regional business development manager.
Brydges holds a bachelor's degree in horticulture from Virginia Tech and is a Virginia Certified Horticulturist. She joined Ruppert in 2012 as a business developer in the first Richmond landscape management branch. In five out of the past seven years, the company says she has exceeded $1 million in sales.
In 2017, she was honored with the company's achievement award, recognizing her outstanding track record and contributions to the company. In the past three years, the company says Brydges has been instrumental in growing the branch and positioning them to add two new branch operations in the Richmond market.
"Regina has often shared how much she enjoys and values helping others in sales through hands-on training and by serving as a resource," says Kevin Hazelgrove, region manager in the company's landscape management division. "This promotion will afford her the opportunity to do that on a larger scale, benefiting sales of each branch in the central Virginia region."
In her new position, Ruppert says Brydges will provide leadership to the region's business developers and will support them by providing coaching and training in the sales process, coordinating networking for new and existing relationships, and hiring and onboarding as needed.
Husqvarna announces new president of North American Division
Husqvarna recently announced the appointment of Robert M. McCutcheon as president of North America for Husqvarna Division, effective June 1.
Before joining Husqvarna North America, McCutcheon served as president and managing director of the Americas for Britax Child Safety Inc. in Fort Mill, South Carolina.

Bringing over 23 years of experience and expertise in consumer products, the company says he has led successful business growth initiatives through innovation, marketing and operational excellence. McCutcheon's background includes positions with Conagra Brands, Walmart and Britax.
"We are pleased to welcome Robert to the North American team and believe that he is uniquely qualified to lead Husqvarna during and beyond these challenging social and economic times," says Sascha Menges, global president Husqvarna Division. "His leadership style, broad international business background and proven understanding of the customer experience will be vital assets for building an even stronger foundation for our business partnerships with our customers."
McCutcheon is succeeding Earl Bennett, who served the company both as legal counsel and president of the North American division. The company says he has been instrumental in building a strong organizational and business platform for the future growth of Husqvarna in North America.
The company is thankful for all of Bennett's engagement and vital contributions and is pleased that he has agreed to remain connected to their business going forward.
Takeuchi promotes two in product and service positions
Takeuchi-US announced the promotion of two employees to critical product and service positions.
Keith Kramlich will take over as the national product and training manager, and Joseph Huling will fill Kramlich's previous role as national service and warranty manager, effective immediately.
For Kramlich, this is his second promotion since he was hired in 2016 as a regional service manager. In his new position as national product and training manager, Takeuchi says his main responsibility will be overseeing product development, which includes supervising, managing and developing the product and training department.
Additionally, Kramlich will support the corporate sales efforts by establishing business partnerships with the dealers and distributors to provide product training and support for them and their customers who have purchased or use Takeuchi products.
Huling was promoted from his previous position as the northeast regional service manager, which he held since he started at Takeuchi in late-2017. As national service and warranty manager, the company says his main responsibilities include managing the Takeuchi regional service managers to ensure they are providing service support in their respective regions, reviewing all warranty claims and providing final approval. Additionally, Huling will monitor failure trends to expedite solutions and calculate and review warranty costs, developing plans to reduce costs.
"Keith brings a vast knowledge of our products from his service background and an eagerness to unify the Takeuchi training experience for dealers and national accounts," says Jeff Stewart, vice president and general manager at Takeuchi-US. "Joseph is another employee who has a great deal of product knowledge and expertise, in addition to always wanting to take on more."
Kramlich has a degree in specialized diesel technology and applied service management from Wyoming Technical Institute. Huling has a bachelor's degree in business administration and management from Brenau University.
"The ability to promote within our company and allowing employees further opportunities to learn and grow is very exciting for us," says Stewart. "We couldn't be happier for Keith and Joseph in their new roles; they are both very deserving of it."