The day-to-day operations of landscaping businesses have changed significantly for everyone across the nation since the outbreak of COVID-19 (coronavirus), and for those still operating, it's been anything but business as usual.
Take a look at how some landscapers have adapted their work schedules to COVID-19, as well as what they are doing to prepare their business for the coming months.
Safety first
Terra and Nikos Phelps, owners of Utopian Landscapes, LLC in Harrisburg, Pennsylvania, are still currently deemed essential to operate under the facilities and business maintenance section of their area's shelter in place order.
"We've got countless processes underway to cope with the COVID status of things, and we're making sure we do our part to prevent the spread," says Terra.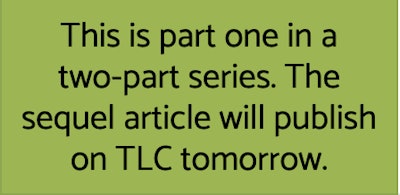 At the start of the day, Terra says their team reports to the office for a safety meeting, now conducted with social distancing implemented among those gathered. Since the outbreak, new addendums have been added to the team's regular safety sheet, such as reporting temperature readings each morning, agreeing to follow the company's COVID-19 safety protocols and more.
Each employee must sign the forms before beginning work, as well as run through the safety and cleanliness guidelines for the day. Terra notes that employees are also driving their own company vehicles to the sites each day to cut down on close-quarters contact. Utopian has also implemented two-man work crews to help employees practice social distancing while working.
When it's time to hit the jobsite, employees will grab their color-coded clipboards, their tablets and their corresponding color-coded tools. At the end of the day, employees are responsible for wiping everything down with antibacterial spray and color-coded microfiber towels that Terra says she washes daily for the teams to reuse.
In the event that one member of the two-man crew finds himself/herself having to work in close proximity to another employee on the jobsite, the teams are also supplied with bandannas to cover their faces. The Phelpses say at each site, they are now running two vehicles, two trailers, two mowers and two sets of equipment to ensure workers don't have to share tools during the day.
"There's kind of been a real social and mind swap where you're kind of forgetting everything you've been taught; like if you're walking, pick something up or telling them to work together," says Nikos. "You have to almost operate as if every man is in it for himself, but everybody does understand it is temporary and it is for the greater good."
Miles Kuperus, Jr., CEO of Farmside Landscape & Design in Wantage, New Jersey, says his company is currently still up and running in New Jersey, but things are looking slightly different for his customers in Pennsylvania and New York.
"I don't want my team members to get the virus, I don't want anybody to be contaminated and I don't want to put anybody in harm's way, so as a business owner, you're dealing with that at a high emotional level as well," says Kuperus. "As an owner, I've got to steady the ship and keep the calm within the team."
During company safety meetings, Kuperus says he takes time at the beginning to ask his team to raise their hands if 1) they have either felt that Farmside was putting them in harm's way with anything they were doing or 2) if they know anyone that has contracted COVID-19.
Kuperus says his goal is never to scare employees or make them feel unsafe, but instead, he hopes to give them a realistic look at how the virus is affecting those around them or how close it could potentially be to them, whether they realize it or not.
Farmside has also implemented two-man crews per site to meet with social distancing requirements. If, however, a third crew member is needed for a job, that extra employee will take a separate vehicle to the site and continue proper social distancing practices once there. Kuperus says, thankfully, they have extra support vehicles available to allow crew members that option, and employees have also been offered the option of using their personal vehicles to travel to jobsites.
Customers and employees
So far, Kuperus says they have not had to make any financial or staffing cuts due to the virus, and he adds that they have actually temporarily held off on hiring new employees due to the risk of bringing in someone who has been exposed.
While Kuperus agrees that with the nationwide labor shortage still in full swing, Farmside is in need of more employees, but at this time, he deems it too risky for his current staff.
"That's a bigger issue for us than letting people off," says Kuperus.
The Phelpses agreed that in the interest of helping their employees feel safe, they made it optional for team members to come in if they are in any way concerned for the health of their families or themselves.
"One thing we have told our staff is that no matter what happens, we'll be covering their medical throughout this whole process," says Nikos. "Some of our team may now only have one person in the house that's working, so if we can help subsidize their paycheck a little bit and allow them to not have to worry about their medical, or if for some reason things really slow down or we get stopped, we still will cover that expense for them so they're not without."
With customers spending more time in their homes and desiring a better outdoor space, the Phelpses say they've seen more positive and faster feedback from customers when dealing with proposals and approving changes.
"I think this is going to be a game changer once the dust settles and we're on the other side of this," says Terra. "I think people are really going to reflect on how people reacted to this. It's unprecedented times, so there's no right answer to this stuff. You just kind of navigate it the best you can."
Check back tomorrow for part two, where we'll take a look at the uncertainty these companies have surrounding cash flow, supply chains and project backlogs over the next few months.