Landscapers continue to face the effects of the coronavirus (COVID-19) every day, and business operations aren't getting any easier.
For Brian Chapman, director of fleet and facilities with Lambert Landscape Company in Dallas, Texas, and Scott Myatt, owner of Myatt Landscaping Concepts in Fuquay-Varina, North Carolina, the show must go on, but as with every operational company out there, they have had to make some big changes.
See what these companies have implemented into their daily operations to deal with COVID-19, as well as how their business has been affected overall.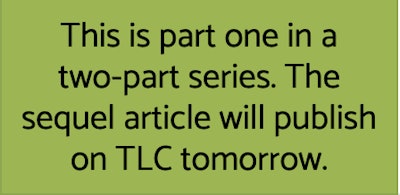 Crews and facilities
Chapman says when word first began circulating about the virus, Lambert's got ahead of the game and began pulling together Clorox wipes, hand sanitizer and disinfectants that were distributed to every person, vehicle and desk space in the office.
Keeping with the new normal, Chapman says crews have begun staggering arrival times in the morning to allow a 15-minute gap between each crew, and the company is now operating with one-man crews. Chapman says the company has been able to provide as many trucks as possible to employees, and some have also elected to drive their personal vehicles to sites to help cut down on cross-contamination inside company trucks.
"I think it's really starting to hit home for some people now that this is actually starting to bleed into the landscape industry, and we don't have any way of knowing who has tested positive or how many people they've interacted with," says Chapman. "Now we definitely have to be on our 'A game' about taking everybody's temperature every day and watching."
With the exception of Chapman, one mechanic and one worker for the facility yard, all other employees are now working from home.
When the order came down initially, Chapman says they did furlough most laborers except in the maintenance department, but after taking stock of the situation, Chapman says they were back to operating at 100 percent with a few alterations to their natural operations.
"Once all the orders came down, we restructured our entire fleet, but when we got some clarification, we opened that back up and started running a bit more each day until we got back to 100 percent," says Chapman. "All of our employees here are very loyal and when the furlough happened, morale kind of dropped. Once we started bringing people back, everybody was very excited to come back to work."
Chapman says during his daily travels, he has noticed some landscaping companies around with anywhere from four to five workers in a truck with no masks or gloves on, which concerns him greatly.
"I think they've lost sight of caring for their employees and doing what's right and what's best for their employees," says Chapman. "I really hope that people can just take a pause, look at that and ask themselves is this really the right thing to do right now?"
Chapman adds that to keep in compliance with the six-foot social distancing regulation, they have gone so far as to take a tape measure to all vehicles in question and measure out six feet from the center of the driver's seat all the way around inside the vehicle. If it doesn't hit six feet, Chapman says only one person is allowed in that vehicle at a time.
"We won't allow it," he says. "We won't put our employees or our business at risk just for profit. It's not worth it, and it's not worth it to our employees. It's just going to keep getting worse and worse until everybody gets on the same page and does what's right."
To help ramp up office safety, Myatt says they have invested in an infrared thermometer that allows them to take the temperature of employees coming into the office.
"We can test everybody before they start work that day, but we've been asking voluntarily that if you have a fever, do not come to work; stay at home, and we'll still pay you," says Myatt.
On the crew side, Myatt says they've cut their normal four- or five-man crews down to two- and three-man crews. All crews have also been provided with alcohol solution and hand sanitizer to ensure they are able to keep the trucks clean.
Myatt says there are about 90 office workers still coming in each day, but with the amount of space their facility offers, they are all able to work in the office while maintaining the recommended six-foot distance between them. Myatt says he has also offered employees the option to work from home if they feel more comfortable doing so.
"We're just very thankful that all of our team members have really stepped up," says Myatt. "I mean, I think everybody understands and feels proud that we are we're doing essential service and are just glad to do their job. And I think everybody knows that we do make a difference."
Since there are still workers coming into the physical office, Myatt says they've decided to leave their front doors propped open throughout the day to allow workers to come and go without having to manually open a door.
Myatt says they have one shop mechanic designated to clean the entire shop once the crews are gone, and they also have one person designated to dispense ice in the coolers of the crew members to cut down on numerous people touching the ice machine.
As for production meetings, Myatt says they are still holding them, but they have changed up the location to allow for social distancing.
"We normally have our production meetings in the office, and there's normally 12 to 15 people in those meetings," says Myatt. "Now, instead of it being in the office, we come out into the shop and we go stand in a big circle where we're not on top of each other."
For the time being, Myatt says they have also canceled their "Teaching Tuesday" training day to ensure workers aren't in close quarters with each other.
Myatt says they have not had to make any staffing cuts since the outbreak of COVID-19, but they are down about 10 employees due to virus-related concerns. These employees, however, are still able to receive a paycheck.
"We told everybody, even before the government said, if you don't feel well, do not come to work and we will pay you to stay home," says Myatt. "Obviously, that's costing us quite a bit of money, but that's fine to me. Because if somebody knows they have to pay their bills in a month and they're not going to have enough money if they don't come to work, they're going to come to work sick. And we said, let's just cut through all of that and make it easy for people."
Check back tomorrow for part two, where we'll hear more about how these landscapers are impacting their communities, as well as what their project backlog is looking like for the next few months.