John Deere, in collaboration with the UAW, the Iowa Department of Homeland Security and the Illinois Manufacturers' Association, has joined a number of organizations and companies across the country to produce protective face shields for healthcare workers in response to the COVID-19 health crisis.
Employees started production on Wednesday, April 8, at the John Deere Seeding Group in Moline, Illinois. The factory manufactures planting equipment and precision ag solutions for a global customer base.
The company says it expects to produce 25,000 face shields in the initial stages of production and has ordered materials and supplies to produce an additional 200,000 face shields.
The first 25,000 protective face shields were delivered to 16 U.S. Deere factories in eight states as well as the company's U.S. Deere-Hitachi factory for local distribution. The initial run will help meet the immediate needs of healthcare workers in those communities.
John Deere says materials and supplies are on order to produce an additional 200,000 face shields. The company says it is using an open-source design from the University of Wisconsin-Madison for the project and leveraging expertise, skills and innovation of its employee base.
"Our manufacturing and supply management teams, along with our production and maintenance employees, the UAW and our partners have worked tirelessly to ensure we could lend our support and protect our health-care workers during this crisis," says John May, Chief Executive Officer, Deere & Company. "By working closely with the communities where our employees live and work, we can help support the needs we've identified close to home and, as the project expands, address additional, urgent needs across the country."
John Deere says its Seeding Group employees are supporting the special project and are utilizing extensive and robust safety measures adopted across the company to safeguard employees.
"This is a very proud day for the UAW and our UAW members," says Rory L. Gamble, UAW president. "I want to recognize the hard work that secretary-treasurer and Agriculture Implement Department director Ray Curry and region 4 director Ron McInroy contributed to this effort. This included working to put the necessary health and safety provisions in place for our members to begin manufacturing critically needed face shields for the healthcare workers who are on the front lines of this crisis saving lives. We are especially proud of the courageous UAW members who are stepping up to do this critical work."
The production of protective face shields is one of many initiatives the company and its employees have executed in response to the COVID-19 outbreak. Efforts in the U.S. have included the following:
PPE donations to health care facilities
2:1 employee match program encouraging donations to local food banks and the American Red Cross
Production of approximately 18,000 protective face shields for use by factory employees
Employee volunteerism efforts to sew cloth masks for community members along with a match from the John Deere Foundation for the time invested in this volunteer activity
Launch of a COVID-19 innovations site to share open-source specifications for related projects, including 3D-printed clips to affix face shields to protective bump caps
iQ Power Tools releases new educational video resource
iQ Power Tools recently announced the release of a new educational video resource developed in partnership with the American Lung Association to help those in the construction industry understand the dangers of exposure to silica dust and the risk of developing silicosis.

"Our company teamed up with the American Lung Association to expand our reach and take the message of silica awareness to individual construction workers even further," says Paul Guth, president of iQ PowerTools. "This video, part of our educational initiative, is a quick and easy resource to help foster better practices in employee safety, especially when it comes to silica dust exposure on the jobsite."
"The video, featuring a pulmonologist who has treated patients with silicosis, truly highlights the danger of silica exposure," says Sarah Hurtado, iQ's marketing manager. "It demonstrates, on actual jobsites, the true level of exposure workers risk every day. We can talk about the dangers of silica all day long but when people actually see it, it makes more of an impact."
Titled "Understanding Silicosis," the 2½ minute video includes a variety of related topics such as risk factors, causes, prevention, symptoms and treatments.
"This is just the beginning of our strategic partnership with the Lung Association and we have plans to team up with additional, leading construction industry associations to continue this awareness campaign," says Guth. "Together, we can help minimize lung disease caused by silica dust and by doing so, raise the quality of life for individual construction workers."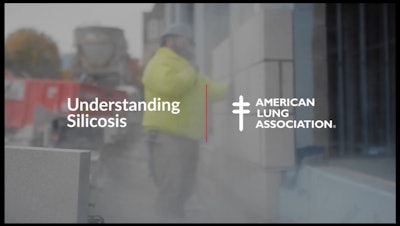 "About 2 million U.S. workers may be exposed to occupational silica, a dust that is part sand, rock and mineral ores such as quartz," says Jamie Garfield, M.D., pulmonologist and volunteer medical spokesperson for the American Lung Association. "Over time, exposure to silica particles causes scarring in the lungs, harming one's ability to breathe. The good news is that this disease is completely preventable."
"The creation of the new video, and our Lung Association partnership, represents a major step in amplifying our educational initiative, developing, delivering and promoting tools and resources that actively engage workers in lung disease prevention and disease management," says Hurtado.
Rain Bird Services releases new live-streaming training
Rain Bird Services recently released Rain Bird Live-Streaming, a live online irrigation training conducted by professional trainers.
The company says these pre-scheduled, in-depth technical sessions cover relevant irrigation topics and allow contractors to ask questions and get personalized answers in real-time.
"While the popularity of live-streamed training has increased over time, it's probably never been more relevant than it is today," says Patrick Hibbs, marketing manager for Rain Bird's Contractor Division. "And, we understand how important proper education is for success in the irrigation installation and maintenance field. With our new Rain Bird Live-Streaming training, we're helping contractors continue to get the training they need even when they can't get to a classroom."

Rain Bird says the live-streaming training classes let contractors interact directly with expert irrigation trainers using the equipment and tools needed for the job. Contractors can get real-world technical knowledge and learn the same top-notch skills that are promoted by the Irrigation Association.
Currently available 90-minute, non-manufacturer-specific classes include decoder troubleshooting, electrical troubleshooting and valve troubleshooting. Rain Bird Factory Trained classes are also being offered, including a six-hour IQ4 Central Control Expert course, with new courses in development.
The company says classes are available on multiple dates and times, allowing contractors, distributors and public agencies to choose the sessions that work best with their busy schedules. Customized live-streaming classes for groups are also available upon request by contacting [email protected].
"For more than 15 years, Rain Bird Services has delivered industry-leading irrigation training in classrooms around the world," says Robert Pfeil, marketing group manager for Rain Bird Services. "Now, we've taken our proven classroom training model and made it possible to get the same expert-level training right from your office or your home. We want to make irrigation training affordable and easily available for anyone."
Classes are going on now. To see the current schedule or register for any Rain Bird Live-Streaming classes, click here.
Arborjet & Ecologel sponsors GreenCare for Troops
Arborjet & Ecologel Solutions LLC announced they will once again be an official silver sponsor of Project EverGreen's GreenCare for Troops (GCFT) program.
"We are proud to support Project EverGreen, as their mission aligns with our philosophy of preserving green spaces, including lawns, trees, parks and communities in a sustainable way," said Ecologel president Rick Irwin. "We look forward to working with them to help support our troops during these especially challenging times. Helping them maintain their lawns is just one small way we feel we can make a meaningful contribution."
GCFT is a need-based program for active-duty deployed service members. Last year, the program engaged close to 1,500 active volunteers, who helped more than 700 military families maintain their home lawns. Since its inception, more than 11,000 military families and 6,000 contractors have registered for the program.
Now during the COVID-19 crisis, Project Evergreen is expanding the GCFT program to offer landscaping services to the healthcare heroes serving on the front lines of the pandemic.
Ecologel is a natural fit for the program, as they are a premier developer and manufacturer of innovative products for water conservation. One of their flagship products, Hydretain is a revolutionary soil moisture management technology that is designed to significantly reduce watering requirements of turfgrasses, trees, shrubs, flowers, indoor and outdoor containers plants and agriculture by as much as 50 percent or more, allowing for far less watering to maintain healthy landscapes.
As part of this sponsorship, Ecologel has committed to providing free Hydretain products to help maintain the lawns and landscapes of deployed military personnel, while also helping them reduce their water bills.
Through GCFT, military personnel can request lawn and landscaping services during their period of deployment. Lawn and landscape professionals volunteer to provide these services and once they are matched, volunteers receive access to coupons for free Hydretain products.
"We feel fortunate to have Ecologel on board as a sponsor working toward the common goal of preserving 'green spaces' while supporting GreenCare for Troops across the country," says Cindy Code, executive director Project EverGreen. "Our goal is to create environments that bring families, neighbors and communities together. We build and support communities by shaping the natural world in such a way that our neighbors today, and future generations may enjoy and appreciate."
The Toro Company Gives $500,000 to Global Coronavirus Relief Efforts
The Toro Company announced that it is giving $500,000 to assist families and communities worldwide that have been impacted by the COVID-19 pandemic. The company says grant funding from the Toro Foundation will span all regions where The Toro Company operates and will focus on providing food, health and humanitarian assistance to helping people adversely impacted.
"Supporting our customers and communities is an important part of our culture and core to who we are as a company," says Rick Olson, chairman and chief executive officer of The Toro Company. "Now more than ever, it is critical that we come together to respond to the unprecedented challenges posed by COVID-19 and to support those most vulnerable in our communities."

Toro says the contributions include commitments to several global nonprofits that are assisting in the relief efforts. This includes the American Red Cross and the International Committee of the Red Cross, Feeding America, the World Food Program, the United Way Worldwide and United Way organizations in communities where The Toro Company's employees live and work.
Toro says an additional element of the global giving effort includes a special program for its employees who wish to personally give to designated COVID-19 relief organizations. Under the program, The Toro Company says it will match employee contributions to a nonprofit organization of their choice in support of relief efforts.