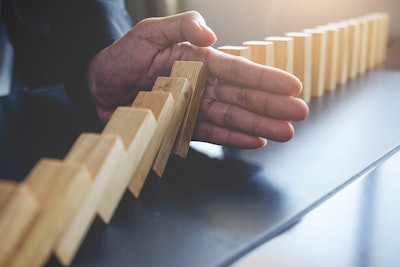 Landscaping companies are consistently adapting to the "new normal" of the coronavirus (COVID-19), and as a leader in your company, it's important for you to continue planning for what's ahead.
In a webinar hosted by Jeff McManus, creator of the Jeff McManus Leadership Academy and director of landscape services, Ole Miss golf course and airport operations at the University of Mississippi, he encouraged company leaders to continue preparations for the future or to get a plan of action together now if you don't already have one.
"There are a lot of challenges in this situation, but there's also going to be some great opportunities and leaders who will be looked at for leadership," says McManus. "At any level, whether you're leading a major corporation, your own small business, a department, a crew or yourself, you want to be ready. You want to be ready to go and create some great opportunities."
When facing a situation as magnanimous as the coronavirus, McManus says there are mental, physical and emotional challenges all business owners will face, and many aren't sure exactly how to deal with them all because it's out of their comfort zone.
"There are some things that you and I just cannot change and those things are the facts of life, right?" says McManus. "Those things that are facts, we just cannot change those, and so what we do is we adapt and overcome."
Thinking well in a crisis
McManus says the first hurdle to get over is getting yourself in the right mindset to deal with a crisis, especially when facing one like a pandemic.
As a leader, McManus says you will first need to have a caring mind in times like these. When we as leaders take care of our people, they will, in turn, take care of the business, according to McManus.
Secondly, McManus says you'll need the ability to look forward, as this is one of the top characteristics people admire in a leader.
McManus adds that thirdly, it's important to not consistently be negative in times of crisis and instead try to cultivate a positive life stance.
When trials come, McManus says leaders need to focus on what they can do and change instead of dwelling on what's out of their control. If your employees are upset or riled up because of a situation, they will instinctively look to you for a solution, and you need to let them know up front that you are in this with them every step of the way.
"You've got safety concerns; everybody in our country does," says McManus. "We're going to do this together, folks. We're going to walk through this together."
Thinking about tomorrow
As you look to the future and try to determine what's to come for your landscaping company, McManus says to ask yourself what kind of mindset you want to have, and which are you trying to cultivate right now?
"I'm hoping you set a positive mindset," he says. "A mindset of confidence, a mindset of leadership, a mindset to bring great results to your organization, one of caring and one of loving your people."
One mindset McManus says many leaders struggle with is that of a follower. For those that have the mindset of a follower, McManus says they have the foundation already built to become a great leader.
"Are you listening and trying to make your employees successful?" he asks. "Are you trying to help them with their plan to go along? You need to learn how to adapt the plan from being yours to being the teams' because that makes it become something much bigger. Great leaders don't do it all themselves; you've got to have great people around you."
McManus says leaders also need to have the mindset of a guide who actively works to help others succeed. McManus challenges leaders to look at their situation right now and ask themselves how they can help those in their company succeed, and how can you use this opportunity right now to create pathways to success?
McManus says the first step to creating successful pathways for your team is to know that perfection does not exist in the process, but regardless, you need to keep moving towards step two, which is staying on mission.
"We're not going to get a perfect plan, we're not going to get perfect people and we're not going to get a perfect boss," says McManus. "Hey, newsflash: none of us are perfect, but we need to stay on mission."
McManus says the third step is investing this time into education and training, as there's usually not as much time in a normal day that can be dedicated to these activities. During this time when daily operations are looking vastly different, take time to get employees set up with virtual training videos or online webinars they can watch to help further their education or become certified in a certain practice.
"Maybe there's some conversations or strategic plans that need to happen to see the bigger picture," says McManus. "If you're a landscape company, your mission is not going to change a whole lot, but the way you do it may change. Take the complex and make it simple."
McManus says to make sure you are also bringing the energy to work, as this can help boost the morale of those around you and show them that you are ready to face challenges head-on. While he knows it can be disheartening at times to look at the present situation, he highly recommends trying to see through the negative to focus on the positive.
"Bring the energy, folks," he says. "I'm excited about where we're going. I'm excited about the opportunity. Things have changed, but I know we can change with it. You may not feel the energy, but I didn't say you had to feel it; I just said bring the energy. It's just bringing that professional energy that you're engaged, you're glad to be there and you're excited like an owner."