Takeuchi-US announced RoadBuilders Machinery & Supply as a new dealer.
Located in Springfield, Missouri, the company also has a location in Kansas City, Kansas, where it is headquartered, and four locations throughout Nebraska.
The company says RoadBuilders Machinery & Supply will carry the full lineup of Takeuchi equipment, including excavators, track loaders, skid steer loaders and wheel loaders. The dealer provides sales, service, parts and rental to customers throughout southwest Missouri, including Springfield, Branson and Joplin.
Originally starting off serving the construction industry when it was established in 1985, the dealer has since branched off into additional markets with more available equipment lines. This includes construction, earthmoving, mining, landscaping, erosion control, aggregate processing, drilling, material handling, paving, compaction, trailers and attachment products.
"We have worked with all five of the other RoadBuilders Machinery branches, so we know the top-notch support they provide, in addition to highly trained service personnel," says Jeff Stewart, vice president and general manager at Takeuchi-US. "We have no doubt Takeuchi will do very well in Springfield and the surrounding areas with such a well-established dealer. We are excited to expand upon our strong partnership."
"Takeuchi is a strong brand and the machines have done very well at our locations," says Josh Clymer, vice president of RoadBuilders Machinery & Supply. "We are looking forward to expanding our relationship with Takeuchi, in addition to providing a great option for our customers in southwest Missouri."
Talbert Manufacturing introduces 35-ton fixed neck trailer
Talbert Manufacturing has introduced the 35FG-BVTL, which is a fixed neck, drop deck trailer for small- to mid-size equipment machinery movers operating in oil fields, agriculture, construction and demolition.
The company says the 35-ton trailer is rated at 70,000 pounds concentrated in 20 feet and features hydraulic ramps for safe, efficient loading and unloading in confined spaces.
"Our customers require a great deal of versatility," says Troy Geisler, Talbert Manufacturing vice president of sales and marketing. "Each day or week could consist of moving a variety of equipment. This is why we take the time to listen and design our trailers to provide the most flexibility, tailoring each unit to the specific needs of the customer with options like the fixed neck, tag-a-long, hydraulic tail and traveling axle trailers."
The 35FG-BVTL is part of Talbert's Double Drop Series. The overall length of the 35FG-BVTL is 48 feet, which includes a 22-foot long deck that is 8 feet, 6 inches wide and an 8-foot 6-inch rear bridge section.
The company says the trailer's fixed neck provides an economic alternative compared to removable gooseneck designs for operators that do not require a front unload option. Talbert says it designed the 35FG-BVTL with an 84-inch swing radius and 18-inch kingpin setting for increased maneuverability and versatility, and the gooseneck features 2-speed landing gear with standard sand shoes.
Talbert says the 36-inch sloping beavertail features a 14.98-degree load angle coupled with a full-width plate with traction bars outside the main beams for optimal rear loading. The company says hydraulic ramps also allow for increased safety during loading by removing the need to manually lower or raise the equipment. The company says contractors can use the 35FG-BVTL to haul a variety of small- to mid-size construction equipment.
Talbert says the deck flooring is 1.5-inch Apitong, which provides exceptional strength for long-term durability under heavy loads. The company says the unit has one of the lowest loaded deck heights in the industry — 30 inches, 40-inches for the rear bridge — and a 10-inch road clearance to maximize headroom.
Talbert says it manufactures all its trailers with heavy-duty T-1, 100,000-psi minimum yield steel for extreme durability and longevity. Like all of the company's trailers, Talbert says the 35FG-BVTL comes standard with Valspar R-Cure 800 paint to prevent corrosion for a long-lasting finish and better return on investment.
Vectorworks sponsors new online learning platform, wins recycling and waste reduction award
To help nurture the professional development of landscape professionals, global design and BIM software provider Vectorworks, Inc. says it has sponsored the launch of the Landscape Institute's (LI) digital learning platform, LI Campus.
As a collection of educational content for landscape professionals, Vectorworks says the LI Campus will give users immediate access to a wide range of content, incorporating the past three years of LI events, conferences and continuing professional development (CPD) days.
"As a new online service, LI Campus offers a more accessible, inclusive and affordable way of delivering CPD and learning," says LI chief executive Daniel Cook. "It will give landscape practitioners based in remote or international locations access to all of our latest content. We are already seeing across the sector the rising importance of people skills, digital practice, community engagement, co-design, natural capital, place management, horticulture and parks management. These extend well beyond our traditional fields of practice: landscape architecture, planning, management, science and urban design. LI Campus seeks to be the premier hub for professional development and learning for all these important landscape disciplines."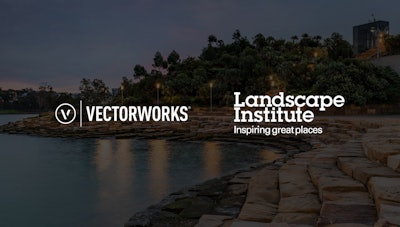 Vectorworks says the Landscape Institute is the UK chartered body for landscape professionals. It also serves as an educational charity that promotes the art and science of landscape practice. It provides a professional home for all landscape practitioners including landscape scientists, landscape planners, landscape architects, landscape managers and urban designers.
"Vectorworks has been working with the Landscape Institute and providing solutions for landscape design professionals for over 35 years," says Adrian Slatter, Vectorworks UK director of sales. "The launch of the LI Campus provides a fantastic medium for sharing knowledge and best practice and Vectorworks UK is delighted to be a sponsor of this initiative. Having been involved with the BIM Working group and more latterly with the Digital Working Practice group, we are eager to engage with LI members and community. We hope that this new initiative will help advance awareness of landscape design, including sustainable site design and collaboration to help drive better landscape performance."
Those with Landscape Institute subscriptions can access free on-demand webinars that also feature Vectorworks training content.
In conjunction with Earth Day 2020, Vectorworks also celebrated their latest award. The Howard County Department of Public Works' Bureau of Environmental Services, Recycling Division selected Vectorworks as the winner of the 2020 Business Recycling and Waste Reduction Award. Vectorworks says this accolade recognizes local businesses for their recycling and waste reduction efforts during the 2019 calendar year.
The company says the winning submission, "Greenworks," is an environmentally-based project presented at the company's regular innovation discussions and focuses on methods to create a sustainable work environment. Employees from various teams and departments collaborated on the project that went into full effect a few months later.
The project outlined implementing proper traditional recycling techniques and adding a new system to include recycling plastic bags and film packaging, which ultimately becomes Trex decking. Additionally, other initiatives involved purchasing utensils instead of plastic cutlery and replacing water bottles with a water filtering system.
"One might expect an innovation project from a global design software company to be a technology-focused project; however, we chose to focus on sustainable ways to improve our environment," says Janet Coppage, operations coordinator at Vectorworks and one of the employees behind the Greenworks project. "Not only are we pleased to see this initiative have a significant impact on our nearly 200 employees at our Columbia headquarters, but we also see this as an opportunity to educate families and surrounding communities for a greater reach and positive impact in our environment."
Ruppert Landscape acquires Scott & Sons Landscaping
Ruppert Landscape announced the acquisition of Scott & Sons Landscaping located in Dagsboro, Delaware.

Founded in 1997 by Scott Shubert, Scott & Sons offered residential and commercial landscape maintenance, design, irrigation, pest and nutrient management and hardscape installation on the Delmarva Peninsula.
"Similar to Ruppert, Scott & Sons invested in owning and maintaining a first-class operating facility and employed a strong team, dedicated to great customer service," says Tom Barry, president of Ruppert's landscape management division. "We felt that this would help give us a great base of operations in Delmarva and market-specific knowledge from which to build in the years ahead."
Ruppert says the transaction includes the purchase of one facility, all commercial landscape management contracts, vehicles and equipment and the onboarding of all employees. Ruppert says it will relocate their newly opened Delmarva branch from its temporary facility to join the Scott & Sons team in their facility.
"Ruppert is committed to retaining the Scott & Sons team and all of their commercial landscape maintenance contracts," says Garth Jorgensen, Delmarva branch manager. "This acquisition allows us to strengthen our newly formed team to better serve our customers and expand our service coverage in this new market."
Mecalac opens new facility in Massachusetts
Mecalac has opened a new 14,000 square-foot facility in Norfolk, Massachusetts, to serve as the North American headquarters and further support the growth of the brand in this market.
Opened July 2019, Mecalac says the new facility centralizes the company's administrative offices, equipment inventory, parts and service support in one building, replacing the three separate locations the company maintained previously. It will be home to an in-house training facility and play host to dealer and media events throughout the year.
"The North American market has been very receptive to the Mecalac approach, which puts a heavy emphasis on innovation," says Alexandre Marchetta, Mecalac CEO. "Every piece of equipment is designed with the end user in mind and solves the challenges operators face daily. The new facility underscores our commitment to the North American market and will allow us to better serve our growing dealer network and customer base."
Mecalac says the facility is home to a diverse team of 14 Mecalac employees with a combined 200 years of experience in the construction equipment industry. In the months ahead, Mecalac expects the team to grow to enhance its local presence and to provide a high level of support after the sale.
"One of our priorities is to expand our dealer network across North America," says Peter Bigwood, general manager of Mecalac North America. "We currently have 15 dealers and plan to grow at a measured but steady pace. To serve our customers the best way possible, we look for dealer partners who understand the construction equipment market and share our enthusiasm and vision for reshaping how contractors work with highly differentiated, innovative products."