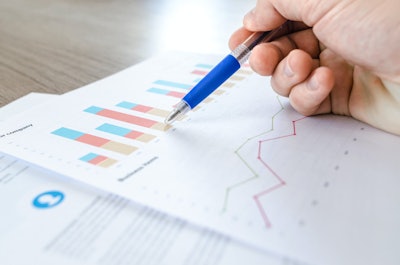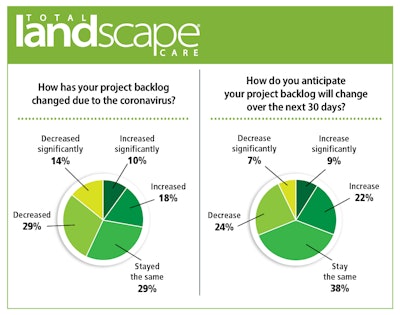 Landscaping professionals nationwide continue to see the impact of COVID-19 (coronavirus) on their businesses, according to a survey conducted by Total Landscape Care during April 16 -22.
When asked how their current project backlog has changed due to COVID-19, 43 percent of landscaper respondents told Total Landscape Care that it had either "decreased" (29 percent) or "decreased significantly" (14 percent).
Contrarily, 28 percent reported that their backlogs had "increased" (18 percent) or "significantly increased" (10 percent).
"Generally, this time of year the phone does not stop ringing; that is not the case this year," one Washington landscaper said. "We have our March and April projects as backlog work once things reopen to construction, but we are not adding to it. It does not bode well for the second half of the year."
One Massachusetts commercial landscaper commented, "We can't complete any of the work."
(This survey, which had 125 respondents, is the second in a series of surveys that Total Landscape Care and other Randall-Reilly brands are using each week to gauge market sentiment. To participate in the next survey, click here.)
The next 30 days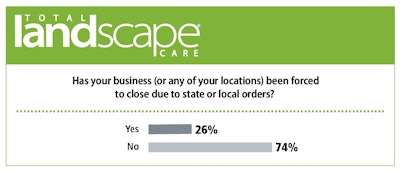 Due to the varying shutdown or shelter-in-place orders, 26 percent of landscapers surveyed reported they were forced to temporarily close due to state or local orders, while 74 percent say they are still operating in some capacity.
One South Carolina landscaper said, "Maintenance and lawn care is still growing but at a slower pace. Project and enhancement work is much slower."
"This has become very hard, especially when we don't qualify for any help from the IRS like the employees with stimulus checks," one New Hampshire respondent said. "A small business owner will have more bills to pay due to having an overhead, along with the expensive insurance coverages. I'd like to know why we aren't receiving any grants or relief aid?"
When looking at how they think their project backlogs will change over the next 30 days, views are evenly split, as 31 percent believe they will see an increase, and 31 percent believe they will see a decrease.
"We are getting a few opportunities each week and are working with a limited staff since about half of our workforce has decided to stay home until things begin to clear up," one Pennsylvania landscape designer said.
Making changes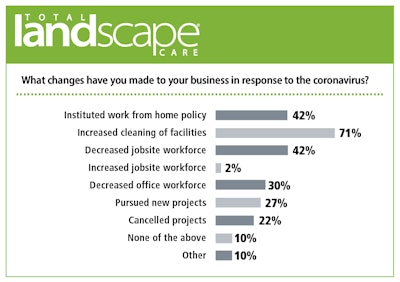 Due to the contagious nature of the virus, landscapers have begun implementing different practices in their businesses to cut down on the spread.
Seventy-one percent of those surveyed said they increased the cleaning of their facilities due to COVID-19, and 42 percent have implemented a work from home policy for employees.
Overwhelmingly, the majority of those surveyed commented that they have also begun limiting the number of workers allowed in vehicles while traveling to and from jobsites, as well as ramping up their technological contact with customers.
"Our crews have maintained work from our shop location and the admin work from home offices using precautionary advised preventative methods," one Georgia landscaper said. "(We also are) having zero customer contact with commercial and residential customers."
"We take everyone's temperature each morning," one North Dakota landscaper said. "We have (a thermometer) that you can just scan their forehead and it reads green for all good and red for a high temperature. This only takes about three minutes for about 45 guys. We also have our crews wearing masks, we rented an outdoor restroom and an outdoor wash station to clean hands. This limits the amount of traffic coming in and out of our office and shop areas."
Following national trends of massive layoffs, 42 percent of respondents said they had decreased their jobsite workforce, with 30 percent decreasing their office workforce.
Twenty-seven percent of those surveyed said they pursued new projects, while 22 percent said they were forced to cancel existing projects.
"(For us), 'canceled projects' actually refers to the abrupt halt of any 'unnecessary' output of money," one Virginia university landscaper said. "We canceled our large mulch delivery for the campus, did not proceed with annual color change-outs and ceased activities related to getting ready for commencement, spring campus visits and related university events. Our arbor care program, however, was deemed as necessary, so we are continuing with that, thankfully."
"In Michigan, our governor has decided we are not necessary or deemed us non-essential, so it is destroying businesses," one Michigan landscaper said.
Another Michigan respondent summed the situation up by saying, "We're preparing for a major economic downturn."
A South Carolina landscaper's final comments were, "We need to expect a new normal in daily life. This adaptation to the future will allow businesses to get back to work sooner. Accept increased scrutiny on cleanliness and social distancing, and if your business can lead in this change, you will be first in line to grow and be profitable."