With the introduction of four new modules, Ditch Witch says more underground construction and outdoor professionals from around the globe can take advantage of Ditch Witch Certified Training.
The company says these new modules include training for stand-on skid steers, walk-behind trenchers, ride-on trenchers and the Roto Witch drilling attachment.
"As jobsites get tighter and tighter and new operators enter the workforce, it's important that everyone has the training for safe and proper equipment operation," says Brian Grim, Ditch Witch product training and development manager. "No matter your role – machine owner, project engineer, operator or installation crew member – understanding the equipment is very important to maintaining a safe jobsite."
The company says the training modules are designed to be delivered both online and in-person to be as convenient and effective as possible. Online training modules are available at no cost by visiting the company's website and registering for a free MyDitchWitch account. In-person training is available at any global Ditch Witch dealer.
The modules vary in length, depending on the type of product being studied, from 30 minutes for smaller units to several hours for more complex subjects like HDD operation. Ditch Witch says testing is provided to ensure those taking the modules are retaining the information.
"Keeping our customers safe and productive is job number one for us at Ditch Witch," says Grim. "These training modules allow us to provide operator and safety training to our customers anywhere in the world at any time of the day."
Ditch Witch says the new training categories were selected based on customer demand.
StaCool Industries releases StaCool vest
StaCool Industries recently released the StaCool vest core body cooling system, which the company says keeps users cool, comfortable and productive while working in the summer heat, without compromising mobility.
The company says that maintaining a consistent core body temperature is safer than exposing workers to possible heat-related illnesses, and since wearers do not require cooling breaks, StaCool says they are considerably more productive.
The company says that each vest is made from comfortable, breathable Airprene material for comfort and flexibility, and includes ThermoPak inserts.
StaCool says each cooling vest provides up to three hours of cooling per ThermoPak set (four per set), depending on activity type, environmental conditions and body heat.
The company says each vest includes an additional four ThermoPaks, so users have a spare set to extend cooling time. StaCool says these vests are ideal for welders, hazmat and military professionals, including those wearing level A protective clothing, industrial/manufacturing workers, surgeons and operating room technicians, landscapers, lawn crews and others working outside.
The company says this vest provides core body cooling without freezing, and a thermal barrier is built in to ensure the wearer does not get too cold. StaCool says models can be worn under clothing or as an over-vest.
Weighing just 5 to 5 ½ pounds with ThermoPaks installed, StaCool says the vests are available in a wide range of sizes to accommodate any body type, and a front zipper allows for easy dress or removal. The company adds that they are also available in fire retardant materials; children's sizes are also available.
Makita promotes "Rule the Outdoors" campaign
Makita U.S.A. says it is continuing to make significant investments in designing cordless outdoor power equipment and driving awareness with a national multi-media campaign.
The company says the "Rule the Outdoors" campaign highlights the world's largest professional cordless outdoor power equipment system, which benefits users with instant starts, lower noise, reduced maintenance and lower emissions.
With advances in technology and increasing government regulations, Makita says professional landscapers, groundskeepers and arborists are looking to battery-operated outdoor power equipment as a new solution.
Makita says its battery-powered outdoor power equipment is engineered for maximum cordless performance, without the hassles of gas. The "Rule the Outdoors" campaign promotes Makita LXT cordless outdoor power equipment, which the company says is powered by a fast-charging LXT lithium-ion battery and Makita-built motors.
"No one knows cordless like us," says Romique Talton, senior product manager, outdoor power equipment, Makita U.S.A. "We have over 90 years of chainsaw and gas expertise and over 40 years of cordless expertise. This knowledge and experience have been invested into product development and has resulted in the largest offering of cordless outdoor power equipment on the market."
"The industry growth of cordless products has immensely accelerated," Talton continues. "Makita has the world's largest professional cordless outdoor power equipment system. And with millions of LXT batteries already in the market, Makita is uniquely positioned to capitalize on this growth opportunity. With the recent launch of Makita's new 21" commercial lawn mowers, users can cut up to two miles of grass in push mode, get high-torque performance and have lower cost of ownership than gas models."
With the success of last year's launch of the "Rule the Outdoors" campaign, Makita says it is extending the campaign with new television commercials, digital and social media advertising and experiential marketing efforts.
"The overall success of the campaign last year exceeded everyone's expectations," says Brent Withey, vice president of brand marketing, Makita U.S.A., Inc. "We want to continue that success by promoting Makita's wide range of cordless outdoor power equipment across a variety of media."
Kioti Tractor launches sales and finance programs
Kioti Tractor announced the launch of a variety of sales and finance programs through May 31 to provide savings to customers affected by the current economic situation. The company says these include deferred payments and increased financing options.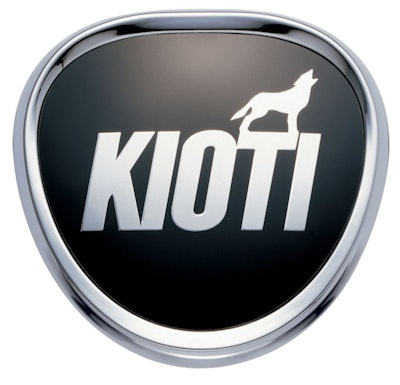 The Kioti Heroes Reward Program has also been extended to include frontline medical workers, and this extension applies in both the United States and Canada. The Kioti Confidence Protection Promise is available until the end of May. With the purchase of any Kioti tractor in both the United States and Canada, the company says qualifying customers have no payments for the first 90 days.
Kioti says it is offering zero-percent financing for 84 months on CS, CX and CK models, with no money down, and this deal is available in both the United States and Canada and it can be combined with the 90-day payment deferral.
Kioti says it is also offering zero-percent financing for 96 months with 10 percent down on CS models in Canada, and this deal can be combined with the 90-day payment deferral.
Greenworks Commercial chosen as provider for Clean Air Lawn Care
Greenworks Commercial says it is proud to announce that Clean Air Lawn Care has chosen it as an official provider of battery-powered tools to its 40 franchises throughout the United States.

Through the agreement, Clean Air says it reinforces its commitment to deliver the finest landscape maintenance and development services while making a positive impact on the environment.
In addition to bolstering the performance of its zero-emission equipment, the company says the use of Greenworks Commercial's tools will allow them to deliver its customers a superior experience. With the addition of Greenworks' battery-powered equipment, Clean Air says it will be better able to serve clients seeking a zero-emission and low noise landscape maintenance solution.
"Greenworks Commercial equipment delivers the speed, power and reliability our franchise owners need to service accelerating customer demand for cleaner, quieter lawn care," says Kelly Giard, CEO of Clean Air Lawn Care. "This partnership proves that electric lawn care equipment has arrived as a viable alternative to gas."
"We pride ourselves on improving the environments and communities our tools touch," says Tony Marchese, vice president of sales and operations – commercial business group, Greenworks Americas. "We are excited to have the opportunity to partner with Clean Air Lawn Care – our nation's leading full-service sustainable professional landscape provider to bolster the quality of services they are delivering."