SnowEx announced it is bringing its HELIXX material delivery system to a new 0.35 cubic yard stainless steel spreader developed specifically to fit UTVs and compact trucks. The company says the HELIXX 0.35 cubic yard offers many of the same features found on SnowEx's larger stainless steel hopper models.
The company says the corkscrew, or "helix," design of the HELIXX spreader is designed to help prevent clogs and outperform the material flow of traditional augers.
SnowEx says the system is optimized for efficient and cost-effective use of salt and was engineered to operate in the target range for salt spreading best practices. The company says the HELIXX system runs the entire length of the hopper with variable flights to promote even unloading of material.
SnowEx says the HELIXX 0.35 cubic yard stainless steel hopper spreader has a 2.5-foot-long hopper, and its compact size allows it to address sidewalks, while its ability to deliver a spreading width of up to 30 feet makes it effective on larger jobs as well.
The company says baffles within the spreader's chute direct material to key areas on the spinner, providing an even and consistent spread pattern, while also reducing material directed back at the vehicle.
SnowEx says dual variable-speed controls allow independent adjustment of spinner and HELIXX system speeds for precise material delivery, whether at low or high output, and they also feature no-blast startup and auto reverse functionality.
The company says the spreader's hopper and frame are constructed of corrosion-resistant stainless steel, and a unique leg and sill design of the frame provides a more rigid structure to maximize service life. Also, the company says the chute can be flipped up or removed for easier hitch access or to simplify cleanout.
SnowEx says an extension collar is a unique accessory that can be added to the HELIXX 0.35 cubic yard spreader to add height to the hopper walls in order to increase material capacity. The company says this optional extension collar adds 0.25 cubic yards of capacity.
SnowEx says other available accessories include spill guards, inverted "V" kits for materials susceptible to compacting, vibrator kits, work light kits, strobe light kits and ratchet strap kits.
LSI Services announces first commercial robotic mowing installation
LSI Services, LLC​ announced its first use of robotic lawnmowers on commercial premises.
As an environmentally conscious company, LSI Services says this is an especially important step forward for the company, as it helps reduce noise pollution for customers while reducing its own carbon footprint. The company says the technology also gives LSI a competitive pricing advantage in the commercial landscaping space, showcasing the company's innovation and commitment to providing the highest quality services to its customers.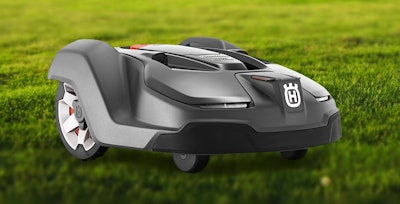 "We are privileged to have forward thinking customers who value using the best available solutions for their tenants and users," says ​Dardan Bilali, president of LSI Services​. "Robotic mowers provide a noise-free, emissions-free lawn mowing solution, perfect for corporate customers. LSI will offer capabilities of robotic mowing to all our commercial customers where environmental consciousness and safety are paramount."
The company says the Husqvarna Mowbot robotic mowers use GPS and artificial intelligence, are self-charging and can operate day or night, regardless of weather conditions. The company adds that the battery powered device is stationed on the property and will be supplemented by LSI's crew, who will continue to provide full-service landscaping on the premises.
"This is a technology whose time has come," says ​Jared Gavzy, co-owner of Mowbot of Metro New York​. "We have successfully deployed Mowbot on several residential lawns and are thrilled to serve our first commercial property."
"LSI is a one-stop solution that integrates technology and people to deliver the best quality exterior services for our customers," says ​Rishi Gaind, managing partner at Gaind Capital Partners​, who previously acquired LSI Services. "We will continue to invest in innovative solutions to make facilities management easier and more cost-effective for LSI's customers."
H&E Equipment awarded Takeuchi's Southwest Dealer of the Year
Takeuchi-US, a global innovation leader in compact equipment, has awarded H&E Equipment as its 2019 Southwest Region Dealer of the Year.
The company says H&E's successful sales efforts in 2019 have proven that they are outstanding in the construction equipment market, and Takeuchi's Southwest Region business manager Hampton Wideman presented the award to H&E Equipment.
Takeuchi says H&E Equipment was named the Southwest Region Dealer of the Year after considering their commitment and excellence in a number of areas including sales performance, parts support, product support and training. They have full-service locations throughout the Southwest to support Takeuchi customers.
"We are pleased to award H&E Equipment the Southwest Dealer of the Year; they are very much deserving of this recognition," says Wideman. "They have been a good partner for the Takeuchi product line and have done a great job with taking care of Takeuchi customers and their equipment. They always treat the customer as their number one priority and that is why they are so successful."
"We are excited to be named Southwest Dealer of the Year by Takeuchi; everyone at H&E works hard to take care of Takeuchi brand and their customers and this award shows we are doing a great job," says Bobby Slay, senior VP for H&E Equipment. "Our staff is very familiar with Takeuchi equipment and the company is great to work with. We look forward to our ongoing partnership with Takeuchi."
NALP announces dates, locations of new annual meeting
The National Association of Landscape Professionals (NALP) announced the dates and locations of its new annual meeting in 2022 and 2023.
After more than a decade in Louisville, co-located with GIE+EXPO, NALP says it is returning to its roots by moving its annual education and networking event to different cities around the country.
The dates and locations are as follows:
Sept. 18-21, 2022 – Gaylord Palms Resort & Conference Center, Orlando, Florida
Sept. 10-13, 2023 – Gaylord Texan Resort & Conference Center, Dallas, Texas
"We've enjoyed our time in Louisville but members have been asking us to move our meeting to new venues around the country, and the time has come to do that and grow the event and the association in the process," says Britt Wood, NALP CEO. "The Gaylord properties are exceptional locations to hold the new annual meetings in the first two years, and we know that attendees will love the experience."
NALP says a planning task force of contractors and supplier members selected the dates and locations with input from NALP members. With a few years to plan, NALP says the new event will be a re-envisioning of what a 21st-century conference for landscape and lawn care professionals should look like with new styles of education and networking opportunities, local facility tours and the latest innovations.
"We look forward to opening up new opportunities for attendees as we create the future NALP annual meeting experience, beginning in 2022," says Wood. "In the meantime, we are focused on providing an innovative and exceptional LANDSCAPES conference for our last year in Louisville next October."
LANDSCAPES 2021 will be held in Louisville, Oct. 19-22, 2021.
Green & Growin' 21 education goes virtual
Education at Green & Growin' 21 will be held online Jan. 11-13, 2021, due to the current restrictions on large indoor gatherings.
The three-day event, hosted by North Carolina Nursery & Landscape Association (NCNLA), kicks off Monday, Jan. 11 with a new forum featuring top green industry businesses. The Tuesday, Jan. 12, and Wednesday, Jan. 13, general education sessions offer topics for growers, buyers, managers, landscapers and more.
"Developing an online education platform to complement Green & Growin' was a long-term goal to meet the needs of our members," says Hugh Crump, NCNLA president. "We were motivated to accelerate our plans after the current health environment limited many in-person education events."
Continuing education credits (CEUs) toward state and national accreditations and licensure will be available across seven disciplines, including landscape, irrigation and pesticide. Attendees also have the option of viewing additional sessions in the online library. Sessions will be available to registered participants for three months after the event.
Early bird registration opens Nov. 16. To learn more, click here.