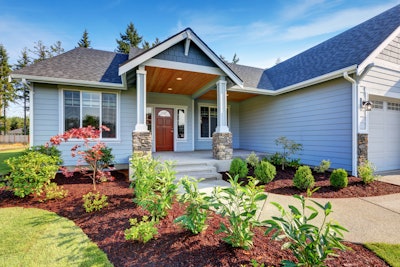 One of the biggest landscaping trends to hit the industry during the pandemic was the increased demand for outdoor spaces, and many companies benefitted greatly from this spike in interest.
Tyler Dixon with Dixon Landscape and Design in High Point, North Carolina, says at the start of the pandemic, he wasn't concerned about losing much business, as the city and HOA require grass cutting. But even with lawn mowing as a guarantee, he says he was expecting an initial slowdown in business operations.
However, he was surprised to see their number of jobs going up in mid-April. During that time, Dixon says they would normally receive one or two projects a month, but after mid-April, they consistently had a project every week up until September 2020.
"We saw a 200 percent increase in activity from where we were in 2019," says Dixon. "As a result, I was able to keep two to four people actively employed full-time, including myself, all year long."
To keep up with the growing demand, Dixon says they purchased new equipment, tools, uniforms and a new vehicle. To get where they are today, Dixon says there were many necessary internal operational costs and investments made.
Dixon notes that there was also a massive increase in contactless payment requests, which he processes using Jobber Payments. He attributes the spike to both the pandemic and to the influx of younger customers.
Demographics
According to Dixon, the average age range of customers requesting these outdoor spaces were in their mid-20s to late 30s, and he notes that he scheduled more projects with younger homeowners in 2020 than ever before.
In the past, Dixon says most of their clients have been older or retired. Up until the pandemic, Dixon believes not as many members of the younger generations were spending copious amounts of time at home, which led them to not focus as much on their landscapes.
As we well know, 2020 completely changed that.
"With people working and spending more time at home due to the pandemic, they noticed things about their property they wanted to change, and they had more time to schedule those projects," says Dixon.
The popular pick
Compared to years past, Dixon says 2020 brought many more opportunities for landscape design projects.
Overwhelmingly, Dixon says the projects that gained the most popularity were the ones focused on increasing curb appeal.
"This is most likely due to people just generally spending more time at home," says Dixon. "Another factor is that the housing market was also exploding, which contributed to the increase in landscaping projects since good curb appeal is important for selling a home."
Going into the new year, Dixon says if the economy can bounce back, he sees these types of projects continuing. With homeowners saving more money by traveling less, Dixon says they now have more time to spend at home, as well as more money saved up to spend on home improvement projects.
Unexpected growth, plans for the future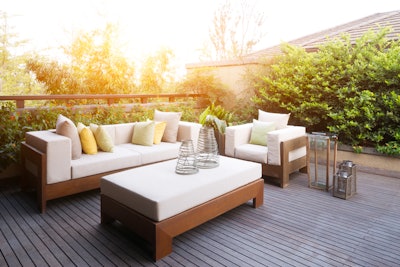 Along with focusing on doing a job well, Dixon says his team always works to establish and build relationships with customers. This, he says, has led to an increase in word-of-mouth referrals, which directly affected their increase in projects for the year.
"In 2020, we worked on the biggest projects we've ever done, and I think that will be a shift my company will embrace long term as well," says Dixon. "There has also been an increase in concrete artistry projects, which my team loves to work on. Currently, concrete artistry is a niche service that we offer, but it's the direction I'm planning on taking the company."
Going forward this year, Dixon says he wants to open a store for outdoor furniture that features their work. Dixon says there is a strong emphasis on furnishing the inside of a home, but in his area, there aren't any stores focused on providing outdoor furniture options.
"I want to bring a storefront and open up a showroom in High Point, North Carolina, to show people how we can change their outdoor living environment," says Dixon.
As a small business owner that came out of 2020 with a success story to be thankful for, Dixon says he learned that no matter what, you have to focus on the people that work for you.
"My biggest priority is my team," says Dixon. "There were times I didn't even take my paycheck last year, but I had to make sure my team was taken care of because they have families to look after. If I take care of my team, then the work that they do will always be exceptional."
Going into 2021, Dixon says he wants to take the lessons they've learned in 2020 and be more organized and detailed, while also increasing their speed. The goal, he says, is to decrease the man hours and increase the profitability.
For those struggling to gain business, Dixon recommends taking time to step back and figure out what your market needs and then begin campaigning and marketing for that service.
"If it isn't a service you typically offer but it's in your realm, make it happen," says Dixon. "Starting out, you might have to do things in an unconventional way until you save up the money for the equipment and resources you need, but at the end of the day, a lot of clients just want the job done. Entrepreneurs and small business owners need to be aware that they are going to go through periods of struggle, but don't let it discourage you."