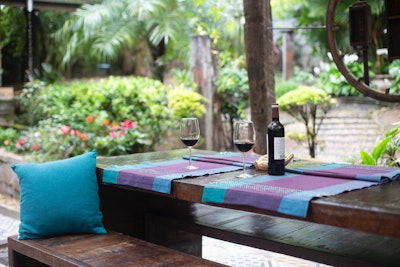 Homeowners are looking to update or create a space in which they can spend more time enjoying the outdoors. After all, they didn't just pay for the house — they bought the lawn too. So, why not spruce it up a bit?
Many built-out yards include large patios, pergolas, fire pits, complete lounge sets, and even kitchens.
Anyone can transform their lawn into a beautiful extension of their home with some well-planned landscaping. Your work adds to the house's value and functionality, but how can professionals recommend and assist clients with more livable outdoor spaces?
Fire pits and patios
Outdoor living spaces include many more features than they did a decade ago, and one of these features is the fire pit. More homeowners are looking to incorporate warmth and light into their outdoor areas, and a fire pit is an eye-catching and natural way to accomplish this.
Walk homeowners through the various materials and design considerations that go into these features. Would they prefer a traditional wood-burning fire pit or a gas line? How do they envision seating placements around the fire? These can affect both your installation and their need for ongoing maintenance.
Many homes also have patios, which lend themselves well to outdoor dining and cooking. Get a firm idea of your client's budget for this installation, so for expenses, quickly add up between the materials, grading, and maintenance. In fact, the mid-range cost for a new patio is $54,130, though personal preferences can alter this estimate significantly.
The design considerations are crucial to livability. Natural stone pavers have timeless appeal and durability, and strategic lighting can also add ambiance that helps homeowners entertain well into a summer evening. Livable patio spaces should feature both functional and beautiful touches that turn them into an extended living room.
Ponds and fountains
Homeowners love the natural aesthetic of water. Whether it be a pond, a fountain or even a small waterfall, water can create a calming environment that people want to sit outside and enjoy. You can help individuals design a water feature based on their preferences, maintenance needs and lawn space.
Additionally, you can help homeowners set expectations on how to maintain their water installations, especially if they are larger or harbor living organisms like fish. Maintenance may include trimming plants surrounding the feature or even cleaning debris from larger ones like ponds. Small fountains might also need periodic draining and cleaning to keep them looking brand new.
Plants and privacy
Of course, plants — especially grass — are a huge part of landscaping. If positioned and maintained properly, they can even provide privacy. For example, some homeowners use hedges, trees, and bushes to increase privacy around their homes. Layering privacy plants can create a barrier that's still aesthetically pleasing.
Lattice screens are another favorable natural privacy installation. These wooden screens often have climbing vines or other fast-growing plants that need pruning to keep them from overtaking different sections of a lawn or garden.
Some people also choose to build a pergola over their patio or an arbor in their garden. To supply more shade, many select vines that creep up and over the structure. Regardless of the shape or height of the pergola or arbor, let clients know these vines grow relatively quickly and will need regular pruning and watering to ensure they provide proper shade and aesthetic value.
What do clients need from outdoor living spaces?
Homeowners will have varying priorities when it comes to landscaping renovation. Some prefer luxury living space additions while others are looking for the highest rate of return on their investment. Other clients may want to reduce maintenance demands, which requires a thoughtful selection of durable building materials and hardy, perennial plants.
Get to know your client's vision and provide practical estimates before the planning starts. While a homeowner may be attracted to the above trends, they may have questions about the expense of ongoing maintenance. A thorough interview before starting is key. Setting clear expectations can lead to an efficient project and a happier outcome for both you and your client.
Making the most of a lawn
With dedication and the right design, homeowners can create a beautiful outdoor living space they'll love to spend time in. From ponds to patios, there's something for everyone. As a landscaper, your job is to ensure your client gets what they want, which includes maintaining it properly.
Of course, each project will look different depending on what kind of lawn and features your client has. However, the goal should always be to beautify their yard and leave it looking like a second version of home.
EDITOR'S NOTE: This article was written by Holly Welles. Welles is a freelance writer with an emphasis on home improvement, business, and commercial real estate. She regularly contributes to sites like Homes.com and Porch as well as publishing articles on her own home improvement blog, The Estate Update.