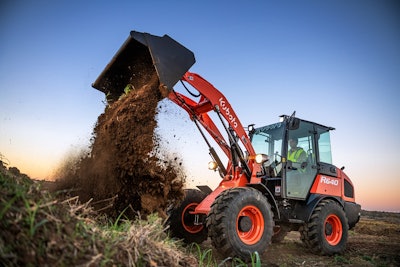 Photo: Kubota
Kubota Tractor Corporation
recently announced an update to its wheel loader lineup with the launch of the new R540 and R640 models.
The company says the next-generation wheel loaders are available in both canopy and cab models and feature improved visibility, enhanced operator comfort and increased performance over the previous R30 Series models. Designed with landscape, residential and commercial construction operators in mind, Kubota says the new R540 and R640 wheel loaders will be available at dealerships beginning in March 2021.
"Kubota dedicated a substantial amount of field research in the engineering upgrades that went into the new R540 and R640; they are built with operator comfort and productivity in mind," says Patrick Baker, Kubota construction equipment product manager. "These new models have an incredible amount of space and power for a compact machine. Plus, with the enlarged front window and full-sized right-side window, they offer an unparalleled view of the worksite."
Engineered to meet the rigorous demands of the jobsite, Kubota says both the R540 and R640 provide increased weight and improved lift performance over the previous generation. Featuring a 64-horsepower Tier 4 Final engine, the company says the R640 boasts an operating weight of 11,563 pounds and delivers a maximum breakout force of 9,869 pounds and 8,161 pounds of lifting capacity.
With a 54-horsepower Tier 4 Final engine, the company says the R540 has an operating weight of 10,285 pounds and delivers a maximum breakout force of 8,183 pounds and 6,767 pounds of lifting capacity.


Kubota says the R540 and R640 wheel loaders feature several updates that improve visibility and safety for operators. Cab models for both the R540 and R640 offer a panoramic perspective of the environment with an enlarged front window and a full-sized, all-glass right-side window that is the same size as the entrance door. The company says the right-side window also allows greater visibility of the front-right tire for better maneuverability.
The company says the arms of the R540 and R640 have been redesigned for better visibility when connecting attachments with the hydraulic coupler, enabling operators to connect attachments without getting out of the cab. With delta-shaped loader arms that run parallel and become narrow at the cab and widen at the end of the loader arms, Kubota says operator visibility is enhanced when the bucket is lifted at full height.
The company says the R540 and R640 also feature standard LED working lights, transitioning from halogen lights, making the equipment well-suited for low light operation. Kubota says the R540 and R640 wheel loaders include a wide range of comfort features designed to reduce operator fatigue and boost productivity.
By moving the reconfigured console and switch layout to the right side of the cabin, the company says operators have more foot and leg room, and all controls are just a finger touch away.
With the multi-function control lever and controls forward, neutral and reverse, the differential lock and the wheel loader auxiliary port switch, Kubota says all major loader functions and operational functions can be accomplished with one hand.

ASV showcases OEM rubber tracks
ASV Holdings Inc. announced that it now offers genuine OEM compact track loader tracks.
"We don't leave quality to chance at ASV," says Buck Storlie, ASV product line manager. "Not in our machines and not in our OEM tracks. Aftermarket track options may look similar, but they lack the thousands of hours of vigorous testing we've put into our tracks. We have determined the perfect blend of materials to optimize our tracks for operators on the toughest jobs."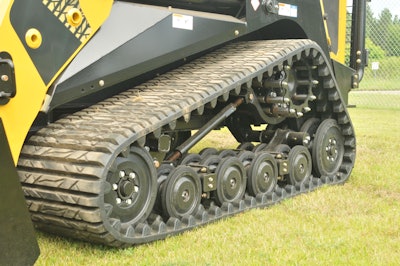 ASV says the OEM tracks allow operators to do more in more places through the use of best in class technology that achieves leading durability, flexibility, performance and efficiency. The company says the tracks maximize traction and the amount of track on the ground in dry, wet and slippery conditions all year long through the use of an all-season bar-style tread pattern and a specially-formulated exterior tread.
ASV says the high amount of ground contact combined with a Posi-Track undercarriage also virtually eliminates derailment.
ASV says the rubber tracks eliminate rusting and corrosion because they contain no steel cords, and durability is maximized through seven layers of embedded puncture, cut and stretch resistant material.
Additionally, the company says the track's flexible reinforcements are capable of bending around obstacles that may otherwise snap cords on a steel-embedded version or an aftermarket option with fewer layers of reinforcement and lower quality material.
ASV says the OEM tracks also extend reliability and maximize resistance to wear and tear through a specialized blend of rubber compounds specifically designed for tracks used in industrial conditions. The company says the tracks are highly consistent thanks to a single-cure process that eliminates the seams and weak points found in some aftermarket tracks.
Pre-stretched for a consistent length with minimal stretching, the company says the track minimizes wear due to a patented lug design, assuring maximum sprocket engagement.
ASV says the genuine OEM tracks are backed by the company's industry-leading 2-year/2,000-hour warranty, which covers tracks for the entire period and includes the industry's first and only no-derailment guarantee on new machines.
Kioti Tractor announces 2021 product additions
Kioti Tractor recently announced its lineup of all-new products slated to hit the market in 2021.
These products include the NS Series of tractors, K9 2400 Cab utility vehicle, CX2510H Cab tractor, field-option cab for the CS20 Series tractors and a line of grapples. The company also announced its plans to enter the compact construction market, with a compact track loader and skid steer currently in development.
The company says these offerings were first revealed in December at Kioti's annual dealer meeting, held virtually and attended by dealers and distributors across the United States, Canada and Europe.
The company says the meeting centered on the theme of "Savage Instinct" and highlighted the ruthless determination of Kioti dealers and customers.
"The broad array of new products Kioti has introduced for 2021 continues to show the company's drive to diversify product lines to support customer demands," says Peter Dong-Kyun Kim, president and CEO of Daedong-USA, Inc. Kioti Tractor Division. "Kioti is proud to announce significant investments in our personnel and operational capacity, as well as massive infrastructure updates, to continue the momentum we generated in 2020. The company is rapidly scaling up to match demand and is maintaining the superior customer experience we're known for. We're eager to continue this ferocious growth and success with all-new additions to the Kioti product lineup coming to dealers and customers in the year ahead."

Kioti says the NS Series was designed to meet the needs of value-conscious customers who require a powerful tractor and larger platform. The series will include five models, with engines ranging from 45- to 58-hp.
The company says all models will feature high-capacity hydraulics and power steering, with the option for a synchro shuttle or HST transmission. NS Series tractors feature both an adjustable three-point hitch and an independent PTO with auto and manual selections.

The company says the latest addition to Kioti's K9 utility vehicle series, the K9 2400 Cab, will offer an audio system with speakers, air conditioning, heat and defrost, a tilt-opening windshield and four-wheel drive. Kioti adds that the UTV will also boast advancements to reduce vibration and noise in addition to a redesigned CVT with engine braking capabilities.
Joining the CX Series tractor lineup, the company says the CX2510 CH model will feature a 24.5-hp engine, heated and cooled factory cabin, cruise control and power steering. The company says operators will find comfort in the tractor's open platform design, plus convenience in its rear PTO with an adjustable three-point hitch.
The company says the CS20 Series field option cab will be available as an accessory to Kioti's CS20 Series tractors. The cab will come standard with a heater, defrost, front working lamps and wiper, with optional add-ons including a Bluetooth audio player, beacon kit and floor mat.
Finally, Kioti says it is expanding its product selection with a line of Kioti grapple attachments. The initial grapple offering consists of both compact and standard duty rake grapples, with three different models in each ranging from 48 to 72 inches, and weights ranging from 198 to 476 pounds. Kioti says the grapples are made of AR400 steel and built for tasks of all sizes.
Kioti says its first-ever compact construction products, a skid steer and compact track loader, are currently in development. Both machines will be completely designed, engineered and manufactured by Kioti's parent company, Daedong. The company says they will both also include a Kioti engine and powertrain.