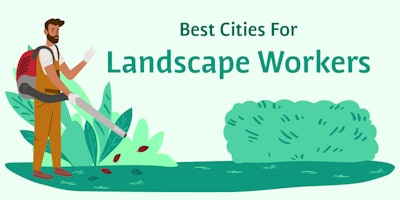 Photo: Dutch Bulbs
Landscaping is tough, physically demanding work that quite literally shapes the world around us and how it looks. Without workers that are willing to put in the time and effort to do these kinds of jobs, there would be lawns, parks and campuses across the country in disarray. Thankfully, there are those who have made a career out of planting, clipping, cleaning and so much more, and their efforts help keep our neighborhoods and communities beautiful and pristine.
As experts when it comes to large scale planting projects, our team here at K. van Bourgondien knows just how challenging these jobs can be thanks to the physical toll they take as well as the sometimes harsh weather conditions workers have to deal with. That is why we wanted to shine a light on this often unsung segment of the workforce by finding the cities across America where work conditions are the best for landscape workers, focusing on factors such as pay, climate, demand and more.
To perform our full analysis, we pulled data on seven different factors including cost of living and quality of life, factors relating to landscaper pay and job availability, as well as weather and climate data. We collected this information for 50 of America's biggest cities. We then weighted each factor and compared the results in each city against every other locale in our evaluation, giving each city a final score on a 0-100 scale. A full list of the factors, sources and weights used to compile this analysis can be found at the end of this post.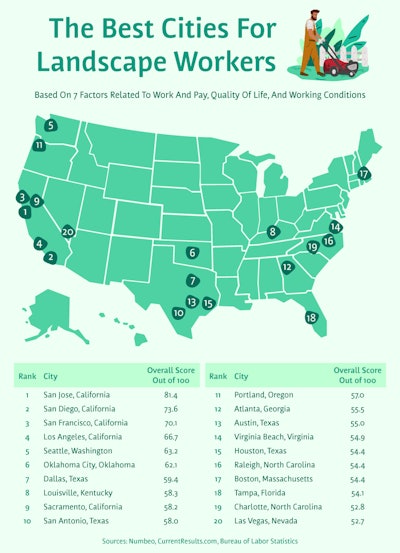 Our overall results indicate that life is good for landscape workers on the west coast. Each of the top four cities in our ranking are located in California, with higher salaries and predictable, moderate climates boosting the scores for those cities despite cost of living scores that drag some of them down. Rounding out the top five is Seattle, a city that earned high enough scores relating to job competition and the lack of extreme temperatures to overcome low scores relating to precipitation, one of the city's hallmarks.
While many of the top 20 cities are located in warmer parts of the country, Seattle is joined by Portland, Oregon, and Boston, Massachusetts, as cities located in parts of the country that regularly experience cooler temperatures that landed in the top 20. Decent salaries and limited job competition are among the biggest factors pushing all three into the top 20.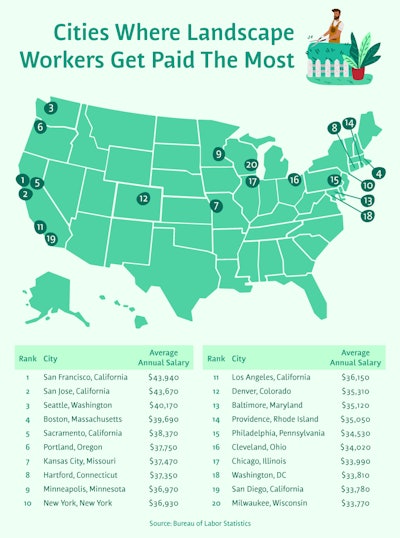 Speaking of salaries, we know that pay is among the most important factors for many when choosing any job or career. For that reason, we wanted to focus on that single factor in our analysis here and map out the 20 cities that pay landscape workers the best.
A number of cities we have already highlighted show up near the top of this list, including Seattle, Portland and Boston. California, similarly, earns a second shout out here, with San Francisco jumping from third in the overall rankings to first overall in terms of annual salary, edging out San Jose by less than $300.
It is also worth noting that cold weather cities appear on this list with much more frequency, and it is hard to argue against the idea that landscape workers in places such as Minneapolis, Hartford and Milwaukee deserve a little extra for working outdoors in places with winters that can be both long and harsh.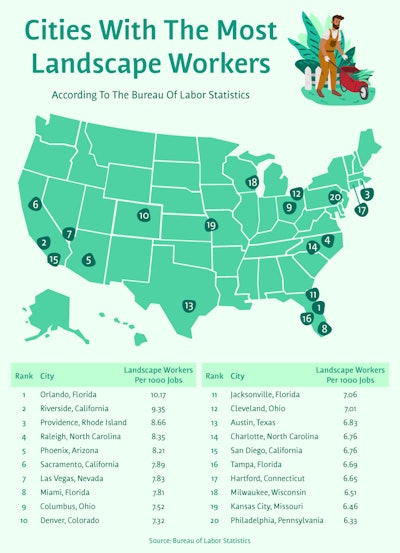 Finally, we wanted to see which cities feature the most people actively working in landscaping jobs. We used data from the Bureau of Labor Statistics to find out how many jobs are in landscaping for every 1,000 workers in each city. While a number of California cities feature large numbers of landscape workers, Florida actually has the most cities in the top 20, with four.
Not only does the Sunshine State have the highest number of cities in the top 20, one of those takes the top overall spot. That city is Orlando, where 10.17 out of every 1,000 jobs is in landscaping, the only city with a number in double digits. Orlando is one of the biggest tourist destinations on earth thanks to major theme parks from the likes of Disney, Universal and SeaWorld, all located in the central Florida city. Given the size of those parks and the number of tourists from around the world that pass through Orlando, it is no surprise that many hands are needed to keep things looking spic and span throughout the city.
EDITOR'S NOTE: This article was submitted by Dutch Bulbs.