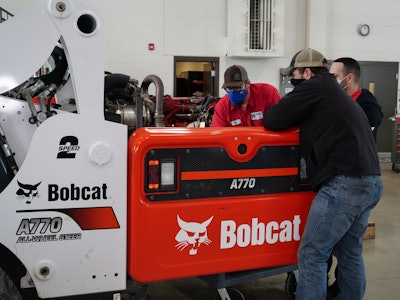 Photo: Doosan Bobcat North America
Doosan Bobcat North America announced the donation of three Bobcat machines to support the Diesel Equipment Technology program at Minnesota State Community and Technical College, Moorhead (M State).
A longtime education supporter and STEM advocate, Doosan Bobcat says it provided the equipment as part of the manufacturer's continued focus on community outreach. M State is also one of eight Doosan Bobcat training sites in the United States.
"Providing new manufacturing professionals with hands-on training opportunities is critical to foster the natural talents of these individuals and help them establish a solid learning foundation they can use throughout their careers," says Laura Ness Owens, vice president of marketing, communication and public affairs at Doosan Bobcat North America. "Through our continued partnership with educational institutions such as M State, we are helping build a future pipeline of skilled manufacturing professionals."
The company says the donated equipment includes a 2005 Toolcat utility work machine, a 2013 T630 compact track loader and a 2015 T630 compact track loader, as well as a variety of parts that can be used for training modules.
The company says donating equipment for these programs helps allow critical instruction for service technicians and students on troubleshooting, servicing, operating, repairing and maintenance for all machine components.
"We are thankful for the continued generosity and our strong, long-term partnership with Doosan Bobcat," says Jim Bainer, instructor and faculty member at M State's Diesel Equipment Technology program. "Our college has benefited greatly from the equipment, supplies and monetary donations from Doosan Bobcat; including the talent of the company's dedicated employee volunteers and Mike Fitzgerald, qualitative customer insights specialist, who serves in an advisory support role for the program."
Over the last 15 years, Doosan Bobcat says it has contributed over $620,000 in equipment, pledge amounts and supplies to the college. The company says it also provides three $1,000 annual scholarships to students enrolled in science, technology, engineering and math programs. The company says it also provides a $2,000 annual classroom investment for technology updates for a total commitment of $50,000 over the next seven years.
"Thanks to the generosity of companies like Doosan Bobcat, our students have access to top-of-the-line industry resources, expertise and training, preparing them for success in a globally-connected workforce," says Karen Reilly, associate dean of marketing and outreach at M State. "In addition, these donations serve as a prime recruiting tool for us; when prospective students see our wide variety of Doosan Bobcat equipment, they know they will get hands-on experiences that will equip them in their careers."
"We recognize the diesel technology program as an outstanding training ground for students, and we take great pride in this partnership at Doosan Bobcat," says Ness Owens.
Bayer to divest Environmental Science Professional business
Bayer recently announced a series of decisions to accelerate the strategy implementation of its Crop Science division.

In order to focus on its core agricultural business, Bayer says this includes the intent to divest the company's Environmental Science Professional business.
To further drive performance and growth in the division's most important commercial region, Bayer says it has named Dr. Jacqueline M. Applegate to lead the Crop Science North America region effective March 1, 2021. She currently heads the division's Environmental Science and Vegetable Seeds businesses.
In addition to her appointment, the company says it also named Dr. Jeremy Williams, currently global head of Plant Biotechnology at Crop Science, as new head of the Climate Corporation and Digital Farming, and Tom Armitage from Mondelez as head of global communications for Crop Science. Both are effective March 15, 2021.
Bayer says all three leaders will join the Crop Science executive leadership team and will play key roles in accelerating the division's transformation. In addition, Bayer says it appointed Gilles Galliou, currently head of commercial operations for Bayer Vegetable Seeds Americas, to lead the Environmental Science business and the planned divestment. The global Environmental Science business will be headquartered in Cary, North Carolina, effective June 1, 2021.
Inci Dannenberg, currently head of global strategic marketing for Vegetable Seeds, was also appointed to run the Crop Science global Vegetable Seeds business, which is headquartered in St. Louis, Missouri. Both appointments are effective from March 1, 2021.
"With the announced portfolio and leadership changes, and important new product approvals for soybeans, corn and cotton in the Americas, we are now shifting gears from integration to growth acceleration," says Liam Condon, member of the board of management of Bayer AG and president of the Crop Science division. "We are laser-focused on commercial execution and on transforming agriculture through innovation that benefits farmers, consumers and our planet. Like farmers everywhere, we have faced challenges in the past few years; however, I am very excited about the outlook for our Crop Science business. The global coronavirus pandemic has made it clear how important agriculture and a sustainable food system are, and the crucial role science can play in solving difficult problems. Driving innovation, accelerating the digital transformation of agriculture and helping decarbonize the food system are at the core of our vision to feed a growing population without starving the planet."

Photo: ASV Holdings

ASV recognizes 2020 Dealer of the Year, 2020 Rookie of the Year
ASV Holdings Inc. recently announced Duffy's Sales & Rental as the 2020 Dealer of the Year and CLM Equipment as the 2020 Rookie of the Year.
"Duffy's Sales & Rental and CLM equipment went above and beyond representing the ASV brand and showing a passion for the equipment that is hard to miss," says Jeff Pate, director of sales for the ASV brand. "We are proud to show our appreciation for their promotion of the ASV brand promise in every aspect of their businesses."
ASV says it chose Barron, Wisconsin-based Duffy's Sales & Rental as Dealer of the Year in recognition of the dealer's leading sales and extraordinary performance in 2020. The business, which has been serving ASV customers for nearly 30 years, provides sales, rental, parts and services for a wide range of construction, landscaping and land clearing equipment.
The company says CLM Equipment gained recognition as Rookie of the Year as a result of their outstanding achievements and contributions to ASV in 2020. The Lafayette, Louisiana-based dealer opened its doors more than 50 years ago and features three full-service branches across the west-central Gulf Coast, offering primarily construction and demolition equipment.
Case announces electric backhoe loaders
Case Construction Equipment recently announced the arrival of two electric backhoe loaders, the 580 EV backhoes.
The company says these backhoes have been delivered and are currently working with utilities in New York. Case says the backhoes require no diesel and produce zero emissions — all while providing the power and performance associated with diesel-powered equipment.
Case announced the development of the electric backhoe in March of 2020, and has been working with each utility on refining the machines ahead of final delivery and field deployment. The company says electrification of the Case 580 EV was performed in conjunction with New York companies Green Machine Equipment, Inc. and Moog Inc. Monroe Tractor in New York will work with each utility and the integration partners to support the equipment in the field.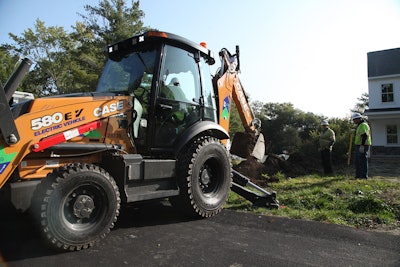 New York State Gas & Electric (NYSEG) and Rochester Gas & Electric (RG&E) president and CEO Carl Taylor believes that the deployment of electric construction equipment into the communities they serve is driven by sustainability and the desire to be responsible neighbors.
"At NYSEG and RG&E, the driving force behind all of our decisions is to put our customers first and care for the communities we serve," says Taylor. "As an energy provider, we have a responsibility to be good stewards of the environment and build a more sustainable future for our communities. The addition of this first-of-its-kind backhoe into our fleet will help us meet sustainability goals and benefit the communities we serve by providing a cleaner work environment in the form of emissions and noise reduction. It's equipment like this that will drive our fleets, businesses and communities into the future."
The company says the 580 EV is powered by Green Machine's proprietary 480-volt, 90-kilowatt-hour lithium-ion WhisperDrive battery pack that can be charged by any 220-volt connection. While applications vary, Case says each charge can support common eight-hour workdays.
The company says the battery separately powers the drivetrain and hydraulic motors, resulting in hydraulic breakout forces equal to diesel-powered machines and improved performance during simultaneous loader and drivetrain operation.
Case says it is estimated that the 580 EV could save fleets as much as 90 percent in annual vehicle service and maintenance costs when taking into account the reduction/elimination of diesel, engine oil, diesel exhaust fluid, regular preventive maintenance and long-term engine upkeep/maintenance (and the associated labor rates and time savings).
"National Grid and NYSEG and RG&E are at the forefront of living the clean energy promise in their communities, and their use of electrically powered equipment like the CASE 580 EV shows that fleets can be clean while also delivering where it counts in the field," says Leandro Lecheta, head of construction — North America, Case Construction Equipment. "We share that commitment to develop and stand behind equipment that meets sustainability and productivity goals, while also being good for the communities we work in together."