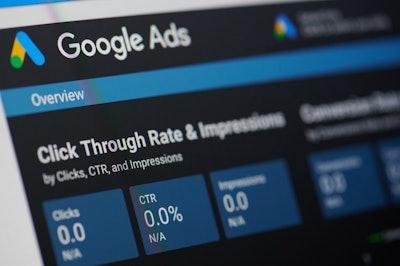 Most green industry companies want to get more online leads or just attract better quality leads, but the real question is how?
Dealing with lackluster customers costs you time and money when they ultimately don't pan out, and Chad Diller, dealer of client success with Landscape Leadership, says there is definitely a better way to handle the situation.
Take a look at what Diller says about using Google Ads for your landscaping business, as well as what you can expect when starting out with this ad service.
Pay per click advertising
When diving into Google Ads (pay-per-click advertising), Diller says it can be extremely complex and confusing, but it doesn't have to stay that way.
More often than not, Diller says companies will get a poor ROI on ad campaigns when starting out. In his experience, money not well spent means you not only lose the initial investment, but you also waste your team's time, your prospect's time and you miss out on better opportunities that you could be focusing on instead.
"It's extremely common for companies to waste tens and hundreds of thousands of dollars each year on ineffective advertising," says Diller. "Unfortunately, if you get the wrong leads or you don't handle the right leads well, people end up thinking you don't care. Or worse, they think that you're just another landscaper."
Diller says it's common to see landscapers paying five to 10 times more than they should for a lead, or sometimes they aren't even aware of how much they are paying for a lead.
While this might be enough to make you want to avoid Google Ads altogether, Diller says you can't ignore the fact that Google Ads earn at least 11 percent of all clicks, and 49 percent of people polled have clicked on a Google Ad to make a decision.
"Google Ads is like a casino experience," he says. "There are many tables to play at, which are keywords and locations. There are players at the table, which can be zero to 100. The bets are the rotation, pushing out competitors and having money on the line. And the casino is Google. You have to know how to play the game."
Getting it all together

When handling Google Ads, many companies will pay an agency to manage the campaigns, as business owners typically have a full plate already.
"When you start a relationship with an agency, they should first understand what your goals are as it relates to all season long," says Diller.
Diller says the components of your ad will vary upon placement, but the overall goal of the ad is to get a customer to click.
According to Diller, the three biggest problems that keep companies from getting leads or cause them to waste good leads are:
Messed up priorities

Paying for meaningless activity

Making the same mistakes over and over again
"If you don't fix these problems, it's going to mean failure or at least significant diminishment in your ROI," he says.
Prioritizing
Invest in what you own
To tackle the first problem, Diller says to take stock of your priorities and decide if there's something else that needs to be done first before diving into Google Ads.
For example, Diller says if your website and online visuals aren't up to par yet, you shouldn't spend money sending people to a lackluster site. Or, he says, if your company is already running Google Ads and you haven't taken time to fix these issues, take a break and fix them as soon as possible.
"With you only getting 11 percent of clicks on your Google Ads, you want to make sure that the other 89 percent of clicks are going to a quality site," he says. "If they are going to your website, you need to make it worthwhile. When you decide to send Google Ads people to your site, you don't want them to have a bad experience."
Diller says when people are directed to your site from Google Ads, they should not be sent to your home page or your contact page. Instead, Diller says they should be sent to a simple landing page that's hidden and meant strictly for conversion, which is when you convert a click into a lead.
Diller adds that you need to have several landing pages for your various ads that are based on what people want, such as one for irrigation services, one for hardscaping, etc.
When customers get to these pages, Diller says you should also have a simple form on the page that visitors can fill out, or you should at least have a button on the page that can lead them to calling you.
Along with creating specific Google Ad landing pages, Diller says you also need to make sure your website has professional, stunning photos and high-quality video content. He recommends avoiding stock photos, as these are prevalent across green industry websites and won't add value to your company's personal brand.
Diller also says you need to invest in writing compelling copy that specifically caters to what customers are searching for, as this will enhance your site's appeal.
"Remember that these clicks and leads are people," he says. "There are people on the other end of these forms and phone calls, and leads are not any good if you can't close sales."
Speaking of closing sales, Diller says you need to invest in your sales process and sales teams before looking into Google Ads.
"Are you responding in a timely manner?" he asks. "How do you keep working your leads? Invest in your team. You want people on the other end of these forms and calls to be able to sell. Make sure these people are responding within minutes, not hours or days."
Diller reminds us that people are very impatient nowadays, and if your team isn't quick to get back in touch after an initial inquiry, you may lose the sale.
Meaningless activity
Diller asks what good are 25,000 impressions if nothing happens and no one sees your ad? If people go to your website and don't become a lead, what good is a paid click?
When investing in Google Ads, Diller says you have to be intentional about what you're putting out there and not just waste time and money running ads that don't gain any traction. This may take some trial and error, but if it ultimately helps you narrow down what potential clients want to see, Diller says it's worth it.
If you're partnering with an ad agency to handle this aspect for you, Diller says it's vital that the agency know what's working, what's not and what all of these numbers mean.
"With some of these services you will offer and try to promote, you might get to a capacity where you can't do anymore of it," says Diller. "Now all of a sudden, you're still spending money for leads and getting leads for things you can't even produce."
Overall, Diller says the loop from marketing to sales needs to close.
Making the same mistakes
Diller says it's your agency's job to teach you about your Google Ads and show you your options, so he says to make sure you're paying for meaningful changes.
While it may save you money upfront, Diller does not recommend trying to manage your own Google Ads, as you still need to make the most of your time as a business owner. However, you do need to be willing to pay these agencies for their time.
"A good marketing agency will cost anywhere between $100-$200 an hour for their time," he says. "You tell your clients this all the time, but your price is driven by expertise and the value you deliver. The same thing is true with your marketing agency."
If you do choose to go with an expert, Diller recommends making sure:
They are transparent with you about what is happening with the time you are paying for.

They are measuring results well and are collecting valuable data.

They are being proactive and not waiting for you to point out problems.
Check back tomorrow for part 2 of this series, where we'll explore a few tips and tactics that can help you better understand Google Ads.

EDITOR'S NOTE: This information was presented in a webinar during NALP's LANDSCAPES 2020 event.