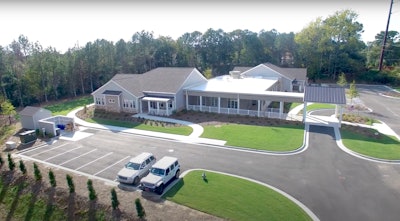 Photo: SiteOne
SiteOne Landscape Supply, alongside customers and suppliers, say they recently created a special outdoor living space called Champions Place.
The company says Champions Place is made possible by Champions Community Foundation, a nonprofit organization dedicated to serving physically challenged young adults who have aged out of high school programs. It is committed to improving the lives of young adults with physical disabilities, enabling them to reach their full potential as self-reliant, productive and fulfilled citizens in their local community.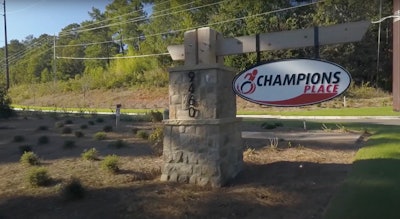 SiteOne says Champions Place landscaping was made possible with volunteer installation by All-American Landscape, Aqua Underground, Davis Landscape, J&J Landscape, LDC Landscape, Meadows Landscape, Metro Contracting, Oasis Landscape and Irrigation, Russell Landscape Group, Showcase Outdoor Lighting, Sprinkalawn and Young Earth Systems.
The list of suppliers who provided their time and material included: 3 Rivers Nursery, ADS, Belgard, Coyote Grill, Cresline, Dorsey Farms, Dudley Nursery, Evergreen Nursery, Flowerwood Nursery, Greenleaf Nursery OK, Hunter, Lakeside Trees, May Nursery, NDS, Netafim, Quail Hollow Nursery, Rain Bird, Rockmart Slate, Scenic Hills Nursery, Simpson Nursery, Southern Nursery Products, Spears, Synthetic Turf Resources, Techniseal, Toro, Vulcan Materials and Windmill Nursery.
"It is an honor and privilege to team up with our partners to make this space a reality for the exceptional young men and women who call Champions Place home," says Doug Black, CEO of SiteOne Landscape Supply. "This was a total team effort from those in the industry who truly believe in being stronger together, to make a big impact in the communities we serve."
Randy Moody, area sales manager at SiteOne Landscape Supply, oversaw the project. He says there were quite a few challenges they ran into, but the results of Champions Place were amazing.
"The living space is state-of-the-art and looks great," says Moody. "However, through the landscaping, we were really able to transform Champions Place into a true home."
SiteOne says over $325,000 in materials and installation services were gifted to Champions Place, and the installation of the project included: 23 irrigation zones, 100 trees, 1,600 plants, 36,500 square feet of Tiftuf Bermuda sod, 3,500 square feet of paver patio, 5,000 square feet of synthetic turf, a drainage system, an outdoor kitchen, a fire pit, water features and entrance signage.
Talbert announces 2020 Dealer Award winners
Talbert Manufacturing recently named Hale Trailer Brake & Wheel, headquartered in Voorhees, New Jersey, as its top dealer for 2020.
This award recognizes performance in trailer sales, service and parts on behalf of Talbert Manufacturing. This is Hale's 13th consecutive time in the top spot, and the dealership was also recognized as the top parts seller for the year.

"Talbert Manufacturing is proud of Hale's long-term commitment to our brand," says Troy Geisler, Talbert Manufacturing vice president of sales and marketing. "It goes beyond dollars and cents. The top-notch customer service and dependability they provide to customers up and down the East Coast makes them an exemplary partner. We're excited to award them top dealer recognition for an amazing 13th time."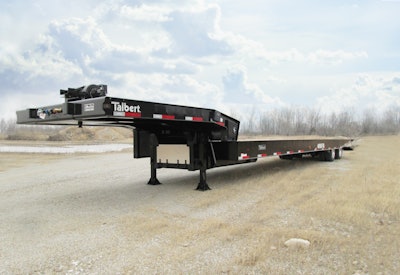 Hale is a full-service dealership with 12 locations from Maine to Florida. The dealership sells new and used trailers and related equipment. Hale also rents trailers, sells commercial trailer parts and accessories and provides general trailer service and repairs.

Talbert also named Leslie Equipment Company as the Most Improved Dealer of 2020 and one of the top 10 dealers overall.

"We'd like to acknowledge the dedicated team at Leslie Equipment Company for their hard work," says Geisler. "Despite the many speedbumps 2020 left for our industry, the team at Leslie Equipment proved why they're consistently a top dealer. Nearly half a century of industry experience has taught them how to listen and provide the solutions customers need, even in unprecedented times."
Talbert says Leslie Equipment is a consistent top dealer, providing quality construction, forestry, mining and oil and gas pipeline equipment for more than 45 years. The company is recognized within the industry as an innovative leader in sale and product support. Eight locations serve customers in Kentucky, Ohio and West Virginia.

The remaining top Talbert dealers, based on 2020 sales, are in alphabetical order below.

Columbus Equipment Company, headquartered in Columbus, Ohio, has provided heavy equipment services to customers in Ohio and the surrounding states for more than 65 years. With 10 locations across the state, Columbus Equipment offers an extensive lineup of new and used trailers as well as rental options, parts and services.
Coogle Truck & Trailer Sales of Otterbein, Indiana, features a wide selection of new and used trailers for sale or rent and a fully stocked parts department. The family-owned company also offers custom trailer modification and full-service repairs.
Freightliner of Grand Rapids, with locations in Kalamazoo and Grand Rapids, Michigan, has a trailer division that specializes in the construction, material hauling and agricultural trailer business. Since 1978, the company has offered customers one of the most expansive and diverse used truck inventories in the United States.
Lucky's Trailer Sales of South Royalton, Vermont, is a family-owned business that has been a top Talbert dealer for many years. The company features a complete line of construction, traveling axle and tag-a-long trailers, a large, well-stocked parts department and a full-service repair facility. They have multiple locations in Vermont.

Lynch Chicago of Alsip, Illinois and Waterford, Wisconsin, stocks one the most complete selection of both new and used equipment for sale in the greater Chicago area. Their two locations provide a full service department, collision body shop and truck painting facility, as well as the largest tow truck parts department in the region.

Remorques Lewis of La Présentation, Saint-Hyacinthe, Québec, is a full-service general and specialized heavy-haul trailer dealer and has been selling Talbert trailers for more than 20 years.

Reno's Trailer Sales & Rental of Belle Vernon, Pennsylvania, is a leader in the open deck market, specializing in flatbeds, drop decks, lowboys, double drops, specialized heavy haul and tag-a-long trailers. The company has a 60-plus-year legacy of industry-leading service for their customers in the greater Pittsburgh area.

Royal Truck & Trailer Sales & Service Inc., with four locations covering norther and eastern Michigan, carries a wide selection of new and used trailers for sale. The company also offers wheel reconditioning, service and fabrication and has one of the largest parts departments in the industry.

Agri-Fab purchases Superior Tech
Agri-Fab recently announced the acquisition of Superior Tech.

Superior Tech, founded in 1987, established itself as a Licensed John Deere Supplier. As a family-owned business located in Lancaster, Pennsylvania, the company says it takes pride in designing and manufacturing high-quality lawn and garden attachments.
"Superior Tech offers an exciting opportunity for Agri-Fab to expand our product line, establish ourselves in new expanding markets, and strengthen our manufacturing base" says Mike Cohan, president and CEO of Agri-Fab. "We (Agri-Fab and Superior Tech) are both focused on and proud of making high-quality lawn and garden attachments. Acquiring Superior Tech will help Agri-Fab ensure that we continue to exceed our customer expectations and needs."