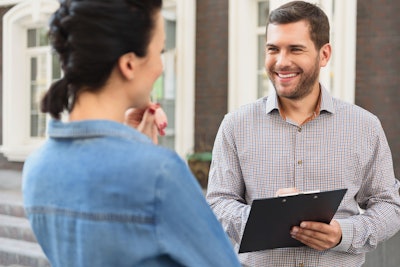 You may think you don't need to offer payment options to your homeowner customers because your customers typically pay in cash.
But consistently providing payment options can improve most areas of your sales funnel, especially project size. Offering payment options can help you close bigger deals and focus on making clients' outdoor living dreams come true. Working with a solid lending provider can smooth out your cash flow and grow your business.
Landscapers who offer payment options understand that they are an essential sales tool and have integrated payment option strategies into both their business model and selling processes. They've witnessed how payment options improve close rates and increase job size.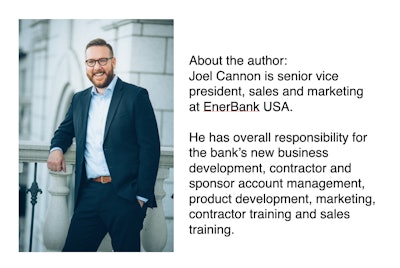 Even if you're well versed in payment option strategies it's still a good time to review the best ways to implement them into your business. Know that you'll need to get your whole team on board, creating a seamless payment option process from start to finish.
Here are the best practices for landscape contractors to introduce payment options to customers, offered by Joel Cannon with EnerBank USA.
Include Payment Options in Marketing Materials
Mention payment options upfront.
That means you should include a reference to the financing possibilities in all of your advertising and marketing materials. This strategy has shown to increase well-qualified leads for contractors who follow best practices.
An exclusive home improvement lender will support you by offering marketing templates for web banners, door hangers, showroom signs, and more.
When customers know about payment options, your sales process becomes easier, because your potential customers are already thinking about different ways to pay for their dream projects right from the start. This allows you to focus on quality and helps bring your creative vision to fruition without the objection of cost.
Start While Setting the Appointment
Another important time to mention payment options is when the customer calls you. The scheduler answering the phone takes the required information and then suggests some payment option ideas.
Create a script such as this: "One more thing. Make sure when Julie comes out to your appointment that you ask her about our special 12-month, same-as-cash promotion. You'll want to discuss that with her."
During the Appointment
When the sales rep or landscaper arrives at the home, they should suggest payment options as part of building the relationship with the customer: "Before I start looking at your existing landscape, I'd like to remind you about our 12-month, same-as-cash financing."
These short statements have now preempted objections about price and ability to pay. You've provided the customer with at least one option to pay, especially if they're pondering a partial solution versus a full-yard project. Most customers underestimate the cost of a landscaping job before they get the bid, so discussing payment options now can help prevent any sticker shock.
Finally, when you're ready to close the deal, bring up payment options once more, giving them a choice of which loans will best suit their needs.
Don't You Need to Know about Approvals First?
Every contractor offering payment options wants their customer approval rates to be high. When you offer an attractive choice of payment options every time, to every customer, you'll see better overall approval rates.
First, you'll widen your net, including all sorts of customers you might not have considered otherwise. Second, you'll move more of your leads forward with their projects because you've reduced objections over price.
Instead, your sales process will focus more on the value of your business and the project, which wins more customers than winning on price.
Now You're Ready
Taken together, these proven strategies can become your own landscaping sales team's best practices as you make them a regular part of your conversion process. By following what we know works, you can boost your close rate, increase job sizes, and really watch your business grow.