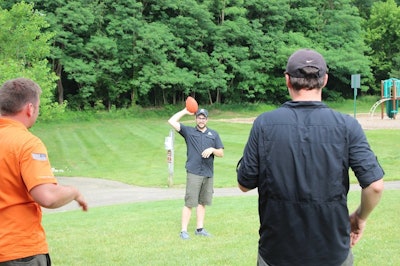 Oasis Turf & Tree
While company culture is a concept that gets thrown around a lot, the most successful companies are those that are actually following through on it. These are the lawn and landscaping companies that are creating places where people truly want to come to work.
Among the companies putting a strong emphasis on culture is Oasis Turf & Tree, a lawn care company based in Loveland, Ohio. They know that when it comes to creating events and activities, a yearly company picnic or BBQ just isn't going to cut it. That's why the company puts a tremendous amount of thought into meaningful events which help inspire a great team culture.
Of course, inspiring a positive culture through great team-building events and activities was no easy feat during the pandemic. As a company that really values being together, Adam Zellner, vice president of sales for the company, says that leadership has had to be creative and adapt to the conditions.
At the height of the pandemic, when many workers were still remote and not coming into the office, management bought a case of energy drinks, gift cards to some food establishments in the area, and some candy bars. All team members got hand-delivered care packages.
"It was just a small gesture compared to some of the things we've been able to do for the team in the past, but it came at a time when the team really needed to feel connected and that went a long way," Zellner recalls. "As things start to get back to normal, we're beginning to resume normal events, particularly ones we can do outdoors."
Typically, Zellner says that a lot of these events involve "thinking outside of the box."
"It's not that we don't do BBQs and picnics—it's just that we want to be sure we're going beyond just those once-in-a-while events where people don't always even show up," explains Zellner. "When you aren't holding events or encouraging team building regularly, then team members really never get a chance to know one another and don't want to attend those events."
That's why Zellner says that lawn and landscaping companies need to think about building what he calls a "social foundation." This means encouraging and supporting a social atmosphere all year round.
"It doesn't have to be something elaborate," explains Zellner. "Our team builds camaraderie through things like playing ping pong or pool or even just having a cup of morning coffee together. We have an office with open, recreation spaces and we care about fostering an environment where the team gets to know one another."
Zellner says that even though the company does cater a lot of meals and host some really fun BBQs, they often find it's this day-to-day social atmosphere that the team appreciates the most. It's what makes coming to work regularly even more enjoyable. After all, team members aren't going to stick around if most of their workdays are unpleasant, but the company hosts one fun picnic each year.
Putting thought into planning
Of course, Zellner says that Oasis is a company that also likes having fun, planned events. He says that the social foundation the company has created helps to make these events successful (and well-attended). Over the years, these events have included many different activities. A favorite was a cookout where management bought 50 steak fillets and grilled them up for the team.
A carnival-themed event with a food truck with corn dogs and funnel cake—plus team games—was another favorite get-together.
The company has also brought the team to some Cincinnati Bengals and Reds games.
"When we go to the games, it's not like we're all spaced out in different seats," Zellner shares. "We try to make the outing a whole experience. We typically reserve two full rows—for a Bengals game, in the endzone—and have all the food and drink included. It's a fun event for everyone."
The company also sees volunteering activities as a chance to build camaraderie as a team while also serving the community. They've volunteered services at the Dayton National Cemetery, hosted events to raise money for charity, and cooked and served meals at the Ronald McDonald House. Oasis appoints a committee that is in charge of charitable giving and oversees how money is spent—as well as what activities are planned.
"We also have an event planning committee that comes up with different ideas for some of the team-building activities that we do," Zellner adds. "We rotate the people who are involved on that committee so that we always have fresh ideas coming in. It's another great way to get the team involved and to make sure the ideas are coming from them—and that these are events our team really wants to do. That's made a big difference in ensuring great attendance."