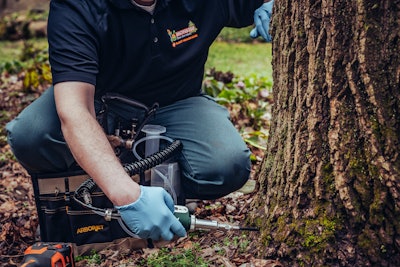 Monster Tree Service
Plant health care is an important service that sometimes gets overlooked. Many people believe the trees, shrubs, and other plants on their property are mostly self-sustaining. But in order to perform their best, plants and trees within the landscape often require treatments such as fertilization, insect and disease management, and even soil and tissue testing.
Monster Tree Service, a national, full-service tree care company recently launched a Plant Health Care campaign in order to raise awareness about the importance of proper plant maintenance to the overall success of a landscape. The company is looking to educate people on the importance of plant health care—which they also now offer as a professional service.
"Trees, shrubs, and plants are vital parts of our ecosystem as they naturally purify the air we breathe," says Kathy Glassey, director of renewable services for Monster Tree Service. "The impact of one tree being prematurely removed or plants being unproperly cared for can be detrimental to a community. This is what fueled our desire to educate consumers and offer professional services that cater specifically to plant health care."
Plant health care as a professional service
Glassey says that Monster Tree's plant health care services provide clients with professional solutions which include fertilization, root collar excavation, trunk injections, soil and tissue testing, invasive species treatments, testing, and more.
Other landscape professionals who might be considering adding such services should help clients understand that this protects their investment in plant material. Most clients appreciate the plants and trees on their property and don't want to see them fall victim to a preventable or curable problem.
"In addition to enriching the environment, trees and landscaping provide other benefits for homeowners, including increased property value and privacy, natural shade to lower electricity bills, and so much more," Glassey continues. "At Monster Tree Service, our services are thoughtfully designed to be mutually beneficial for both our customers and the environment and to leave each property's plant and tree life healthier than when we arrived."
To add plant health care as a service, landscapers will need a properly trained plant health care technician on their team. There's a good chance that you already own some of the necessary equipment for spraying so your main investment will be labor and product. One of the nice things about incorporating a plant health care program is that it can be a relatively easy add-on service as many of your existing clients are likely to be interested in it.
Most people are attached to the plants in their landscape not only for aesthetic purposes but for sentimental and functional reasons as well.
Educating the customer
To help clients continue to protect their property's valuable plants and trees, Monster Tree Services is emphasizing education as a key part of their campaign. Even if Monster is handling the plant health care services for a client, they want to ensure that they're aware of other best practices that will help protect their landscape.
Glassey says that the following tips can be shared to help clients to protect and maintain their plants and also boost curb appeal.
Properly mulch around trees: Rake and remove mulch from the previous season, then place the new mulch at a depth of 2-3 inches. Avoid placing mulch directly against the plant's base to ensure the root flare remains open, allowing the plant to receive a sufficient amount of oxygen and water.
Minimize pruning cuts to trees and shrubs: It's best to keep the pruning cut as minimal as possible to allow for healthy healing. Always remember to use sharp and proper-sized pruners for the job at hand. Better yet, leave pruning to the pros.
Take special care with newly planted trees: Recently planted and young trees require additional care after the initial planting. Adequate mulching and watering are necessary, and fertilization provides the young tree the nutrients it needs to grow stronger and healthier.
Consider tree locations: Trees planted in residential or commercial areas are quite different from a tree's natural forest setting. Plant a new tree in an undisturbed and low-foot traffic area to reduce stressors on the surrounding soil for optimal health.
Never top trees: Topping trees is a common malpractice performed in pruning, in which the entire top of the tree is cut, leaving lateral branches. Topping trees creates a multitude of problems and promotes the natural growth pattern to become irregular.
Glassey says that although many clients might initially want to tackle plant health care on their own, once they realize all of the nuances involved, they prefer to leave it up to a professional. As a result, this can be a great add-on service for landscaping companies that have the horticultural expertise to perform it.