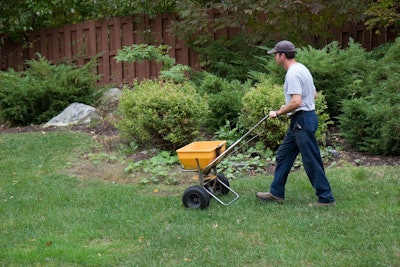 As a landscaping business or lawn care service, it's common to have fluctuations in demand throughout the year. When your business is growing or busier seasons arise, your full-time staff can feel overworked. You might feel the need to hire new employees and fast. But deciding that it's time to hire and actually starting the process are two very different things.
While it's vital to have full-time employees, consider supplementing your workforce with temporary workers. Using temporary workers gives you the control to hire as many additional workers as needed, especially when spring hits and the lawn care business is booming. Bringing on temporary staff can help you scale your business, offer more services, cover more projects, and save you money during your slower times.
Let's dive into the ways supplementing your staff with temporary workers can significantly benefit your business.
Overcome labor shortages
According to a study from HindSite Software, around 92% of green industry businesses – including lawn care, irrigation services, mowing, snow removal, etc. – report that finding strong applicants is difficult.
In fact, attracting and retaining employees has been one of the most frequently cited issues within the landscaping industry. But what's causing this labor shortage and how can landscaping companies build a truly sustainable workforce? The answer may be temporary workers.
As a result of the labor shortage, many companies are canceling business orders or declining last-minute projects, while others are closing their doors altogether. With temporary workers, you can hire workers based on the demands of the season or by project. By supplementing your crew with flexible labor, you can easily offer more 'hands-on deck' to get projects done to completion on time (or even ahead of schedule). Temporary labor makes it easy to scale your workforce, without the unfortunate downside of having to dismiss or let go of full-time crew members once projects are complete. By using an agile crew, you can outsmart labor storages, save money, meet deadlines, and satisfy your clients.
Access workers with specialized skills
Since every landscaping project is different, you may run into instances when you don't have a crew member with the specialized expertise needed for the job. Using temporary labor gives you a way to leverage highly skilled workers for short-term work. In addition, you may gain other potential advantages by sourcing temporary workers with specific expertise or certain equipment. Instead of leasing or purchasing the equipment (like a tiller or riding lawn mower) you need to complete the job, save yourself some overhead by requiring what's needed as a prerequisite for your next temporary hire.
Expand your service offerings
With a readily accessible pool of skilled workers at your fingertips, you can add and expand your service offerings to grow your business. With the help of temporary workers, you can hire snow removers when the winter months hit and utilize other types of skilled workers during your busiest season (think sod installers, tree trimmers, landscape designers, irrigation workers, and beyond). The options are abundant, allowing you to scale up as customer demands change.
Try workers before hiring them permanently
Finding good workers is challenging in itself, but once you find those hard workers, hold on to them.
You can easily trial-run temporary workers (as opposed to full-time employees) to get a feel for whether or not they might be a long-term fit with the rest of your lawn care or landscaping staff. Hire with 100% confidence by using temporary labor as an additional way to easily vet candidates. Think of it as one more step in your full-time interview process.
You can reduce your risk by "trying" individuals to confirm they actually have the skills you require and are capable of completing the job. By testing the waters with a larger selection of temporary crew members, you could have a few superstars you may want to retain on a repeat basis or even permanently.
Take advantage of the "gig economy"
Many believe that we are in a "gig economy," where flexible and temporary jobs are thriving. With so many people laid off as a result of the pandemic, there are workers out there seeking these types of jobs. A lot of people also prefer the flexibility of temporary work. This could be an opportunity for landscape business owners to capitalize on.
After all, many landscaping companies continue to struggle with finding and retaining employees due to fluctuations in scheduling, job complexity, and job type.
It can be difficult to find qualified last-minute labor for an outdoor project, but there are solutions out there. For instance, landscape business owners can find and hire skilled help for any outdoor project with GigSmart Get Workers, an online platform that connects lawn care businesses with local workers.
When you do find temporary workers, make sure that you help set them up for success by making them aware of your expectations. As with any worker, communication is key. When you take the time to clearly define what you're looking for, you'll be off to a great start with a temporary worker you just may plan to hire again and again.
Editor's Note: This article was authored by Rich Oakes.