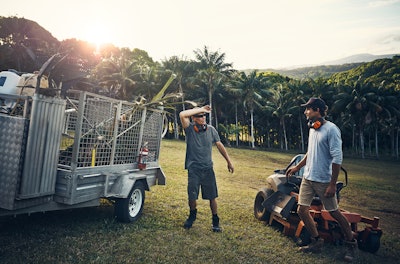 Landscaping workers are at risk from a variety of potential hazards—including exposure to noise and chemicals, potential lifting injuries, machinery mishaps, volatile weather, and construction. Not only are these physical risks, but they can also be extremely expensive for a small landscaping business owner, posing potential financial risk. For every dollar spent on a workers' comp insurance claim, $5 is spent on indirect costs, like lost productivity, hiring and retraining staff, and replacing or repairing damaged equipment.
As a landscaping business owner, it's up to you to reduce the workplace risk for your employees. By implementing proper safety techniques, you can save your team grief and pain and help reduce the number of workers' comp insurance claims filed—leading to a reduction of your overall costs.
From my experience insuring landscapers at Pie Insurance and working in the insurance industry for years, I've been able to compile best practices that business owners or managers can follow to help keep both your team and your business safe.
Maintain your tools
Correct maintenance and proper use of tools can allow for a safer work environment. Understand that power tools—including tillers, mowers, trenchers, and blowers—can cause severe injuries if they malfunction or are used incorrectly (all employees should read the safety manual before using a new tool for the first time). Keep tools sharp and in good working order to help protect landscapers from repetitive stress injuries. Team leaders should also provide enough ladders and footstools of the right height for the job site. Provide personal protective equipment (PPE), like goggles, gloves, and earplugs. Provide equipment that is ergonomically designed, like backpack leaf blowers.
Create clear hazard communication
Implement a written hazard communication program for employees that includes a list of all the hazardous materials at the worksite and an explanation of how you will comply with OSHA's standards for each. Also, be sure to label containers of hazardous substances with the chemical name of the material and hazard warnings.
Keep protection equipment on-site at all times
When exposed to hazardous chemicals, offer the correct equipment to protect employees. PPE includes gloves, safety goggles, and masks. Make sure a respirator is accessible if they will inhale harmful dust, fumes, vapors, or gases. Respiratory protection is important when cleaning up waste, leaves, or dust that could contain mouse or bird droppings. Many herbicides have harmful health effects as well, so refer to the manufacturer's directions when using these products. Teams should also be encouraged to wash their hands thoroughly after using pesticides, particularly before eating, using the restroom, or changing tasks.
Implement a proper training program
Proper training is key to workplace safety, and that starts with ensuring all workers are adequately trained on the health and safety risks in their workplaces. If required, only allow workers who are qualified or certified to complete certain tasks. Additionally, you should train workers who will be exposed to dangerous chemicals in a language they understand. This training should include the names and locations of hazardous chemicals at the worksite, the procedures that you have developed to protect workers from the chemicals, and ways to measure hazardous chemicals at the worksite.
Outline a reasonable timeline
Put the safety of your team first by allowing workers the appropriate and correct amount of time to get projects done. Set work-rest schedules according to temperature conditions, how strenuous the work is, and how familiar the worker is with the workload. You can also rotate employees' tasks, especially those that require using the same repeated motion and consider using mechanical equipment to complete repetitive employee tasks.
Develop a safety-driven dress code
Advise your team to dress for the weather, including wearing high-visibility colors, long pants, sturdy shoes, gloves, and ear and eye protection. All landscapers should avoid any loose clothing or jewelry that could get caught in equipment. If you work in a wet environment, consider providing or requiring slip-resistant footwear to employees, since it can reduce as much as 67 percent of work-related slips, according to the CDC.
Encourage healthy habits
You should also train and remind your employees to take a few moments during their shifts to stretch or take breaks, especially if they spend a lot of time carrying loads, bending, reaching, or repeating the same motions. It's important to rest periodically during strenuous jobs like this, such as digging or sawing.
Incentivize
To encourage your landscapers to make safety a priority at work, consider offering prizes or awards for those who follow the safety program or hit time milestones while remaining injury-free. Prizes ranging from paid lunches, gift cards, or extra paid-time-off can help motivate your team.
Be prepared
While you can't predict every type of emergency, every workplace should at a minimum have a plan for dealing with a variety of scenarios, including falls from high heights, machine-related injuries, and other medical emergencies. Employees should be trained on what's in the plan, and what they should do in the case of an emergency, including explicitly detailing how workers should report injuries and how to promptly get help.
By implementing these practices, you can create a much safer work environment for your employees and avoid expensive workers' comp insurance claims that can negatively impact your business.