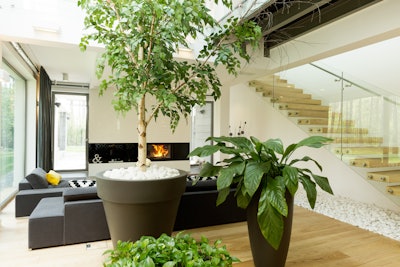 Blanchford Landscape Group
As a landscape professional with horticultural expertise and experience, you can offer added value to your clients by being able to answer their questions about indoor plants. Decorating the interior of a home or office with plants—a practice called "plantscaping"—is gaining popularity. But your clients won't always know what conditions to consider as they make choices regarding plant selection and location.
Blanchford Landscape Group in Bozeman, Montana has recently gotten into interior plantscaping for their clients. That means they help make the proper plant selections and even set them up in their client's homes and offices. Since many of their clients are vacation homeowners in Montana, they appreciate having this service handled for them.
While you might not plan to add plantscaping as a service, you can still help guide your clients to the best plants—or at least be able to answer some of their questions. This will set you up as a valuable resource and continue to encourage your clients to turn to you for solutions. The next time they need exterior work done, you'll be at the top of their list.
Mason Shaffer, Garden Designer with Blanchford, shares a few of his best tips for how you can help your clients make interior plant decisions.
Houseplant considerations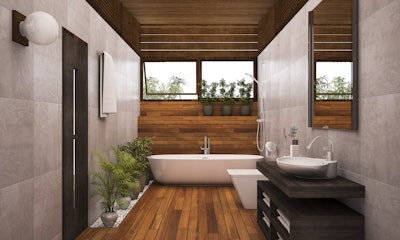 The biggest question that your clients need to answer when choosing indoor houseplants is: Will this perform well?
Light and humidity will be the primary contributing factors when it comes to answering that question. Houseplants tend to struggle in dry conditions.
Running a humidifier can really improve the environment for the plants—though not all clients will want to do this. Keeping up with watering needs will also be key, adds Shaffer.
Besides conditions, there are also personal wants and needs to take into consideration when choosing houseplants. Shaffer says that clients should consider plant size (whether they want something on the window or on the floor), plant colors (all greenery or something that flowers), and special concerns such as pets. Certain indoor plants can be poisonous to cats or dogs if ingested or even just touched.
Once your client has chosen houseplants that meet their wants and needs, they'll need to make sure they position them properly within the home or office so that they're achieving their sunlight requirements.
Top houseplant choices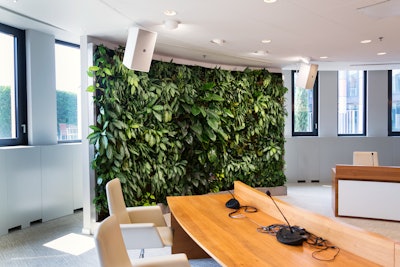 While Shaffer says that all clients must weigh the personal considerations discussed above, there are some "favorites" that tend to be good choices for most people. Some of his favorites are dracaena plant varieties, pothos plants, philodendrons, and succulents. Of course, some of these are poor choices for pets. Many of the peperomia plants and those in the fern family can be pet-friendly choices.
"We've also had some clients interested in a living wall, which is essentially a 'picture frame' of plants that can be hung on the wall," Shaffer explains. "This is a mostly self-sustaining feature with a water reservoir that will only need periodic refilling."
Shaffer says that the installation of living walls has gained some popularity. But in general, many of Blanchford's clients also like the plantscaping service they offer for everyday houseplants. Since Blanchford will also come in and care for the plants, it removes all guesswork.
"We also have access to a lot more plants than the average homeowner would," Shaffer says. "We can bring in some really unique plant choices that the client wouldn't be able to find at a local big box store. We can also swap out plants when they're performing poorly. We run our own in-house nursery and greenhouse so that allows us to take plants back that are struggling and replace them with something else. In the end, our clients see lots of value in having all of this just handled for them."