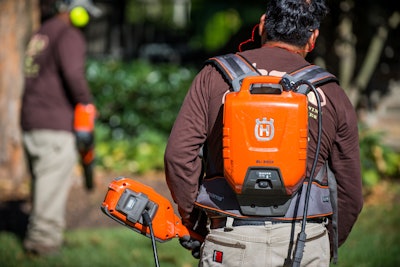 Terren Landscapes
While we're known as the Green Industry, truly going green has never come completely easy. Some of the biggest problems have been the high cost of adopting eco-friendly equipment and an overall lack of interest in the services.
Terren Landscapes in Conshohocken, Pennsylvania has been offering eco-friendly alternatives to traditional landscaping long before they were trendy. But owner John McCaughey says that segment has remained a relatively small portion of their overall market. Still, he does think it's poised to grow as more people begin to pay attention to reducing emissions and noise. He explains how they first introduced battery-powered equipment without losing profit.
When the company decided to test out some battery-powered chainsaws, string trimmers, hedge trimmers, and blowers, the concern was losing profit as they experimented with these new options. That's why they introduced them slowly and kept gas-powered backups on-site.
"This achieved two things," McCaughey explains. "It helped the crew overcome their hesitancy to try something new because they knew they still had access to the equipment they were comfortable using. But it also allowed us to have the back-up ready if we were really slowing down on the job."
Learning the pros and the cons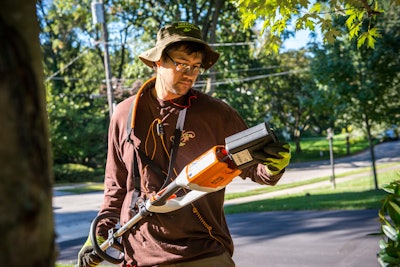 McCaughey says that his objective in trialing some of this equipment was to learn the pros and cons before implementing it on a larger scale. It was also a good way to get a taste of what it would be like to have a battery-powered fleet without disrupting the workflow too much.
One thing that McCaughey found was that the battery-powered blowers were lighter and worked well for small messes or tight workspaces. But they weren't as powerful, so that didn't always make them the best choice for large jobs. He found that the small electric chainsaws were a win in almost any circumstance, except for rain, where they could potentially get water damage.
If other landscape professionals are looking into battery-powered equipment, McCaughey says that trialing it slowly is a great way to get a taste where it fits best and how it will implement into the business.
"As with any change, sometimes slow is better," he says. "You don't have to get rid of gas all at once. We had a hybrid system for a long time as we were figuring out what worked and what didn't."
A brighter (greener) future
Today, clients can choose a completely eco-friendly program with all battery-powered equipment and green practices—but McCaughey says that it's still not for everyone. In a lot of cases, clients must understand that choosing an eco-friendly option means paying a little more money. There are certainly some clients who are willing to do that but there's still a long way to go.
Still, McCaughey is hopeful for what the future holds. He says he has plenty of clients who drive Teslas, are regularly composting, and are starting to inquire more about the way the companies they work with do business. He says that as things trend in that direction, there will only be increased interest in battery-powered equipment and other eco-friendly landscaping practices.