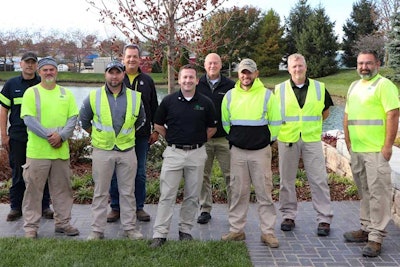 EMI
Across the country, landscapers are reporting that labor remains a major challenge. That's one reason why Environmental Management Inc. (EMI) headquartered in Plain City, Ohio decided to turn to the Department of Defense (DOD) SkillBridge Program. This program provides Service members an opportunity to gain civilian work experience during their last 180 days of service.
According to Joe Lewis, LIC, growth and development manager for EMI, it has been a great experience all around.
Lewis, who is a retired Marine himself, says that he learned about the program from Zach Rohr, who at the time, was nearing retirement after 24 years in the Marine Corps. He asked Lewis about coming to work at EMI as an intern.
"It's really a win for everyone," says Lewis. "The employer benefits by gaining an intern who is still being paid and receiving benefits from their active service. The service member who is transitioning out benefits by learning a new trade."
During that six-month internship period, Lewis says that Rohr made an immediate impact.
"This was an individual who was retiring at the highest rank and had essentially become a master trainer," Lewis says of Rohr. "He is someone who knows how to work with people, to build a team, and to train. These are skills that absolutely translated into his work here with us."
Learning new skills
Lewis says that the time period where service members are transitioning out can sometimes be stressful. They might not feel like they have transferable skills. But he says that many of the things they've learned in the military make them excellent in the Green Industry.
"These are hard-working, highly trainable individuals," Lewis says. "We can teach the skills they need to succeed in the Green Industry. But what's great is that they already have that amazing work ethic and desire to win."
Another thing that most service members also have, says Lewis, is the ability to adapt to stress.
"Generally speaking, most members of the military can handle stress—these are people who have been through some of the toughest conditions," Lewis says. "They can definitely handle the fast pace of our industry."
On top of that, Lewis says that most military folks are incredibly loyal.
"Veterans like us tend to be crazy loyal," he says. "If you treat us well, you can be sure we'll take care of you."
More talent coming
Lewis says that EMI has been so happy with the program that they continue to use it. They've also brought in a Naval Lieutenant and a Navy Officer. And, they have a few Marines they're currently looking at who are close to retirement.
"A program like this can really bring in some high-level talent," Lewis says. "And then we can teach the landscaping skills. In the end, everyone wins."